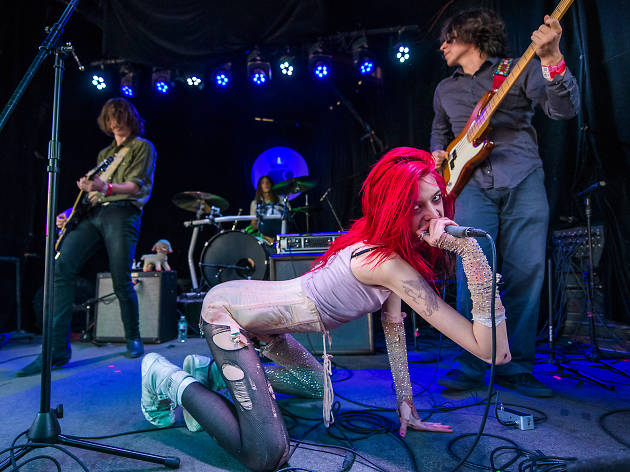 Our top 10 favorite moments from the SXSW 2018 Music Festival
We look back at our 10 favorite shows at the SXSW 2018 Music Festival, from a country queen to a Beatles cover band
Well, we survived yet another SXSW, and that notion feels all too real this time around considering that one of the week's most epic occasions—the Roots' third annual all-star closing jam at Fair Market—was cancelled last-minute due to a bomb threat. That said, there's no sense in letting the apparently baseless threat of some bully (can we all go ahead and just collectively say, "Fuck that guy"?) overshadow an otherwise incredible week of live music in Austin. We swooned over old favorites returning to the limelight, discovered some truly mind-blowing new acts and even saw some artists twice because they were just that. damn. good. To sum up the week, we've narrowed down our top ten moments of the SXSW 2018 Music Festival below.
All photos by David Brendan Hall
10 favorite SXSW 2018 music moments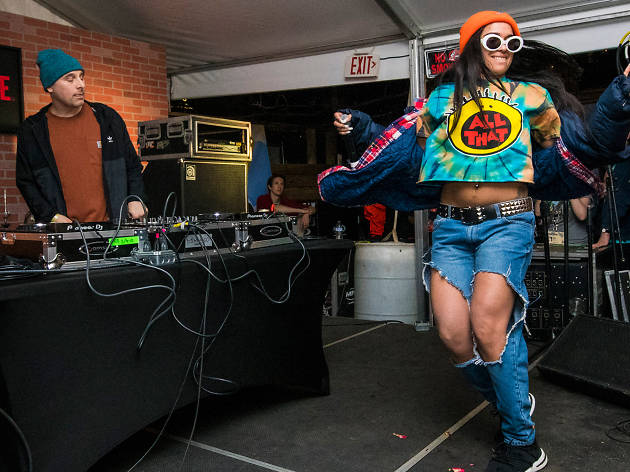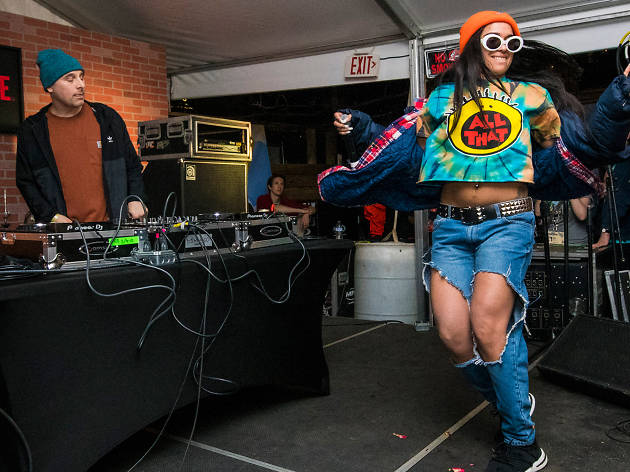 Photograph: David Brendan Hall
10. Princess Nokia at Clive Bar (March 15)
Deep into the insane milieu of SXSW music, a wall-to-wall audience at Clive Bar's COLLiDE/Showtime activation waited for Princess Nokia to take the tiny stage. Anticipation nearly gave way to frustration at 11:20pm, 20 minutes after the scheduled start of her 40-minute set time, but then—in a style becoming of an urban matriarch—a fire engine rolled to a halt outside the venue, and the NYC-based independent rapper hopped off and strode into the venue to deliver an aggressive-yet-uplifting 30-minute set that saw most audience members rapping along word-for-word throughout. Rather than end with her typical crowd-surfing finale, she took the stage for a one-song a capella encore of "Apple Pie"—perhaps somewhat anticlimactic given expectations of a rowdier ending, but ultimately (with her sharp-tongued lyrics as the sole focus) another solid notch on her feminism-fueled belt of boldness.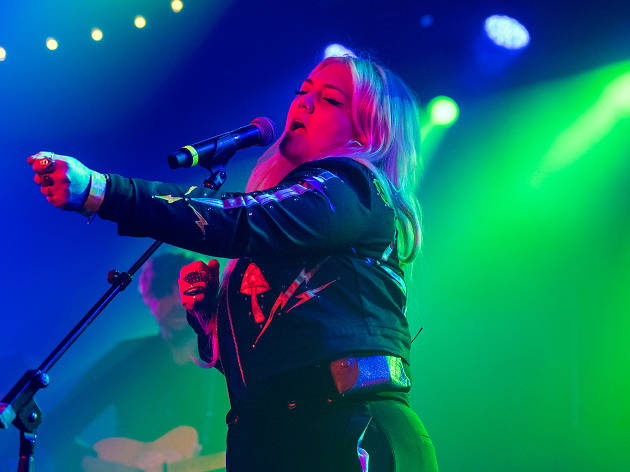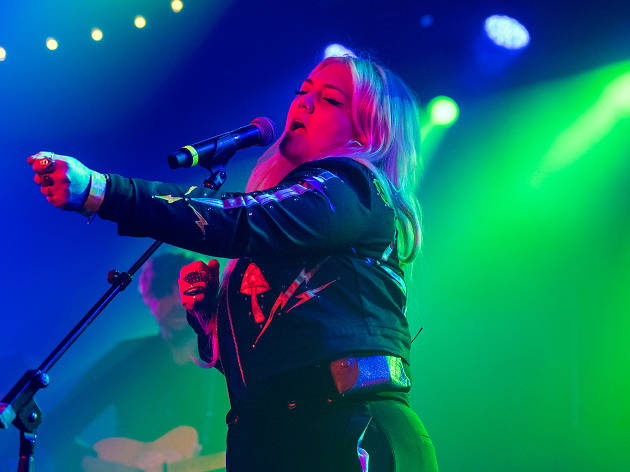 Photograph: David Brendan Hall
9. Elle King at Fair Market (March 15)
"Believe it or not, I used to drink more," harped country-toned soulstress Elle King after taking a deep swig of her Budweiser (the host of the Country Club showcase at Fair Market) to wash down a pair of new tunes: the emotional waltz "Good Thing Gone" and rabble-rouser "Baby Outlaw." "I used to get in a lot of trouble… you know how many places I've been kicked out of in Austin?" If you'd seen her before, the rhetorical query might've felt more earnest than humorous—King was never shy about her love for spirits, and she regularly let it fuel her feistiness on stage. But for this special one-off (she's not currently touring), she seemed particularly lucid (despite donning a sequined weed leaf and magic mushrooms blazer), letting loose her signature rasp to inspire buoyantly boisterous vocals, which climaxed with a powerhouse performance of Aretha Franklin's "I Never Loved a Man (The Way I Love You)." Elle King? More like Elle Queen.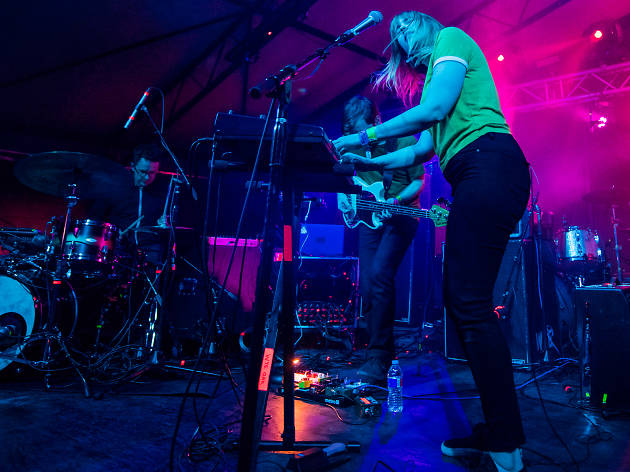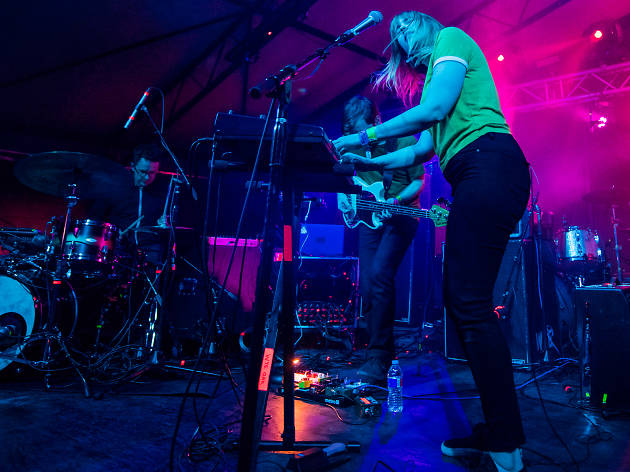 Photograph: David Brendan Hall
8. Wye Oak at Mohawk (March 12)
"We're so happy to be here and playing at the fucking Mohawk…because I can curse and people on the street can hear it," said Wye Oak frontwoman Jen Wasner with a sly grin. Yet more than a celebration of debauchery, it was a fête for the fast-approaching release of the Maryland-bred band's upcoming sixth studio album, The Louder I Call, the Faster it Runs (due April 6), which was almost featured here in its entirety. With the addition of a dedicated third member for the first time (touring bassist Will Hackney), Wasner appeared more carefree than ever, sporting a smile and whipping her hair wildly during tunes that portrayed significant sonic growth through a newfound scope experimentation, from the Talking Heads-esque keyboard tones on "It Was Not Natural" and the Klezmer-inspired upstrokes of "Over and Over" to the softly strummed textures of "You of All People."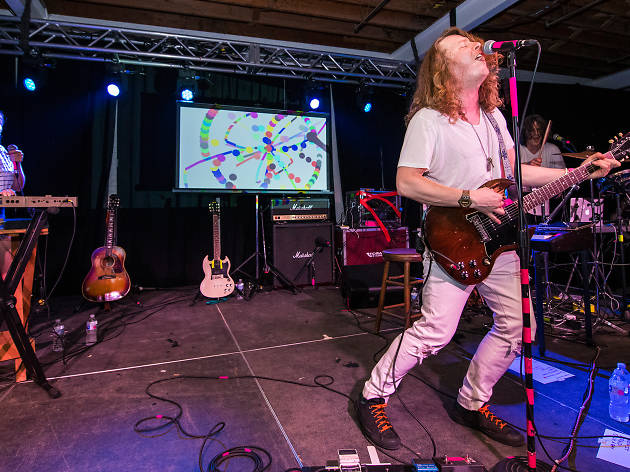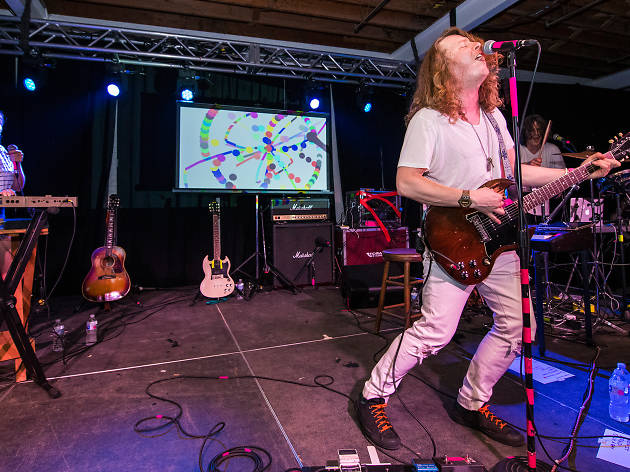 Photograph: David Brendan Hall
7. Ben Kweller at Native Hostel (March 16)
For many in Austin, Ben Kweller's music evokes nostalgia—his much-loved debut Sha Sha dropped 16 years ago and served as a primary middle or high school soundtrack. But for his first show after a three-year hiatus, the North Texas-bred singer-songwriter barely veered anywhere near Memory Lane. In fact, his only detour to the early days came with a mid-set trio of tunes (2002 piano ballad "Falling" and 2006's "Thirteen" and "Sundress"), while brand new fat-beat bangers "Afraid" and "Only a Day" indicated a new direction (newsflash: big pop hooks look good on you, Ben). That said, most of the unreleased tunes played should've satisfied the old-school fans; rollicking rocker "Heart Attack Kid," defiant "You Can't Hold Me" and instantly memorable "Stars" all suggested that BK is ready to rock once again.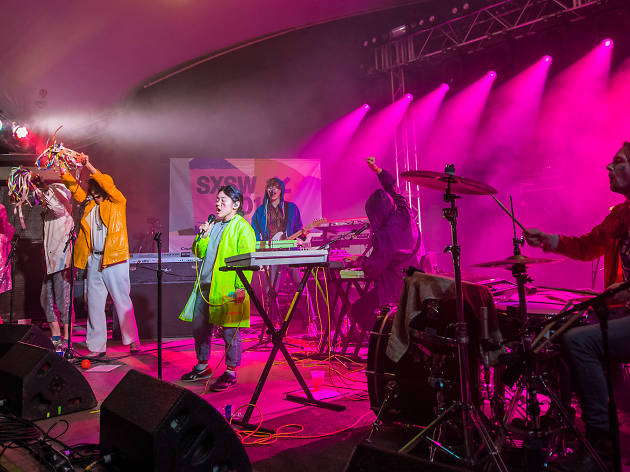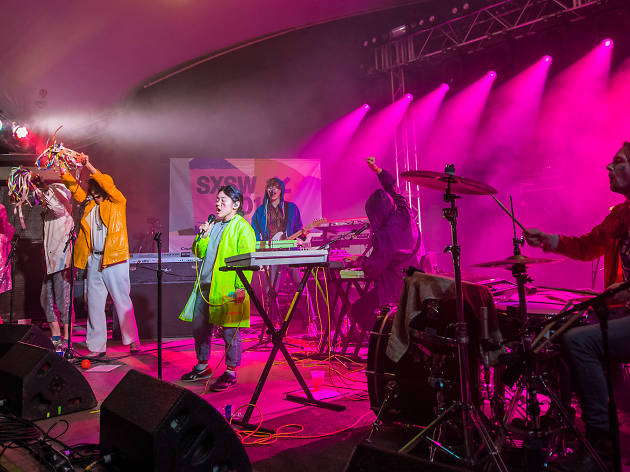 Photograph: David Brendan Hall
6. Superorganism at Stubb's (March 14)
With members ranging in age from 17 (lead vocalist Orono Noguchi) to 32, and who hail from England, Japan, South Korea, Australia and New Zealand, the band moniker Superorganism is highly appropriate, and felt even more so when the group performed at NPR's showcase (a hotspot for breakout acts) on Wednesday night at Stubb's. Though the eight-piece group's debut album just dropped two weeks prior, their set—which included the Tame Impala-toned "It's All Good," the hip-hop-infused psychedelic whimsy of "The Prawn Song" and "SPRORGNSM," and the ultra-happy bop of "Everybody Wants to be Famous"—felt instantly familiar, inspiring venue-wide sing-alongs that fused music fans' spirits, much like, well, some sort of superorganism.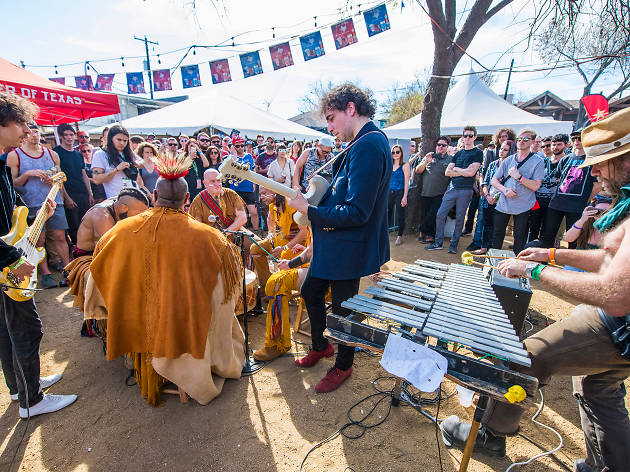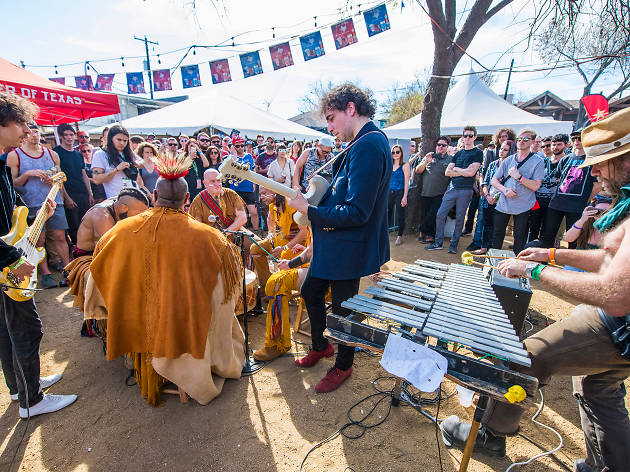 Photograph: David Brendan Hall
5. Yonatan Gat at Hotel Vegas (March 16)
More than a mere concert, Yonatan Gat's Friday afternoon show outside at Hotel Vegas was an immersive experience. As Gat, his lookalike bassist and eclectic percussionist extraordinaire Thor Harris eased into their intro of Link Wray's "Rumble," Algonquin drum group the Eastern Medicine Singers shuffled in and sat in a circle in the middle of gravel yard rather than on stage. For slightly less than an hour, their ardent chants and churning beats mixed with Gat's erratic guitar riffs, quick-hit hooks and occasionally soothing melodies, and with the 90-degree Texas sun beating down throughout, the group conjured the atmosphere of a Native American sweat lodge, briefly transporting audience members to a trancelike, meditative plane, which—if only for a moment—made the surrounding insanity of SXSW feel like a distant memory.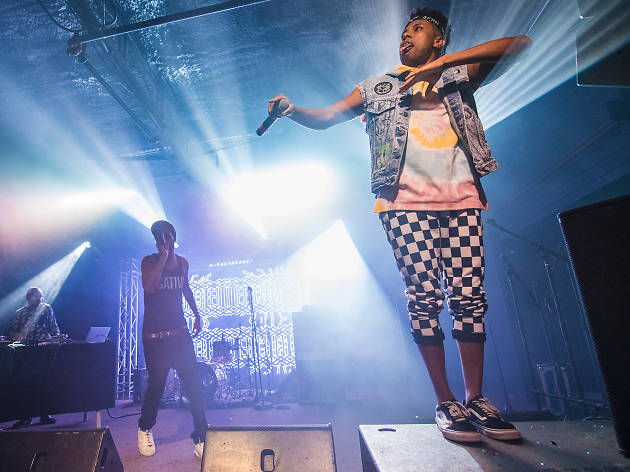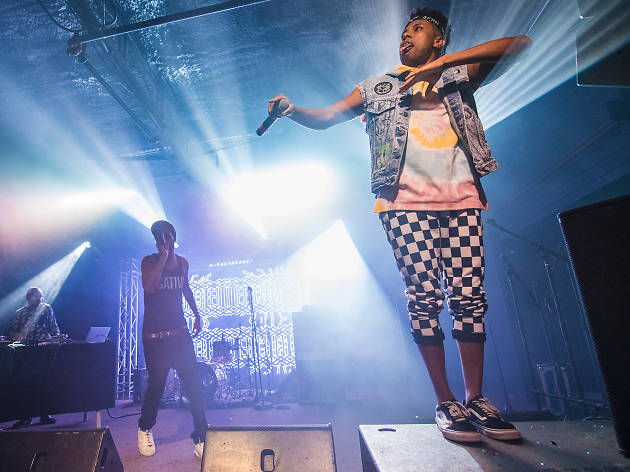 Photograph: David Brendan Hall
4. Blackillac at Empire Garage (March 13)
We've already informed you of the aggressive awesomeness of Blastfamous USA, the local collaboration between beat-maker duo NGHT HCKLRS and rapper Zeale. Their Free Week shows featured a parade of local collaborators, including fellow South Austin MC Phranchyze, who recently teamed up with Zeale and another childhood friend, Gary Clark Jr., to form Blackillac. Similar to BFUSA, this group took Empire Garage by storm with hard-hitting beats and amped-up lyrics, though they were slightly more focused on party vibes (see the group's anthem: "Killin' It" and BFUSA collabo "Pull Up"). They also made sure to throw punches at Donald Trump on "Da Bag": "Someone strip him of his badge, he cannot secure da bag"—hip-hop (and contemporary music in general) need more voices like theirs that entertain while fanning the flames of change.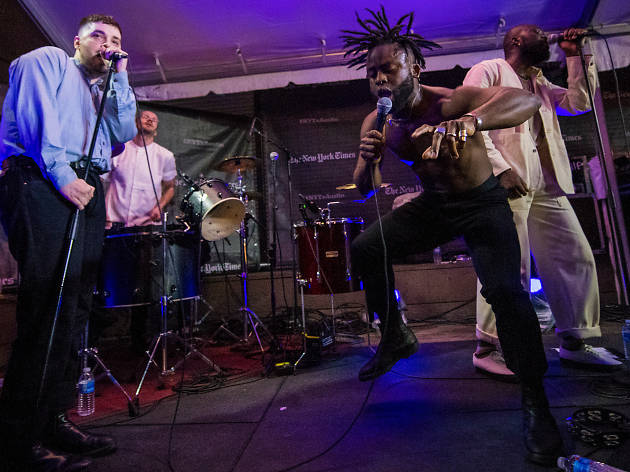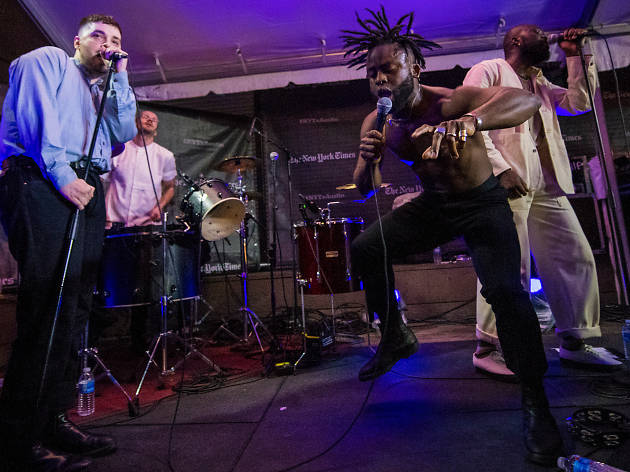 Photograph: David Brendan Hall
3. Young Fathers at Irene's (March 9)
What better way to celebrate the release of a brand new album than to play a whirlwind one-off show during SXSW, veritably blowing a roomful of unsuspecting top-tier journalists' minds in the process? Whether on purpose or by coincidence, that's how things went down when British trio Young Fathers swooped into the tiny backspace at Irene's on the first Friday of SX (also the release date of third album Cocoa Sugar) for the New York Times Magazine party, their only show during the extensive conference. Their performance was impassioned, visceral, aggressive and galvanic, the three singers' gang harmonies echoing a cross-section of TV on the Radio's orchestral epicness, Bloc Party's punk-ish grooves and—during the times when central vocalist Kayus Bankhole segued into sharp raps—shades of Native Tongues progenitors like A Tribe Called Quest and De La Soul. All of it carried an industrial undertone that seemed to possess the members, often resulting in thrashing about and unshakable stare-downs with audience members, which made for an unforgettable SX kickoff.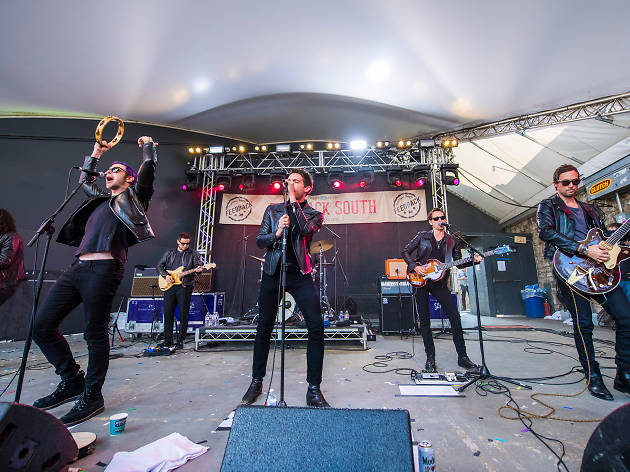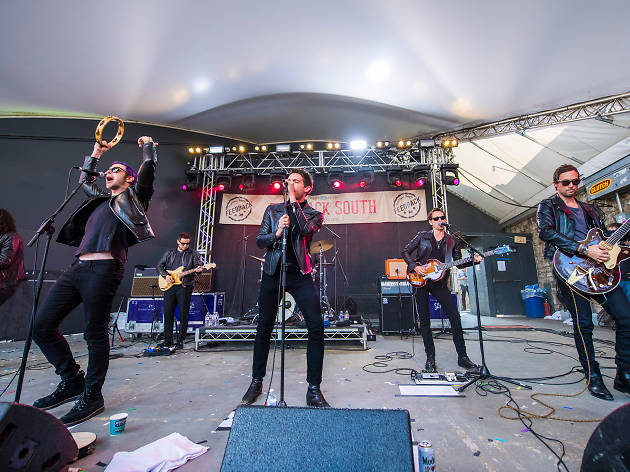 Photograph: David Brendan Hall
2. Dr. Pepper's Jaded Hearts Club Band at Stubb's (March 17)
Beatles haters can stop reading now, though I stand by the notion that you either love the Beatles, or you haven't listened to enough of 'em. So maybe even the most Haterade-drunk among haters could at least appreciate a rock super-group dishing out those classic tunes. Comprised of Muse's Matt Bellamy on bass, Jet's Chris Cester on lead vocals, the Last Shadow Puppets' Miles Kane on guitar/lead vocals, Nine Inch Nails' drummer Ilan Rubin on lead guitar and former Amy Winehouse drummer Sean Payne, the Dr. Pepper's Jaded Hearts Club Band closed out Rachael Ray's annual Feedback party at Stubb's in spectacular style—not a single soul at the outdoor venue left without a perma-grin after hearing witnessing extra-animated renditions of "Back in the U.S.S.R.," "Hey Bulldog" and stunning set closer "Helter Skelter." Among those ranks of Beatles lovers, maybe there were a few naysayers, and perhaps ultra-rare collaboration was enough to sway them. Regardless, long live the Beatles, and long live rock and roll.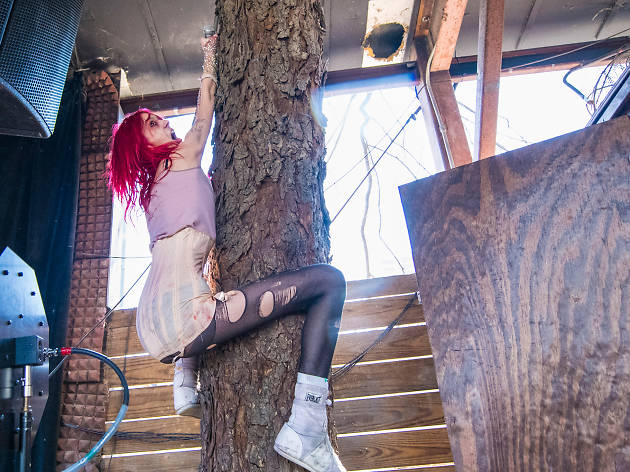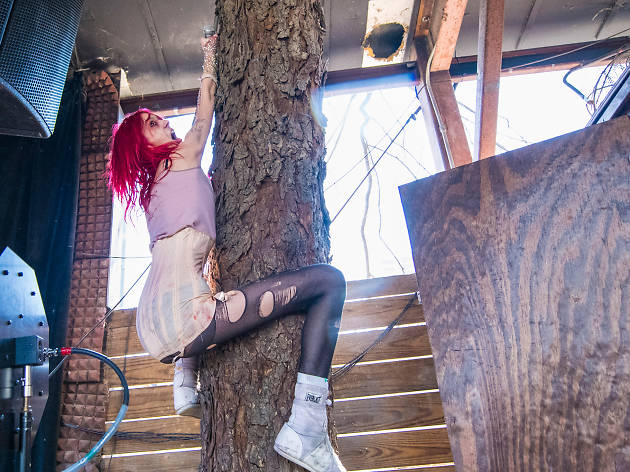 Photograph: David Brendan Hall
1. Starcrawler at the Main II / the Sidewinder (March 13/14)
After a decidedly underwhelming set from Pussy Riot at the Main's outdoor space on Tuesday, a sizable handful of folks were drawn inside by the deafening riffs of Los Angeles' best new rock outfit, Starcrawler (who nabbed SXSW 2018's coveted Grulke Prize for Developing U.S. Act this morning). Their performance that night—followed by an even more incendiary show the following afternoon at the Sidewinder—should've raised the bar to the highest point for anyone attending. During both shows, all eyes were drawn to the erraticisms of super-shredder guitarist Henri Cash and zombie-spacewoman-incarnate vocalist Arrow de Wilde, who at the gigs' ends popped a fake blood capsule in her mouth, smeared it across her face and charged into the audience. They caused mayhem at every turn: at the Main II, de Wilde leapt onto the bar, grabbing peoples' drinks for a sip before tossing them aside; at Sidewinder, she climbed a tree before barreling through the crowd, yanking people around by their badges as she flailed through. Any antics aside, the music fucking rocks, too; SXSW's official description, "a youthful amalgram of the Cramps, the Yeah Yeah Yeahs and Alice Cooper," is apt. If Starcrawler was your one great discovery over the past week, you did SX right.
More thoughts on SXSW 2018
Rising acts still thrive at this growing festival.