Alex Face on his new solo exhibition, Alive
One of Thailand's best-known street artists returns with Alive, his first solo exhibition in four years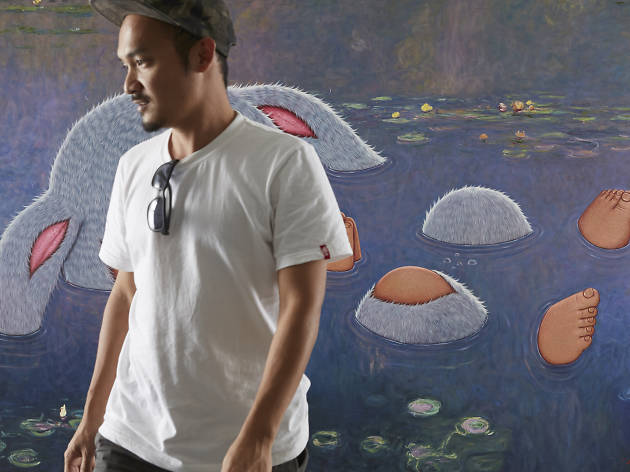 How is Alive different from your past solo exhibitions?
Alive is a multiple-theme exhibition. It is themed around the impressions from my journey around Europe and Asia during the four years I was away. It is also inspired by my childhood passion and the situations we are now facing in our country. Instead of working on an individual art piece, I worked on many art forms at the same time—paintings, sculptures, printmaking, and, of course, graffiti—to fit them in one exhibition. It's part of my job as an artist to return to the art scene with a solo show to tell the audience that I'm still alive.
Given that your graffiti was forcibly wiped out from Sino-Portuguese buildings in Phuket last year, are you now afraid to paint on old shophouses?
There's no such thing as "afraid" for me. I was officially invited by the Phuket Municipality to paint on those old shophouses, plus everything was agreed on by the owners. But things became negative because someone recorded a video when I was working on the unfinished piece and posted it online. That building wasn't even registered as an ancient remain.
What's the different between a graffiti artist and a vandalizer?
There's no difference. Whether you're a graffiti artist or a vandalizer, graffiti is a way to express yourself, but perhaps with a different purpose. Vandalizers may spray the walls with offensive words to express their existence—similar to posting your status on social media.
Do you ask for permission before you paint?
When I started my street art career, no. Back then, it was fun and challenging to go out and paint on random walls at night. But now I do, since I want to create my work without any trouble.
What have you brought to the Bangkok art scene?
I create graffiti work with an aim to inspire the younger generation—that if they want to become a graffiti artist, there is a possibility, there's a way to go.
Alive shows on 21 Dec-19 Feb at Bangkok CityCity Gallery