Q&A with SABER
Time Out chats with SABER the American graffiti artist about his debut exhibition in Asia, Decoding City of Angels.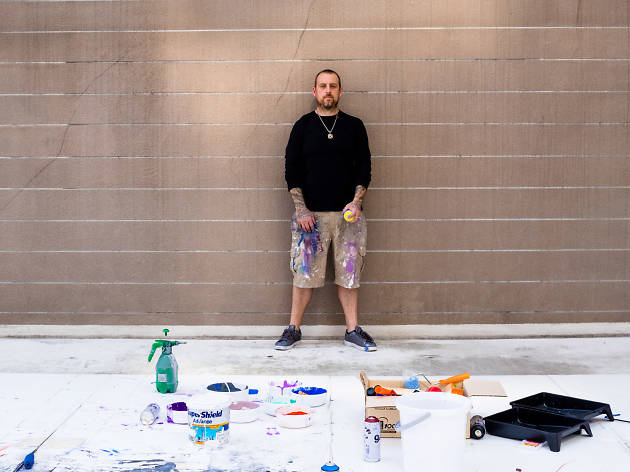 Tell us about Decoding City of Angels
The idea is [about how] I, Saber, from a City of Angels discovers a City of Angels in the East. It's almost like I'm unlearning what it means to be an Angeleño from the City of Angels in the West. It's a search to understand myself better. To cleanse myself from the City of Angels of the West.
It all started when Victor [Charoen Pengsathapon, Chin Gallery's curator], whom I've known for many, many years, revealed to me that Bangkok means "City of Angels." For us, in Los Angeles, we thought we were the only City of Angels. So I flew to Bangkok, not knowing anything, just to come and immerse myself in the city, and get a feeling of what it means to be from the City of Angels of the East. I'm learning [that you have] a certain depth in your culture that is missing in ours.
What exactly is missing in your city?
Basically, it's an acknowledgement of something deeper than ourselves. Because everything back home is competition. It's like we need to eat each other. So my art is a search for something deeper than what we see in front of us. Here you're forced to see it because you see the golden Buddha, the golden temple, and this and that. But take that away and you'll see people respecting each other. That's big for me. I'm not used to people smiling, being nice. The common humanity between each other is what we don't have.
You arrived in Bangkok during the nationwide mourning period for the late King Bhumibol when there weren't too many things happening in the city. How did you then manage to "decode" the city?
I felt it right away. This is part of my problem, but it's also my gift: I feel too much. I can go anywhere and I feel it right away. All I need to do is sit in the middle of the city and just feel, and I could feel the struggle, the intensity, the vibe. I can read men very well. I know what they are doing, thinking. I know what they're saying. I know how they're walking. I know their intentions.
How do you find Bangkok's graffiti scene? How is it different from LA's?
To me, [Bangkok's graffiti scene] is so brand new. But now there's also a connection. I feel like I'm coming from the future, but also a bit like an American refugee. So, spiritually, I'm a bit like a refugee in seeing the advanced city that you guys have. Coming here I'm seeing this new beautiful city, I'm seeing all these new things. But what's odd is that you see that connection to spirituality, the temples, the way people pay their respects.
You started painting at a very young age.When did you feel that you'd made it?
I'm still realizing it. It's part of it. Even [Takashi] Murakami still has to realize it. When you sit back and you go"I've made it," you are done.
How do you define yourself as an artist?
I'm a graffiti writer who happens to create fine art paintings. Being a graffiti writer is the highest title.
What makes your work so unique?
I think, maybe, the story of myself. All the things I've been through and seen give me that unique perspective. Every artist is unique even the ones that are the most commercial, because they're human beings. Everybody is different. For me, my story goes very deep—some of it is very dark. But through those experiences, I learned light.
How will people who don't know much about graffiti be able to understand your work?
They'll have to feel it. My work is all about feeling. I wanted my work to be beautiful. I wanted people to stand in front of the work, and not know what it is and go,"Wow, that's a beautiful painting." And then I decode it for them, and they go,"Wow!". So there are layers. It's like unveiling to them. First and foremost, for me, was beauty, to make sure it has a certain beauty. Now when you see the transition of the show, it'll help explain my experience in the city.
Decoding City of Angels by Chin's Gallery shows on 18 Nov-17 Dec at AETAS (retail studio), 5th floor, 49 Soi Ruamrudee, Ploenchit Road. Open Mon-Sat, 11:00-19:00.