Time Out Bangkok meets Jakkrit Yompayorm
The literature guru who looks to shift common attitudes toward Thai classics.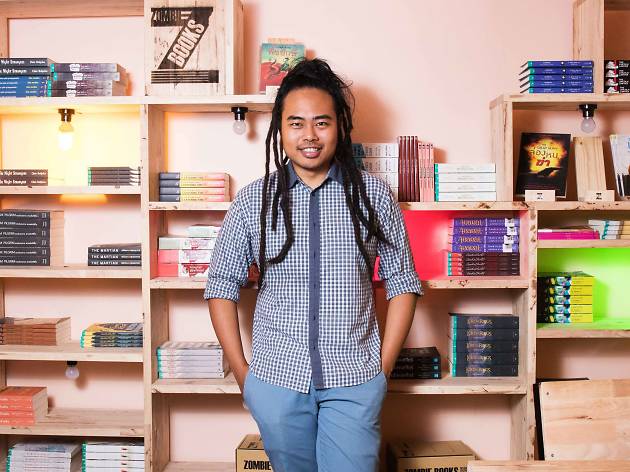 With his dreadlocked hair and biting sense of humor, few would be able to guess that Jakkrit Yompayorm, or "Kru-Tom," is actually an expert in Thai literature. A freelance teacher, TV host, and recently a bestselling author, Kru-Tom is working to change society's perception of classic Thai literatures, as well as how they are taught to school children. Time Out catches up with the inspiring and probably the hippest Thai literature teacher you could ever meet.
How did your passion in Thai literature begin?
When I spent my childhood in Phang-nga, I liked visiting the city library after playing with my friends at the temple grounds. At first, I started reading comic books and fairy tales like other children. Then, I discovered another section dedicated to thai folklore, myth and literature in prose and poetry. I became utterly absorbed by these exciting tales. That was where the real passion began. I didn't feel forced into reading them at all.
You have been invited to teach all over Thailand. How would you describe how literature is taught in schools?
Thai students have a bad impression on literature in general mainly because they feel forced to learn something that is no longer relevant to their lives, both in vocabulary and ideas. Also, some teachers have bad teaching techniques and prioritize memorizing quotes from the books over critical discussions. I'm not saying that memorizing is not necessary, but teachers have to make them more relevant to today's world and interpret them in contem-porary contexts. Plus the lessons need to be interesting and entertaining.
How would you describe yourself as a teacher?
I am not a full-time teacher at any school so I can wear whatever I like and wear hair however I want to. I can totally let loose, have fun and just be myself. And yes, the kids love it. They can confidently ask me questions because they are not intimidated by the strict and conventional teacher persona. I never tease or scold at students if they make mistakes. And, as you may know, I work in media, so I always build up a fun learning environment whenever I teach.
Congratulations on your new book about the Thai poet Sunthorn Phu. Tell us more about it.
Sunthorn Phu is revered as the master of Thai poetry— a Thai Shakespeare, I would say. But somehow, there are many misconceptions on who he is, mostly from teachers who didn't do research. Basically, the book is to give an insight on his life and works. For example, most people still believe that he is from Rayong. Actually, he lived in Bangkok throughout his entire life. And you will learn many more if you read the book. It is written in an entertaining tone so you won't think you're reading research.
Do you think you have any similarity with Sunthorn Phu?
Well, what we do contradicts who we are. I am both teachers with a great passion in literature, but I'm not afraid to get wasted or behave in an unconventional manner. People in his time would see Soon-Torn-Pooh getting drunk by the city wall; you can see me doing the same thing in Thong Lor at weekends.
Do you agree with the idea that Thai literature should be revered as a national treasure and should be treated with respect?
I totally disagree with this remark. Literature was actually written for entertainment in the first place. Even Ramakien (the heroic epic many Thai beliefs and cultures are founded on) was made to be performed onstage for the entertainment of people in the form of khon. If we give literature too much respect, people would not feel encouraged to read it or give it a creative touch. In the end, it will disappear over time, like Latin, which nobody speaks anymore.
What are your future plans?
I want to write a book on Thai literature for the foreign audience. There are a lot of books on Thai food and culture in English but I haven't seen one on the shelf about literature. It would be interesting for them to get an insight on Thailand and its people from reading something that history books don't tell them.