Let's celebrate FIFA World Cup 2018
...with the national drinks of each of the 32 competing countries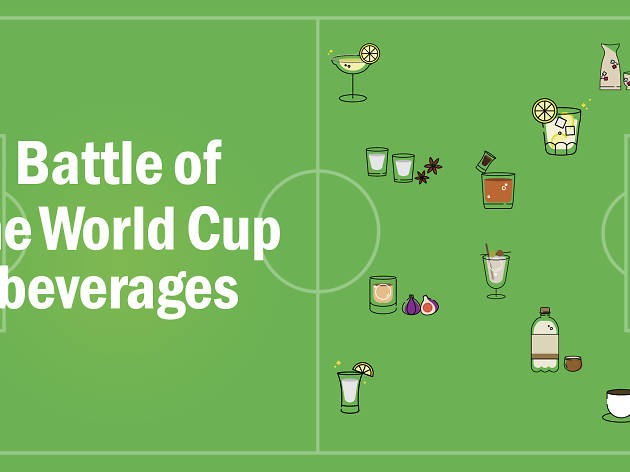 The FIFA World Cup 2018 kicks off on 14 June with host country Russia playing against Saudi Arabia. So let's celebrate the occasion by imbibing (or at least getting to know) the national drinks of each of the 32 competing countries. Which drink will reign supreme in the battle of the binge?
Illustration by Peeraya Sirathanisa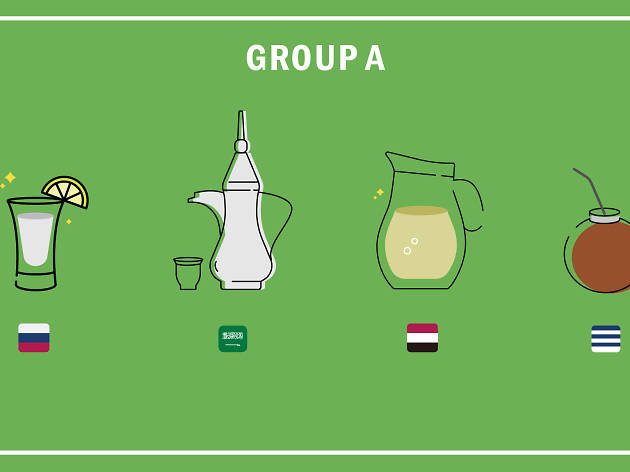 Time Out Bangkok
Russia
The drink: Vodka
Vodka is everything to Russia. The spirit supposedly made its first appearance in Russia during the 14th century, but only really gained momentum in the 1980s. Buntanes "Pop" Direkrittikul, a Thai bartender who has had a lot of guest appearances in St.Petersburg says, "Russians love to infuse their vodka with everything, and just simply take a shot." (Fun fact: There are a few classic cocktails with names related to Russia such as Moscow Mule and Black Russian, but none of them actually originated in the Slavic country.)
Where to try it: Since we don't have an authentic vodka bar in Bangkok, you can try Pop's vodka chocolate shot at Eat Me (0 2238 0931)—but not before ordering one of his Thai-inspired cocktails.
Saudi Arabia
The drink: Arabic coffee
Apart from fresh fruit juice, Arabic coffee is considered the national drink in this desert country. The term refers to the process of serving brewed Arabica coffee beans in the region's signature style: hot in a small cup with a bit of cardamom and with no sugar added.
Where to try it: The Espresso Martini at A Stimulant by Sarnies (09 9432 6433) is a booze-fueled version of your favorite energy booster, mixing vodka with an espresso shot, coffee liqueur and sugar syrup. Ask for an extra sprinkling of cardamom to give the drink an Arabic twist.
Egypt
The drink: Fresh sugarcane juice
You'll find stalls selling freshly squeezed sugarcane juice at every street corner in Cairo or anywhere else in Egypt. Egyptians usually line up for this refreshing drink after evening prayers.
Where to try it: Try the Ruen Rudee at one Michelin-starred Saneh Jaan (0 2650 9880). Inspired by the Thai dessert of the same name, the cocktail mixes Frangelico with sweet and refreshing sugarcane juice, white champaka syrup and Mekhong spirit.
Uruguay
The drink: Mate
Mate is a caffeine-rich, energy boosting South American drink that is prepared by steeping the yerba mate plant in hot water. Traditionally, they are drank from a cup made of cured calabash gourd.
Where to try it: Mate is hard to find in Bangkok, but if you're in Germany, you can try Club Mate, a carbonated beverage with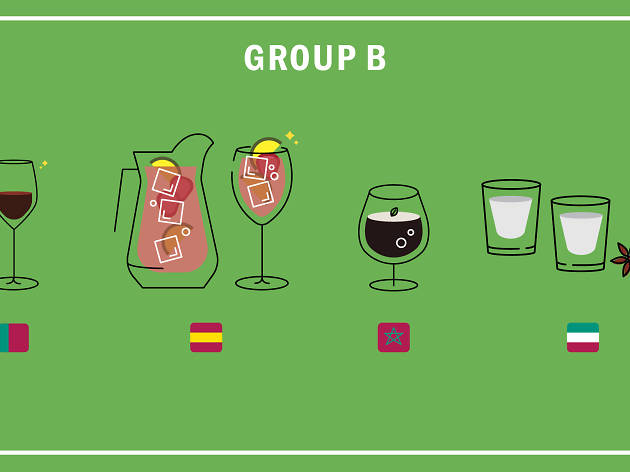 Time Out Bangkok
Portugal
The drink: Port wine
Port wine is traditionally made in the Douro Valley in the north of Portugal. Classified as a fortified wine, it is made by infusing a grape-based spirit or brandy into wine during the production process.
Where to try it: Port wine can be paired with any kind of food but, here in Bangkok, bartenders tend to mix it into cocktails. Brasserie Cordonnier (0 2038 5113) has the Moulin Sour, a twist on the New York Sour that combines port wine with whiskey, truffles and ginger.
Spain
The drink: Sangria
Spanish fare's reputation is partly based around sangria, a refreshing drink that combines red (or white) wine, chopped summer fruits (apples, oranges, pineapples, etc), fruit juice, and brandy or another spirit of your choice. Unlike wine, sangria is best taken with lots of ice.
Where to try it: Toro (0 2392 5113) has various selections of sangria by the glass.
Morocco
The drink: Moroccan mint tea
Many business deals in this African Muslim country have been made over sips of mint tea. The mint in Morocco is said to be the best in the world, which is why Moroccan mint tea is said to be incomparable. It's also easy to make—just brew green tea with spearmint, and add sugar.
Where to try to: You can make it at home, but you can also try The Orange's Tea's (09 5564 1642) Hipster Moroccan, which puts a twist on the famous tea drink by infusing black tea overnight with mint. The brew is then nitrogenized before serving.
Iran
The drink: Arak
If you love absinthe, you will definitely like this distilled spirit. Arak is an anise-flavored distilled spirit that's typically made from grapes grown in Mediterranean climates, though dates, plums and figs may also be used. Dripping water into a shot of arak gives it a "louche" effect (when the clear spirit turns into a cloudy color), but, unlike absinthe which turns green, the cloudy liquid remains white.
Where to try it: Arak is still not available in Bangkok; but it does enjoy a bit of popularity in Bali.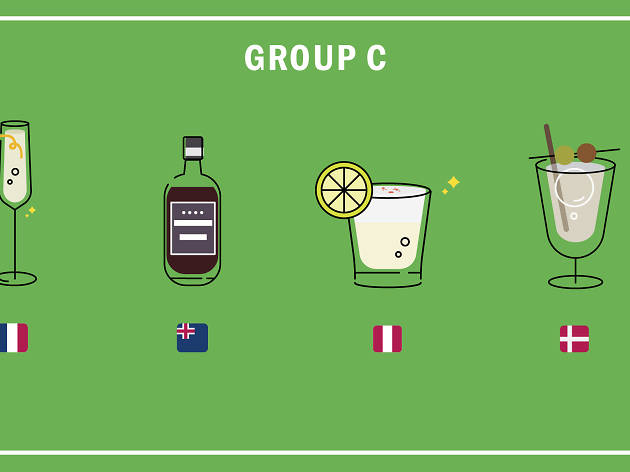 Time Out Bangkok
France
The drink: Champagne
Champagne, a name for sparkling wine that's grown specifically in the Champagne region of France, is sipped in the European country before dinner as an aperitif, after dinner with cheese, or on a hot, lazy afternoon. One of the more popular cocktails made with the popular bubbly is French 75, which tops a combination of gin, lime and sugar with Champagne.
Where to try it: Vogue Lounge (0 2001 0697), with its gorgeous décor and excellent service, is one of the best and most stylish places to sip French 75.
Australia
The drink: Four Pillars Gin
Australia doesn't really have a national drink. But the country does have a way of making things their own, which is why their coffee culture is so unique, and why they're the new world for wine. Even boutique gin, notably Four Pillars Gin, has featured in Australia's F&B scene as of late.
Where to try it: Four Pillars Bloody Shiraz Gin is a drink that's the result of steeping YarraValley Shiraz grapes in the spirit. Get a local version of the drink at Bangkok's favorite gin bar, Just A Drink (Maybe) (0 2023 7285).
Peru
The drink: Pisco
Pisco is a distilled spirit that uses fermented grape juice as a base ingredient. It is used to make Pisco sour, a cocktail that combines the spirit with lime juice, sugar syrup, egg white and a dash of bitters.
Where to try it: Peruvian restaurants like Above Eleven (0 2038 5111).
Denmark
The drink: Akvavit
Denmark is know for its own distilled spirit called akvavit. The spirit is distilled either from grain or potatoes, and flavored with the additionof herbs and spices such as caraway, fennel and dill.
Where to try it: The spirit itself is not available in Bangkok but if you'd like a drink with a herbal twist, try Kunchai/ Melon at Ku Bar (0 2067 6731). The drink sits between sweet and savory, thanks to a mix of tequila, Chinese celery and honeydew.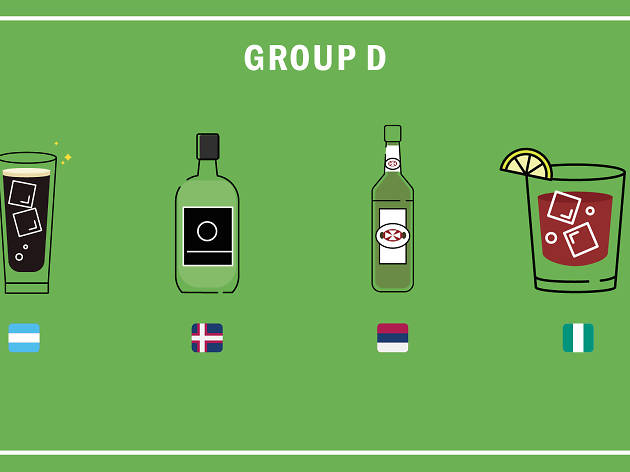 Time Out Bangkok
Agentina
The drink: Fernet
Fernet is made in Italy and usually served as an after-dinner digestive. Strangely enough, Fernet is very popular in Argentina, where it's usually mixed with Coke.
Where to try it: If Fernet with Coke doesn't get you excited, try the Hanky Panky at Vesper (0 2235 2777), which combines the bitter Italian liqueur with gin and sweet vermouth.
Iceland
The drink: Brennivín
Iceland's signature distilled beverage is a sharp and potent drink made from grain or potatoes, and flavored with caraway—you can say it's Iceland's version of akvavit.
Where to try it: Kitibordee "Gov" Chortubtim of Backstage Cocktail Bar (06 1519 5891) is the master of herbal concoctions. Go to the bar and ask for a customized tipple with caraway in it.
Croatia
The drink: Rakia
They say Rakia is the Balkan version of vodka. The drink is very famous in the peninsula and may be made from plums, grapes, apricots or even fig. But in Croatia, the Rakia is made only from grapes.
Where to try it: Try the Sake Margarita at Salon du Japonisant (08 3019 9062), which mixes Ohnime Junmai Daigingo sake with lychee, Muscat grape, lemon juice and homemade syrup.
Nigeria
The drink: Zobo
This drink is similar to tea as it's made with dried flowers (usually roselle), fruits like pineapple, and herbs like ginger and garlic. The drink is popular as a natural diuretic and is used traditionally as a mild form of medicine.
Where to try it: 4th Floor Drip Bar (08 0944 2949) offers an amazing coffee-based roselle drink called Chor Ginnaree that's topped up with ginger ale.
Time Out Bangkok
Brazil
The drink: Cachaça
Brazil has their own distilled spirit called cachaça, which is made from fermented sugarcane juice. It's usually the main ingredient in Brazil's national cocktail, Caipirinha, a tipple that also contains copious amounts of lime and white sugar.
Where to try it: Most Bangkok bars import a couple of Cachaca brands, so you can have this Brazilian version of mojito nearly everywhere.
Switzerland
The drink: Absinthe
Most people associate absinthe with France, and don't realize that the spirit actually originated in Switzerland. This anise-flavored beverage is derived from botanicals including wormwood. It was banned in many countries in the early 1900s due to the claim that it caused hallucinations—hey, any drink with a staggeringly high ABV of up to 70 percent will mess with your mind. To prevent the onslaught of abnormal visions, dilute the spirit with three parts before drinking.
Where to try: Black Amber Social Club (09 2276 2772) and Smalls (09 5585 1398) serve absinthe in a variety of ways.
Costa Rica
The drink: Guaro
Like cachaça, guaro is made of sugarcane and is similar to white rum. The difference is the sugarcane used in producing guaro is not fermented, resulting in a sweeter, yet stronger, flavor.
Where to try it: Asia Today (09 7134 4704) stocks up a number of rum brands like Chalong Bay and Isan Rum, each of which involves different, complex production processes. Maybe trying different kinds of rum would be akin to an introduction to guaro.
Serbia
The drink: Slivovitz
Similar to Croatian rakia, slivovitz is a fruit-based brandy that is produced in central and Eastern Europe. In Serbia, slivovitz is made from plum, which is the national fruit of the country.
Where to try it: It's nearly impossible to find slivovitz here in Bangkok. You can, however, try another kind of plum wine—umeshu—at Prum Plum (0 2249 3146), the city's most popular umeshu bar.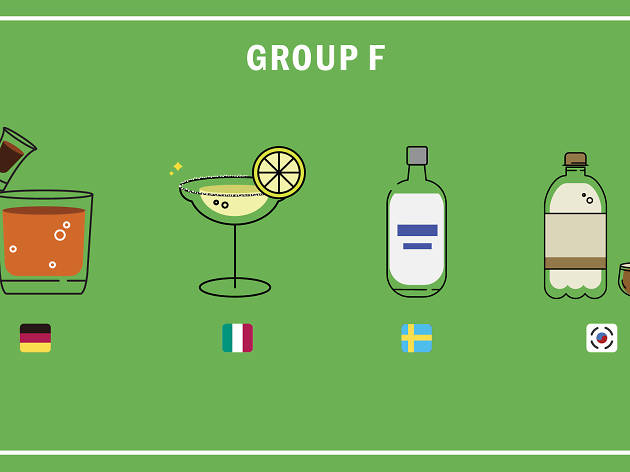 Time Out Bangkok
Germany
The drink: Jagermeister
In a country where Oktoberfest is everything, no drink is more popular than beer. But when it comes to spirits, Jagermeister, a digestif made of over 50 kinds of herbs, is the name of the game.
Where to try it: To clubgoers around the world, a shot of Jager Bomb, found in nearly all of the clubs and bars in Bangkok, is a classic party starter.
Mexico
The drink: Tequila
It's not Mexico without tequila. In fact, the word "tequila" can't be used by manufacturers in other countries. The distilled spirit is made with 100-percent blue agave (spirits made with other types of agave are called mezcal). You can have the spirit in either the usual "lick, shoot and suck" way or in a cocktail like the famous margarita, which mixes tequila, triple sec and lime.
Where to try it: You can find the biggest selection of tequila and mezcal at Touché Ombre (0 2392 7760) and The 88 Surawongse (08 1829 7189).
Sweden
The drink: Absolut Vodka
In Sweden, they use the term "brännvin" to call spirits distilled from potatoes or any grain. Famous vodka brand Absolut originated in Sweden and is considered the highest-grade brännvin.
Where to try it: Ce La Vi's (0 2108 2000 ) Cosmopolitan is one of the best in the city. Here, the classic favorite mixes Absolute vodka with triple sec, cranberry juice and lime juice.
South Korea
The drink: Soju and makgeolli
You may have heard of soju, the most popular liquor in Korea, but you probably haven't heard of makgeolli. Both are traditionally made from rice, although these days the former is now also made with other starches like sweet potatoes and wheat (which is probably why it tastes a bit like vodka). Makgeolli, meanwhile, is made from fermented rice, which would explain its milky color and yogurt-like taste.
Where to try it: The newly opened Kiki Bar (09 8838 8176) serves soju and makgeolli in different flavors.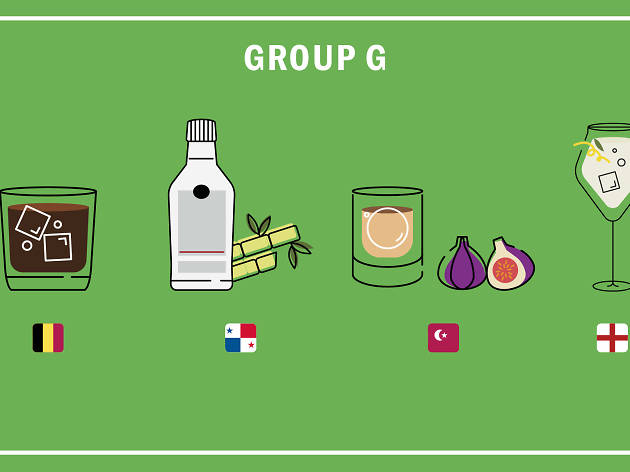 Time Out Bangkok
Belgium
The drink: Black Russian
Who would have thought that Belgium is the real birthplace of this vodka-based cocktail? The Black Russian was actually created in 1949 at the Hotel Metropole in Brussels, and is made by simply mixing vodka with coffee liqueur (add a dollop of fresh cream to get a White Russian).
Where to try it: Get your Black Russian at Dexter (0 2636 6222), a cafe where cocktails are also served.
Panama
The drink: Seco Herrerano
Triple distilled from sugarcane, Seco Herrerano is traditionally drank straight or used in mixed drinks as a replacement for rum or vodka. The spirit was created back in the early 1900s by family-owned company Varela Hermanos.
Where to try it: Seco Herrerano goes into making good tiki cocktails. Get yours at Tropic City (09 1870 9825).
Tunisia
The drink: Boukha
Boukha, invented around 1880, is a spirit made with the finest Mediterranean figs. It is great either as an aperitif or a digestif.
Where to try it: The spirit is not available in Bangkok but if you'd like cocktail with a hint of fig, try the bourbonbased Autumn Rhythm No.30 at Vesper (0 2235 2777).
England
The drink: Gin and tonic
Gin may have not originated in England, but the cocktail can be attributed to the Brits. The drink became popular in the country during the 19th century when quinine (or tonic water) was consumed to cure malaria. It tasted so bitter that British soldiers added gin to make it easier to drink.
Where to try it: Teens of Thailand (09 6846 0506) and Just a Drink (Maybe) (0 2023 7285) have the city's largest selection of both gins and tonics.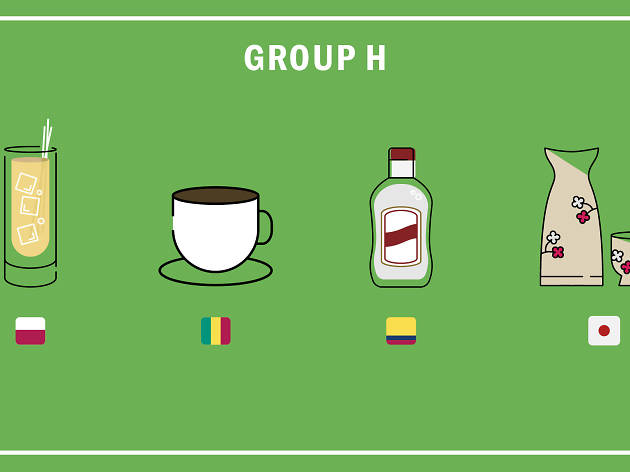 Time Out Bangkok
Poland
The drink: Zubrowka
Poland has its own version of vodka called Zubrowka, which is flavored with bison grass. This spirit is mixed with apple juice to make Szarlotka (literally means "apple pie").
Where to try it: Bison grass vodka is available at Evil Man Blues (0 2392 7740). Just ask them to pour a shot into apple juice to customize your own Szarlotka cocktail.
Senegal
The drink: Cafe Touba
Cafe Touba is a traditional Senegalese coffee that's flavored with djar (African black pepper), cloves and lots of sugar (no milk!).
Where to try it: If bittersweet is your favorite taste profile, try the Coffee Negroni at Q&A (0 2664 1445).
Colombia
The drink: Aguardiente
The word itself (which translates to "strong water" in Spanish) is a generic term for alcoholic beverages that are derived from fermented fruit. In Colombia, however, aguardiente is made from fermented sugarcane and flavored with anise.
Where to try it: Asia Today (09 7134 4704) has its own version of the classic Sazerac, where the bartender uses licorice seeds to imitate the anise flavor that's in beverages like aguardiente.
Japan
The drink: Sake
Sake is famous not just in Japan but around the world. Simply put, this traditional drink is a liquor that's delicately brewed from fermented polished rice. Using more polished rice results in higher-quality sake.
Where to try it: There are so many sake bars in Bangkok, but check out Salon du Japonisant (08 3019 9062) for a good selection of sake and Japanese whiskey.