Mekhong cocktails selected to indulge prestigious guests at Michelin Guide Gala Dinner in Bangkok
Mekhong Thai Spirit presents two cocktails awarded by judges to be served at Bangkok's first-ever Michelin Guide Gala Dinner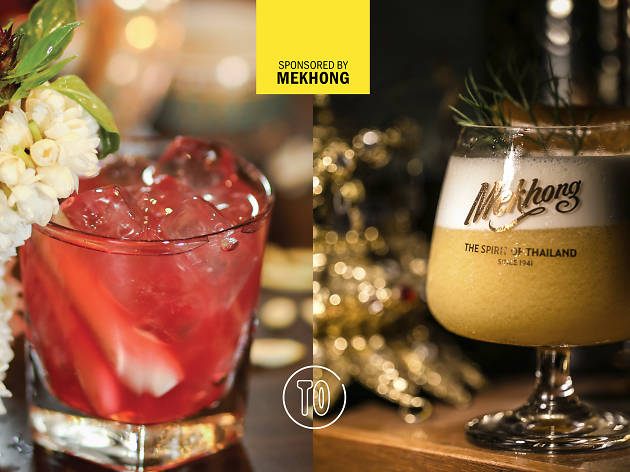 Noted Thai rum brand, Mekhong, recently hosted Mekhong Thai Spirit Cocktails 2017, a cocktail-crafting competition that searched for the perfect cocktails that best represent Thailand's multi-faceted culture. Judged by the panel led by food and drinks experts and honorary guests, including Gaelle Van Hieu, Michelin's Vice President for East Asia & Australia, two cocktails were selected to represent the best Thailand has to offer to honorary international gourmands. And here they are:
1. Thong
Ingredients: Mekhong, ripe, mango, lime, honey, palm, sugar, dill and egg white
TEP BAR hearkens back to the golden age of the Kingdom—the bygone heyday of Siam when temples and palaces were said to be studded with gold—with a drink call Thong ("gold" in Thai). TEP BAR combines Mekhong with mango purée (ripe mangoes are an integral element of the Thai culinary scene) with aromatic honey that's harvested mid-year (said to be the period when the honey is at its sweetest) and palm sugar. The combination's sweet notes are offset by the zest of lime juice and mango leather. To finish, each glass is garnished with dill and edible gold leaf.
Try it at: TEP BAR, 69-71, Soi Nana, Charoenkrung, 09 8467 2944
_______________________________________
2. Koon Suek
Ingredients: Mekhong, extra dry vermouth, red wine, lemongrass, Thai sweet basil, lime and syrup
In ancient times, Thai soldiers imbibed nam jan (herbal liquor) to boost their courage, and maybe even instill a certain spirited recklessness, prior to engaging in battle. Baan Suriyasai creates a contemporary version of this controversial drink by combining red wine and dry vermouth with Mekhong rum, which boasts more than ten Thai traditional spices including cardamom, clove and cinnamon. Fresh ingredients like lemongrass and Thai sweet basil also come into play to add freshness and a bit of complexity.
Try it at: Baan Suriyasai, 174 Surawong Road, Bang Rak, 0 2237 8889