Spotlight on Modern Classic Cocktails
Vesper's Supawit "Palm" Muttarattana, one of the city's best mixologists, introduces modern classic cocktails to Bangkok's bar scene.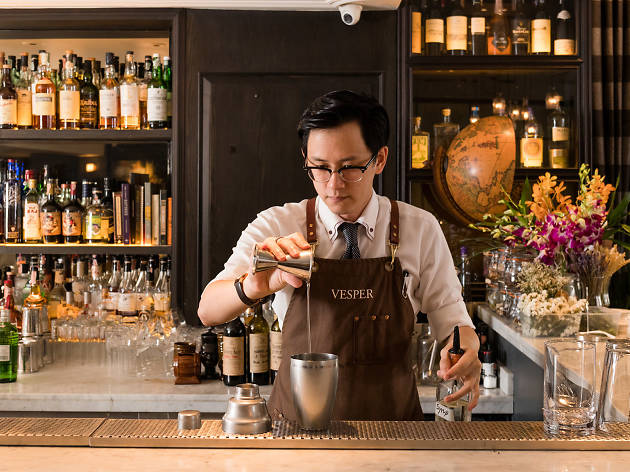 The Bangkok's bar scene is already familiar with classic cocktails— concoctions that have successfully stood the test of time—including more famous tipples like Negroni and Old Fashioned, and usually forgotten ones like Sazerac and Aviation. All these cocktails were invented almost a century ago, and we've asked ourselves (usually over one too many glasses) the reasons behind their universal popularity. What if someone invented a new drink that's destined for greatness, would it qualify as a "new classic"?
Vesper Cocktail Bar & Restaurant tries to give us some answers with their newly launched "Modern Classic" menu, curated by Supawit "Palm" Muttarattana, a talented mixologist who was just appointed Vesper's new Group Bar Manager.
Supawit is one of the names behind the successful growth of Bangkok's cocktail scene. The winner of the Diageo World Class Thailand cocktail competition in 2012, Supawit joined Diageo as a brand ambassador for Diageo Moet Hennessy Thailand, and later co-founded Backstage Cocktail Bar in Thonglor. The barman shares everything we need to know about the "new classics" in the mixing scene.
What makes a cocktail classic?
The key to creating a classic cocktail lies in the recipe—it should be possible for everyone around the world to follow. It can't be something that has to be mixed with a special homemade syrup infused with 48 ingredients or has to be mixed with a specific kind of lime that can only be found in a specific country. It should be easy to replicate. At Vesper, we have our signature Art Book menu [art-inspired cocktails]. The recipes here are not very easy to follow, so we wouldn't call them modern classics. One of the most famous new classics among serious drinkers is Penicillin. It simply combines scotch, honey, lemon, ginger and Islay whiskey. Even if you don't exactly follow the original recipe, it would still be called a Penicillin.
How would you define a modern classic?
It's quite difficult to say when a cocktail can be considered a modern classic. There's no rigid rule. For me, mixed drinks could be categorized briefly into three periods in time: Pre-Prohibition, Prohibition and Post-Prohibition. These three terms were created after the Prohibition, which was an era that highly influenced the world's drinking scene. We know exactly that the Prohibition period, which was between 1920 and 1933, was when alcohol sales were illegal in America. The Modern Classics from Vesper were handpicked by me from cocktails invented from the Seventies onward—the period when cocktails became a big thing again.
Bartenders around the world create new drinks everyday and, trust me, some of them are unintentionally repeated. How would you know if this drink was already invented if the founding bartender didn't publicize the name and the recipe? So publicizing helps in this case. Many bars in the US and UK have started to launch recipe books, and the best part is that those recipes are now widely considered classics.
Why are you so interested in modern classic cocktails?
I think we're living in an age where bargoers always crave for something new, and won't keep drinking only the same drink. When I was organizing the World Class Competition, Jan [Chennarong Bhumichitr] and I would add at least one lesser-known classic cocktail to the challenge, like Last Word or Silk Stocking. Three years ago, Last Word was nothing. Now, everyone loves it. So if a new drink is invented, publishing and publicizing it are key. You need to promote it, so everyone—working every job function—in the industry can contribute to making the drink a successful new classic.
Five modern classic cocktails you should know
Sereechai Puttes/Time Out Bangkok
Sam Ross from Milk & Honey, New York City (2005)
One of the most famous new classics of the modern era only recently caught the spotlight, despite having been promoted in the USA since 2005. It became, perhaps, the first cocktail to raise public attention to the term "modern classic." At Vesper, this sweet-and-sour drink introduces a hint of whiskey sour from the combination of Johnnie Walker Black Label, lemon and honey, and kicks in some spice with ginger syrup, and smokiness with Ardbeg 10 YO.
Sereechai Puttes/Time Out Bangkok
Sam Ross from The Violet Hour, Chicago (2007)
Creating the Penicillin was not enough for Ross. Two years after he moved to Chicago's The Violet Hour, the productive mixologist came up with an easy-sipping mix of Bulleit bourbon, Aperol, Amaro Nonino, and lemon, and named it after the song he was listening to while coming up with the recipe: "Paper Planes" by British artist M.I.A.. At Vesper, Supawit injects grappa, the grape-based pomace brandy, for more well-rounded finish.
Sereechai Puttes/Time Out Bangkok
Wayne Collins from VinExpo, Bordeaux (2001)
The Negroni is already listed as one of the most famous cocktails of all time. In 2001, Wayne Collins successfully applied a twist to the drink by using a white bitter liqueur called Suze instead of Campari to make the drink crystal clear while still retaining its bitterness and aroma. Since Suze is not available in Thailand, Supawit replaces it with Luxardo Bitters Bianco.
Sereechai Puttes/Time Out Bangkok
Erik Lorincz from American Bar, The Savoy Hotel, London (2011)
The Savoy Hotel has always made its mark in the ongoing history of cocktails. Back in 1903, a gin-based classic called Hanky Panky (gin, sweet vermouth and Fernet- Branca) was invented here by female bartender Ada Coleman. A few years ago, bartender Erik Lorincz made history once more by creating Green Park, a tangy drink that combines gin, lemon, Italian basil, sugar, celery bitters and egg white. Easy to mix but impressively complicated.
Sereechai Puttes/Time Out Bangkok
Dick Bradsell from Soho Brasserie, London (1980s)
If the stories are to be believed, this drink was supposedly created for a top British model (said to be Naomi Campbell) who needed a drink to wake her up—and f*ck her up. The original recipe includes vodka, coffee liqueur and a shot of espresso. For his own interpretation, Supawit uses hazelnut-scented coffee Noisette Espresso and vanilla.
More to explore