Time Out Loves... Mekhong Cocktails at Exquisite Thai Restaurants
Fine-dining Thai restaurants where you can enjoy the best Mekhong cocktails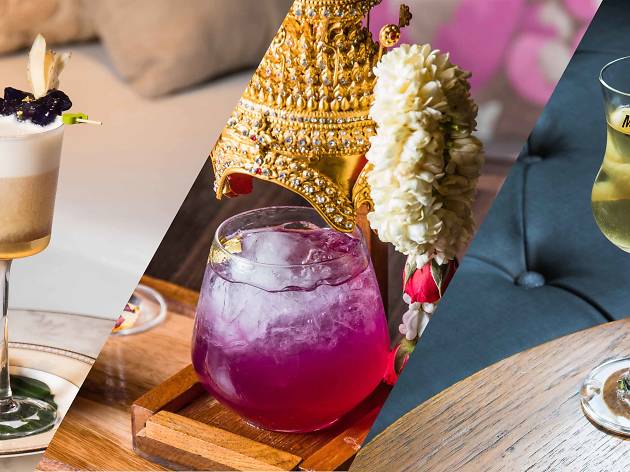 Mekhong Thai Spirit delivers flavors that are unique and decidedly Thai. When mixed into cocktails, this homegrown liquor is able to encapsulate tantalizing tastes that appeal to locals and foreigners alike.
Mekhong Thai Spirit teams up with three of the best Thai restaurants in Bangkok to create cocktails that enhance that true flavors of Thai cuisine.
Tomyum Mekhala at Osha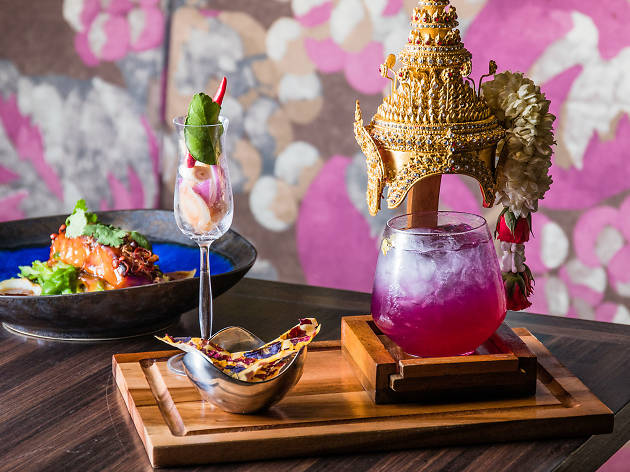 Sereechai Puttes
Modern Thai establishment Osha puts together photogenic cocktails inspired by Mekhala, the goddess of the ocean and a character in traditional Thai folklore. The pea flower-colored Tomyum Mekkhala evokes exotic tastes delivered through a mix of galangal, lemongrass, kaffir lime and shallots—the ingredients that go into tomyum—plus a shot of Mekhong. Embellished with an exquisite chada head piece, the drink is also served with an ice ball as a reference to a famous scene in the tale when the goddess is chased by a giant demon for her crystal ball.
Recommended with… Grilled sea bass with tamarind sauce
Cooked in tamarind sauce, this dish, which is just the right balance of sweet and tangy, is the perfect pairing for Tomyam Mekhala, a cocktail that delivers flavors both sweet and spicy.
99 Wireless Rd, Lumpini, 0 2656 6555. Open 11:00-14:30, 18:00-23:00
Ruen Ruedee at Saneh Jaan
Sereechai Puttes/Time Out Bangkok
One Michelin-starred Thai restaurant Saneh Jaan takes inspiration from ruen rudee, a Thai dessert that was traditionally reserved for the royal court and is usually smoked with a scented candle, to create this Mekhong-based cocktail. Saneh Jaan's boozy dessert drink exudes an aromatic sweetness with the mix of Frangelico (hazelnut liqueur), sugar cane juice and white champaka syrup. The cocktail is topped with white champaka mousse prior to serving.
Recommended with… Saneh jaan

These tiny mung bean cakes, which stand out for their nutty flavor and smoky notes, surprisingly goes well with Ruen Ruedee's delicate yet bold sweetness.
Glasshouse at Sindhorn, 130-132 Witthayu Road, 0 2650 9880. Open daily 11:30-14:00, 18:00-22:00
Mekhong Essence at Chim by Siam Wisdom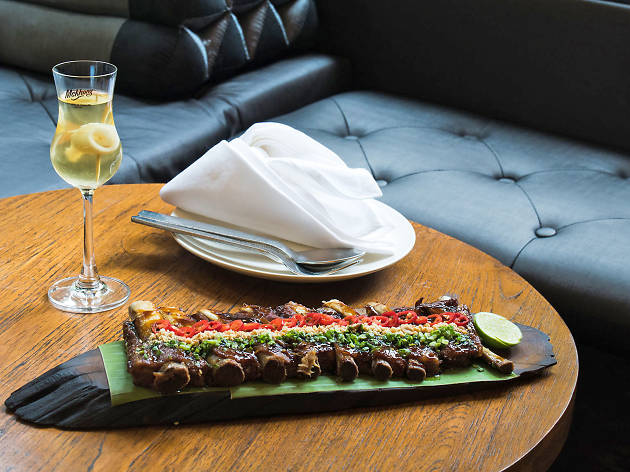 Chim by Siam Wisdom, the one Michelin-starred Thai eatery by celebrity chef Chompol Jangprai, delivers the spice-packed flavors of Mekhong with a coconut water-infused cocktail called Mekhong Essence.
Recommended with… Cee krong moo yang
Siam Wisdom's signature pork rib dish features tender meat that benefits from the indulgent sweetness of wild honey and the spicy notes of ginger, making it a great complement to Mekhong Essence.
66 Soi Sukhumvit 31/4, Sukhumvit, 0 2260 7811. Open daily 12:00-14:30, 18:00-22:00
Visit Mekhong website to learn more about the journey of the legendary Thai spirit, and how it's evolved into the perfect match for savory Thai cuisine, enhancing your dining experience,
More to explore