Time Out Loves... Cocktails Journey Around Thailand
Celebrate the diversity of Thailand with premium Thai rum Mekhong
Thailand is a hodgepodge of diverse wonders, from mountainous peaks that afford breathtaking views of the sunset, to turquoise-colored seas inhabited by vibrant marine life, to misty jungles that are home to exotic flora and fauna.
Mekhong, the premium Thai rum, celebrates the diversity of The Land of Smiles by delivering equally multifaceted Thai experiences into your cocktail glass.
Yala at Tep Bar
Sereechai Puttes/Time Out Bangkok
The exotic deep south province of Yala is filled with hidden natural and cultural gems untarnished by tourists and trekkers. This deliciously creamy cocktail, served in a coconut shell-like bowl, is as mysterious and enticing. Yala is a stimulating tipple that mixes coconut water and coconut milk with honey and pomelo. A touch of Mekhong adds complexity to the heady drink.
Recommended with … Gai Yang Kamin
This Southern-style grilled chicken dish whets the appetite with the fragrant aroma of turmeric. Yala's creamy texture pairs well with its bold, spicy flavors.
69-71 Soi Yi Sip Song Karakadakhom 4, Pom Prap, Pom Prap Sattru Phai, 098 467 2944. Open daily 17:00-01:00
Bangkok Sunset at Jim Thompson Restaurant and Bar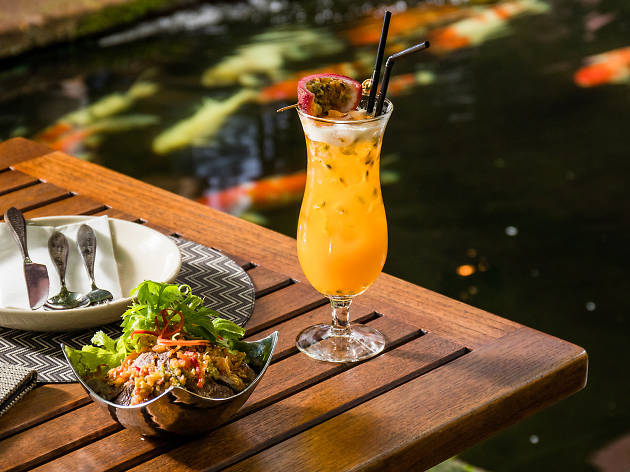 Sereechai Puttes/Time Out Bangkok
Bangkok is known as an eclectic concrete jungle, and the best way to appreciate it is by climbing atop one of the city's many skyscrapers and drinking in the skyline with a refreshing cocktail. To treat you to the mesmerizing viewing experience without hiking up to the roof, Jim Thompson has created Bangkok Sunset, a sweet and fruity drink that, inspired by alluring colors of the sky at sunset, blends passion fruit, orange and pineapple juices with Mekhong and Galliano herbal liqueur.
Recommended with … Yam Neua Yang
The fruity concoction greatly complements the spicy flavors of this salad dish, which mixes tender Australian grilled beef tenderloin with Thai herbs and lime juice.
6 Soi Kasemsan 2, 02 612 3601. Open daily 10:00-17:00, 18:00-22:00
Mekhong Full Moon at Blue Elephant
The wild and electrifying full moon parties are not completed without the devilish plastic bucket of juice-infused booze that deceptively makes you wake up on the sandy beach the next morning. The upscale Thai restaurant Blue Elephant looks to bring the party vibe to the classic dining room with Mekhong Full Moon, the upgraded version of the fruity beach concoction coming with the refreshing mix of Mekhong, peach liqueur, pineapple juice and lime juice.
Recommended with ... Crab Curry with Betal Leaves
The best pairing to the beach-perfect party cocktail is the sumptuous seafood dish and nothing beats the spicy crab curry. The Southern delicacy sees chunks of crab meat swimming in the spicy-heavy turmeric broth that becomes a perfect contrast to the fruity note of the cocktail.
233 South Sathorn Road, 02 673 9353. Open daily 11:30-14:30, 18:00-22:30
Let's discover the inspirations behind these Thai-influenced Mekhong cocktails, and feeling traveling around the kingdom without leaving town. Ready to embark on a new drinks journey with Mekhong, the premium Thai rum?
Check out www.mekhong.com
More to explore