Beyond an attractive smile
Achieve a healthier, shinier and more beautiful smile at BWC Dental Clinic, the new face of dentistry.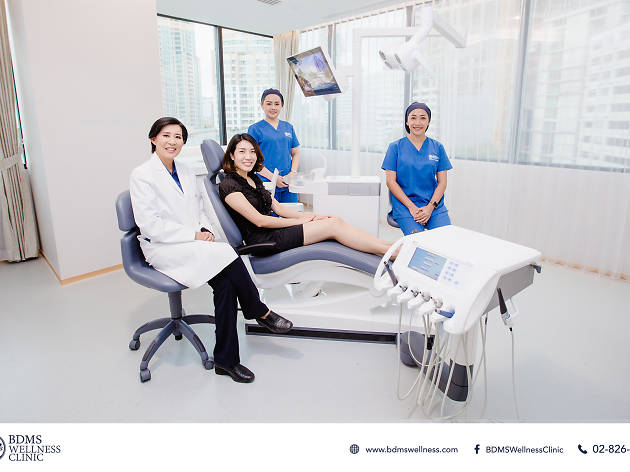 An attractive smile—the combination of shiny white teeth and healthy gums—is a dream for many. BWC Dental Clinic has one job and that's to make that dream come true.
Set within a lush garden setting in the newly opened state-of-the-art BDMS Wellness Clinic in downtown Bangkok, BWC Dental Clinic aims to become one of Thailand's best and most advanced dental facilities. Treatments and procedures are performed using cutting-edge dental technology in luxurious private rooms.
BWC offers more than basic dentistry. Apart from optimizing the latest dental innovations to prevent tooth decay and oral disease, the clinic also specializes in exclusive "dental aesthetics," that help each patient "design" their perfect smile with the help of our dentists.
High-tech services offered include Smile Analysis, which uses a 3D oral scan that allows clients to see their real-time dental condition, as well as approximate results after the treatments. Smile Makeover is a basic procedure that revives your healthy smile, while Full Mouth Rehabilitation allows our dentists to restore your dental function. If you require a new dental cap and need a same-day restoration, BWC has an in-house digital CAD/CAM system that is able to design, make and finish your new dental crown within a day. BWC is one of the very few dental clinics in Thailand that has this technology. Clear tooth alignment, dental implants and dental treatments under sedation are available as well. The clinic also tests your breath for halitosis or unpleasant odor, which is especially helpful for securing your confidence.
BWC Dental Clinic doesn't only provide world-class services for adults; in-house pediatric dentists are also on hand to take a closer look at your little angels' teeth and gums.
Visit BWC Dental Clinic today to start your journey to a beautiful life-long smile!
BWC Dental Clinic
BDMS Wellness Clinic
2/4 Wireless Road, +66 2 826 9986
info@bdmswellness.com