Nong Pear Pa Ploen: "I want to become a makeup artist in Hollywood."
Meet the young—really young—makeup vlogger, who, at the age of 10, became the youngest artist to ever touch up faces at London Fashion Week 2018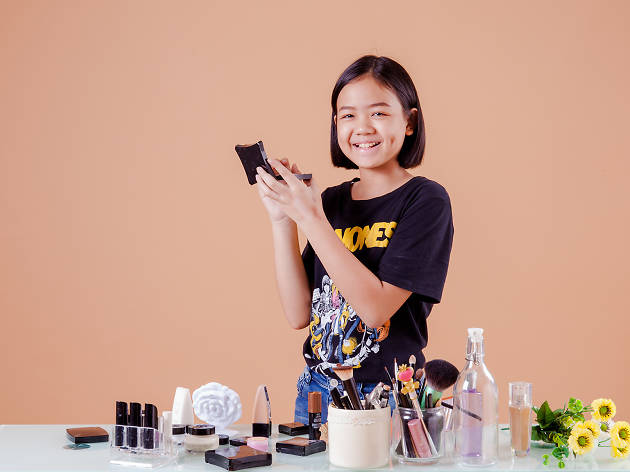 Nong Pear Pa Ploen or "Pear" is a popular Thai vlogger whose talent in applying makeup began to shine at a very young age. At around two years old, Pear discovered her love for painting. But instead of doing so on paper (or walls in some cases), she honed her skills on a makeup app on her mom's iPad. Soon after, she moved on to a bigger stage: YouTube, which opened up the little artist to the world of online makeup tutorials. "Inspired by [the makeup tutorials] I watched, I began to record my first makeup video when I was only around five. My mom found the clip hilarious, and so she uploaded it on YouTube."
A few more videos were uploaded and received mixed comments—some adored watching the little girl play with makeup, some didn't. However, it wasn't until Pear turned seven that she started reading the comments. "At first I didn't understand if people were complimenting or criticizing because there were terms—like gae dade ("premature" in Thai)—which I didn't understand at five. But at seven, I recognized it, and [the negative comments] really hurt me." Pear was so disheartened by the online criticism that she stopped uploading makeup clips for almost a year.
Cyberbullying, however, didn't end her passion for makeup. She practiced and recorded videos as usual, but didn't publish them online. Pear's parents finally realized her determination and decided to support her with proper makeup lessons at a makeup school. After finishing the course, she was ready to go back online, just in time for the rise of Facebook Live, which became her new outlet. After a few years of doing makeup tutorials on her page (which is managed by her mom and currently has more than 700,000 fans), the nine-yearold Pear started getting jobs as a makeup artist, mainly for her fans.
The turning point came last year when she discovered that her former teacher went to the the States to do further studies in makeup. "I told my mom I wanted to study a makeup course in the US too. But because I was too young, I ended up with an offer from MelVicMakeup Academy in Warrington in England," Pear explains. "So I flew there, and on the second day of the course, my makeup teacher asked me if I'd like to join her at London Fashion Week 2018." Pear ecstatically agreed and was soon doing backstage makeup for British fashion label House of iKons. At the end of the show, the crew brought her out on stage where the fashion world and global media—including BBC—learned about the 10-year-old girl with a talent for painting faces.
Now that she's back home, Pear has become a bigger star. Studies, however, remain her priority. "I dedicate Mondays to Fridays for school and post makeup tutorials and cosmetic reviews on Facebook Live on the weekends. But on semester breaks, that's when I have time to spend in my makeup room every day." The young makeup artist has just been offered a scholarship at MelVicMakeup Academy, which she'll be attending this April. Pear will be focusing on special effects and fantasy makeup this time. "I want to become a makeup artist in Hollywood," she concludes.