Interview: Prapt
From scribbling in storybooks to winning an award, a writer of the moment shares his two-decade journey in the ink-and-paper business.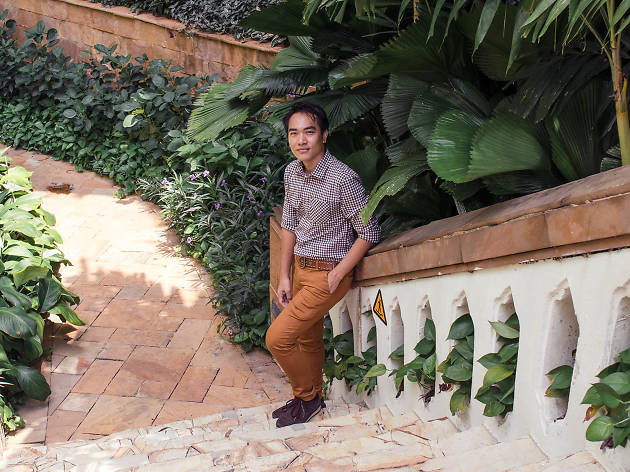 Every year, hundreds of Thai novels are released in the market, drowning readers in all types of rom-com, romance and same-sex stories. Local crime novels, however, have never been in the spotlight—at least, not until 2014 when Kahon Mahoratuk, a detective novel by a young writer named Prapt bagged the Amarin Readers' Choice Award. Four years later, the novel has been adapted into a much-talked-about television series, and its creator, whether he likes it or not, is back in the spotlight.
Prapt is the pen name of Chairat Pipitpattanaprap, an author who best compares his life to "riding a Giveaway roller coaster." Prapt developed a love for reading as a child, but the little bookworm didn't limit his passion to just reading. He would often jot down his thoughts on the stories he lapped up, both on his own books as well as his nanny's. "I've been writing since I was a kid," Prapt shares. "It's like creating my own world." He took his passion one step further in high school when he began uploading his work to Thai teen online community, Dek-D, where his unique style of writing caught the eyes of editors who offered opportunities to publish his stories. Rak Tong Plum was his first work that got published. It was 2004, and he was still a high school student. This was followed by three to four other books. His successful run, however, abruptly came to a halt when the publishing company shut down. But that didn't stop Prapt from writing and exploring his talent by crafting stories in different genres. "At that time, I only focused on myself, and not the market," explains the author.
But a turning point came in 2014 when he decided to lay his last card and joined the Amarin Readers' Choice Award competition. "I had decided that if my work still didn't get published this time, I would move on to doing something else." Kahon Mahoratuk was that book, a novel that he spent only three months researching and writing while working full-time as a senior HR officer. It won the award, was published and became a big hit. And Prapt's star shone like it never had before.
Set in a post-World War II period, the award-winning novel centers around the investigation of murders committed by a serial killer, who would leave mysterious tattoos on his victim's bodies. These tattoos are, in fact, encrypted messages that give clues as to the murderer's real identity. His fast-paced style of story-telling, combined with his use of symbols and codes, earned Prapt the reputation for being the Thai version of Dan Brown. "My main inspiration was kon kloeng," says the author, referring to a Thai poetry genre in which words are intentionally displaced into diagrams to overlay encrypted messages. "It's like a secret code." Despite his recent success, Prapt is far from slowing down. The novelist has just released a spinoff of his famous novel. "It's called Ling Pat Klon. It's not the part two of Kahon Mahoratuk, but I've brought back two characters—Kabi and Shane—into different forms in an alternative universe." The story is up for free reading on www.anowl.co.
Special thanks to Dusit Thani Bangkok