Q&A with Slot Machine
The award-winning Thai rock band returns home after a year-long world tour for the first concert in Thailand in three years.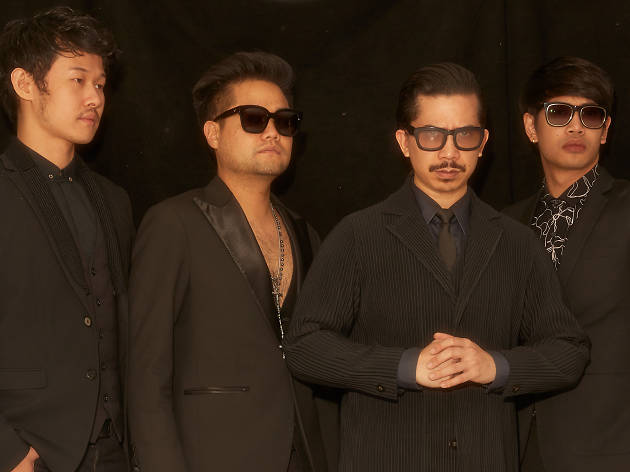 How have you guys been?
Foet: It's been three years [since their last concert, Slot Machine: The First Contact], and we've had experienced so much from working with producer Steve Lillywhite in making our sixth album Spin the World, toured around Asia, Australia, the UK and North America, the latter in which we spent the past month playing as an indie band. American music scene is strong and challenging for a professional band. If we can make it in America, we can perform anywhere in the world. We 'll definitely adapt everything we learned for our upcoming show.
Vit: And we're so happy that we did it.
Auto: We're probably the first Thai band ever toured America without performing for a Thai audience prodominantly.
Gak: Normally Thai bands would go to perform abroad for a Thai audience. That's one way to do it. But if we want to try the real battlefield, we wanted the Americans to hear our music.
How was the feedback?
Foet: It was pretty crazy. They didn't know Thailand. They didn't know what Thai music is like. They had no idea about Thai people.
How was it like having to start over again to perform in front of individuals who know nothing about you?
Foet: We felt so good because we didn't feel the pressure nor comparison. We had nothing to lose so we could do anything. There're things we couldn't – and probably wouldn't – do when performing in Thailand like talking [on stage] about mankind, virtues, unity, love, and peace. If we do that in Thailand people would be like: "maybe you should become a politician?".
Auto: [In Thailand] these messages were discreetly hidden in our lyrics, key visuals, artwork, music videos, or interviews. One reason we chose [to perform in] America was because [we believe in] its environment that promotes freedom of speech.
Gak: Also, I'm proud that there are foreigners who try to learn Thai to be able to sing our Thai songs and to communicate with us.
How was it like joining Miyavi and Kiha & the Faces in their world tours?
Foet: It's like we are somewhere in between. Miyavi is highly experienced, in Kiha & the Faces we saw ourselves when we were rookies and just started. It felt like we're touring as a big family where music bonds everyone toghether.
What's the feedback from the latest EP, Spin The World?
Foet: After we had finished recording the English album, we continued working on the Thai version right away. But instead of translating the English lyrics, we've rewritten everything in Thai for our own sake and credibility. Some lyrics can't be translated, too. Thai language has a different structure. Some words can't really be translated from one to another language with the same meaning. So, two versions of the same song might have slightly similar meanings (such as "Dai Wela" and "And We Go", "Khon" and "I Know I Know") or might not (such as "Mai Mee Khwam Rak" and "Sky Burning Stars"). We regret we didn't create a Thai version of "The Land of Himmapan," but we definitely made the right decision.
Your new EP fuses some other kinds of genres besides rock. Do you ever worry that your fans would think Slot Machine is losing the identity?
Foet: Actually [Spin the World ] has Slot Machine-ness people overlook. They are more familiar with our "rock" image we portay on stage and forgot that we have, in fact, always been experimental. For us, rock is just a perception, not a music genre.
Gak: During our tour abroad, people were surprised from our [dapper] look and asked if we really are a rock band. There's more than just one rock culture. We want to be a band that changes the definition of rock music.
You guys have added Thai folk-style melodies into some songs, did it come from your true calling or the so-called responsibility as a "Thai" artist?
Foet: We naturally injected anything that reminded us of our roots into our songs.
Vit: We've applied various Thai melodies – those heard during Songkran or Loy Kra Tong festivals – into our songs such as "Kloem" and "Suan Dokmai." We've heard those tunes since we were born. They link our music to our culture.
How would you define success?
Vit: When people [from abroad] feel that they really want to come to see us. When they can sing our songs. And when we get to perform on a big stage like Wembley.
Auto: We played at many cool venues like Field Mall, The House of Wool, Camden. That's the first step. Let's see where the next step will take us.
Gak: When I tell the foreign audience I'm from Thailand and they don't think I'm from Taiwan.
What is the one song that could possibly represent Slot Machine's whole journey?
Gak: "Paan (Yesterday)." It's the truth of life. It's like we composed that first song as our last.
Vit: I've got the same answer. We are the band that always writes songs for the future
Auto: Same song. It's on the album that brought us together (Vit and Auto joined the band from the second album).
Slot Machine The Mothership Live is on 26 August from 7pm at Impact Arena Muang Thong Thani.