Best things to eat in Talad Plu
We take you across the river to explore Bangkok's underrated food haven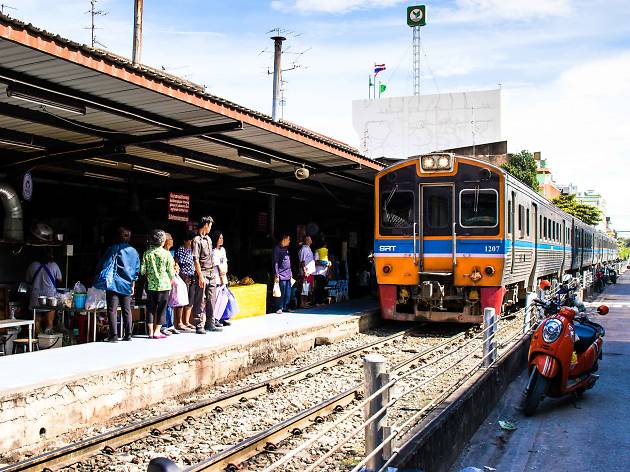 While Yaowarat has long been the tourist's go-to for street eats, Talad Plu, an old residential area in Thonburi, is where the locals go for tourist- and hassle-free, not to mention more pocket-friendly, dining options.
Situated by Bangkok Yai canal, Talad Plu was the site of the first Chinese settlement in the city during the Thonburi period before they migrated to the current Chinatown in Sam Peng. The Muslims soon took over the spot and brought with them the plu (Thai medicinal herb) cultivation culture, growing the crop throughout the neighborhood, thus the name Talad Plu.
The central part of Talad Plu runs along Terd Thai road, which boasts an array of ancient shophouses, temples, a railway station and, most importantly to foodies, a gamut of delicious street food options. The neighborhood is accessible via BTS and a short taxi or shuttle ride.
Best things to eat in Talad Plu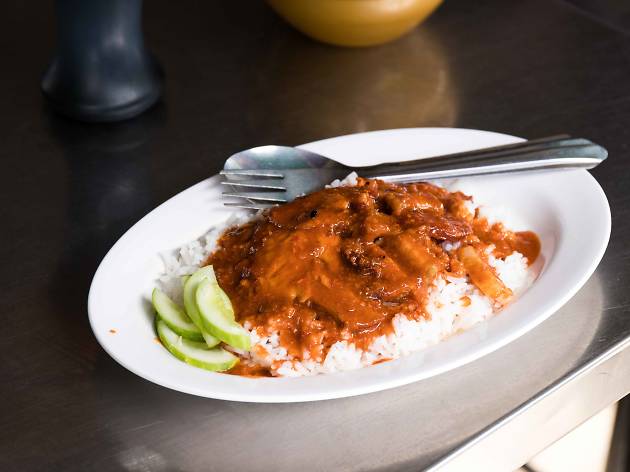 Sereechai Puttes/Time Out Bangkok
BBQ pork with rice at Sunee Khao Moo Daeng
Kick off your street food hopping at Soi Toet Thai 25 where you'll find a popular food stall selling barbecue pork with rice. Having been featured on numerous cooking shows, this stall is a favorite among locals for its tender BBQ pork and heavenly crispy pork belly, both of which are laden with a special sweet gravy with roasted peanuts. And each dish only costs B30!
Open daily 6:00 to 20:30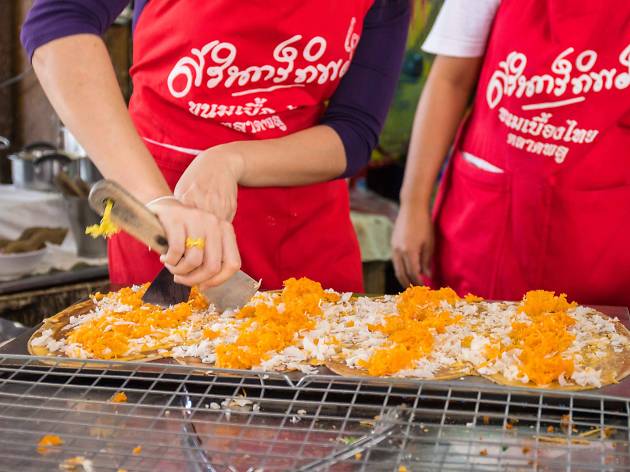 Sereechai Puttes/Time Out Bangkok
Khanom beurng at Khanom Beurng Thai Talad Plu Sarinthip
Having churned out khanom beurng (Thai crepe) for four generations, Sarinthip has always been a popular destination for the French-inspired treat (there's always a queue for it snaking to the entrance of the Talad Plu fresh market). Sarinthip's version of khanom beurng stands out for its crispiness, the result of letting the batter cook in the pan longer than usual. There are two flavors to choose from: a sweet one that's heaped with shredded coconut and foi thong (golden egg yolk threads), and a savory one packed with shrimp paste.
Open Mon-Sat 9:00-16:00, 18:00 to 21:30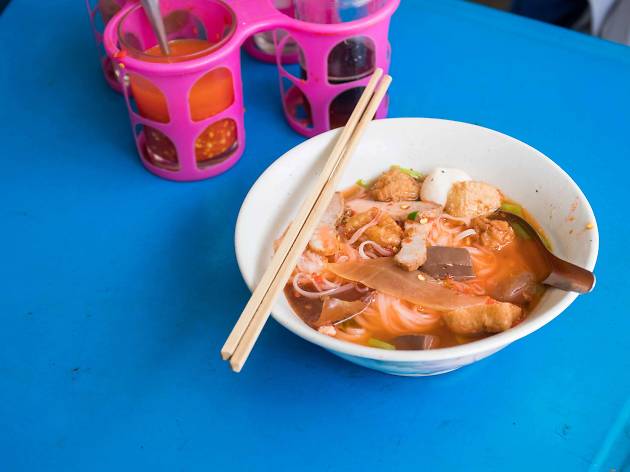 Sereechai Puttes/Time Out Bangkok
Yen ta fo noodle at Tia Yen Ta Fo
Make your way toward the railway and you'll come across a row of food stalls. The very last is the decades-old Tia Yen Ta Foo, which focuses on yen ta fo noodles served in a sweet red broth. Unlike in other establishments, Tia's signature broth is spicier, clearer and less sweet. Each bowl is packed with proteins like fish balls, crispy squid and fried pork slices.
Open daily 8:00 to 15:00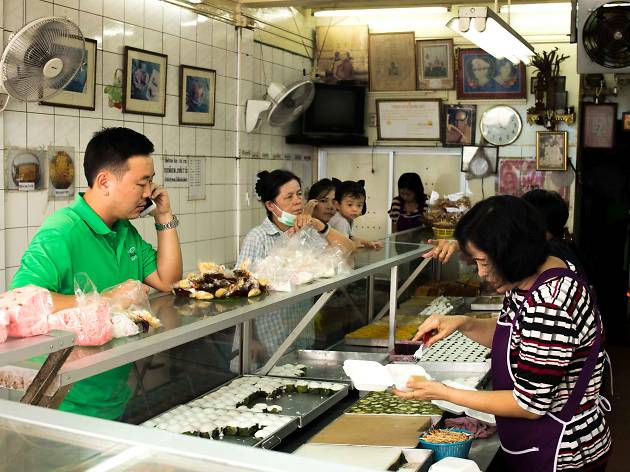 Sereechai Puttes/Time Out Bangkok
Thai desserts at Khanom Wan Talad Plu
The area confusingly boasts two sweet shops of the same name (it is rumored that they are owned by two rival siblings) located on different corners of Soi Toed Thai 25. Both shops entice sweet tooths with traditional desserts packaged in banana leaves—and each one is priced at less than B10. Popular selections include khanom chan (chewy pandan-flavored glutinous treat) and khanom tako (coconut milk pudding with assorted fillings).
Open daily 12:00 to 19:00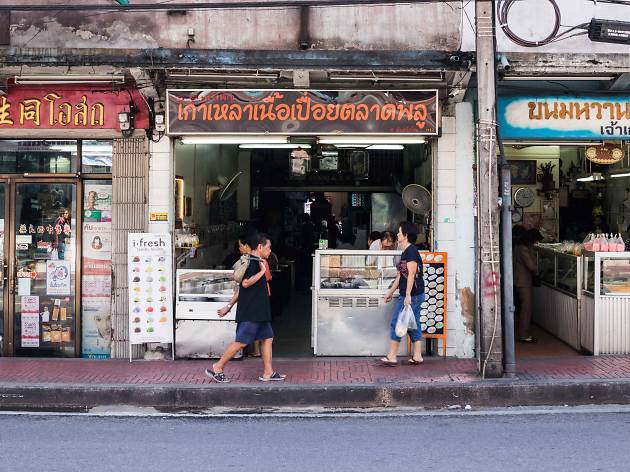 Sereechai Puttes/Time Out Bangkok
Braise beef soup at Gao Lao Neua Peui Talad Plu
Right next to Khanom Wan Talad Plu on Toed Thai road is a shop that's known for its beef soup. Served with a generous amount of tender meat chunks and offal, the dish is best enjoyed with a bowl of rice and the accompanying nam prik pao dip.
Open daily 9:00 to 18:00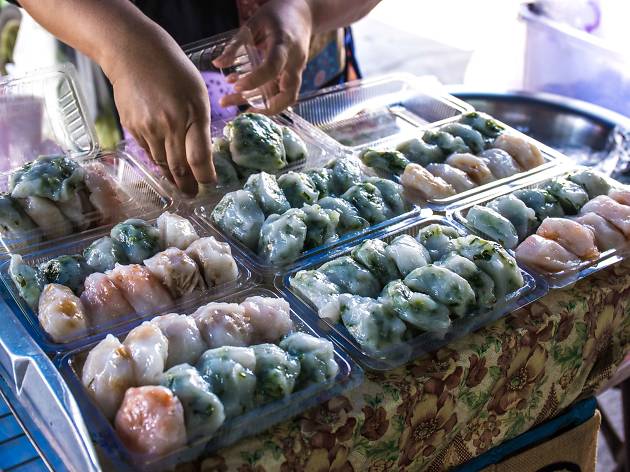 Sereechai Puttes/Time Out Bangkok
Khanom guichai at Krob Krua Tua Glom (Jae Bum)
There are more than 10 stalls selling gui chai (white glutinous cake stuffed with garlic chives or other filling) in the area, but our favorite goes to the pushcart parked right across Sarinthip. Priced at B7 per piece, Jae Bum's gui chai does not scrimp on the quantity and flavor of its stuffing. Also worth a taste are the gui chai with jicama and stir-fried cabbage.
Open daily 10:00-15:00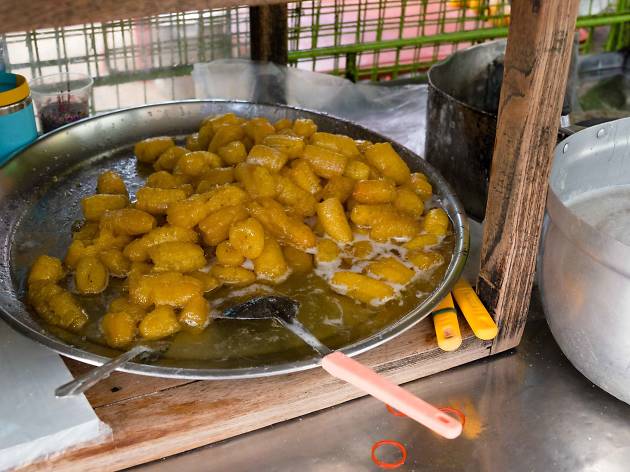 Sereechai Puttes/Time Out Bangkok
Poached banana at Gim Heng Gluy Chieum
As the name suggests, this 40-year-old parlor specializes in gluy chieum, (Thai-style poached banana with coconut cream) that's seriously popular with in-the-know locals. You are given two options: the lady finger banana or the pisang awak banana, which turns pink in the poaching process. Both options are firm and not too sweet.
Open daily 9:00 to 18:00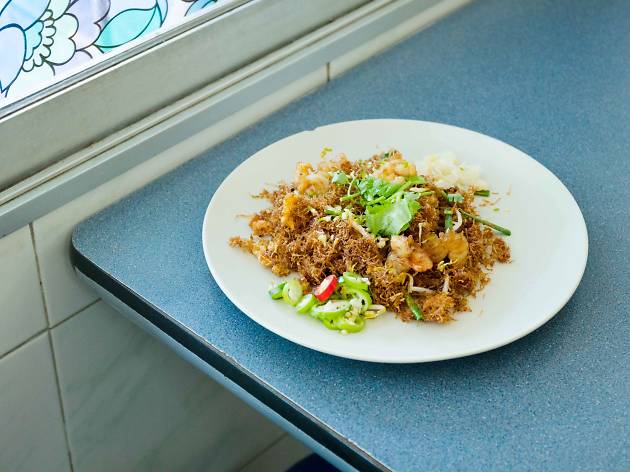 Sereechai Puttes/Time Out Bangkok
Crispy noodle at Mee Krob Jeen Lee
This century-old restaurant claims to have served King Rama V his favorite crispy noodles, which the monarch described as "sawei sawan" (heavenly, delicious). Back then, Mee Krob Jeen Lee was operated by a Chinese cook as a floating restaurant by the canal. The present establishment sends out their noodles just like in the old days: crispy with a slight tang from som sa citrus and a bit of sweetness from palm sugar, and served with shrimp, chives and pickled garlic.
Open daily 10:00 to 14:00, 16:00 to 21:30
More to explore