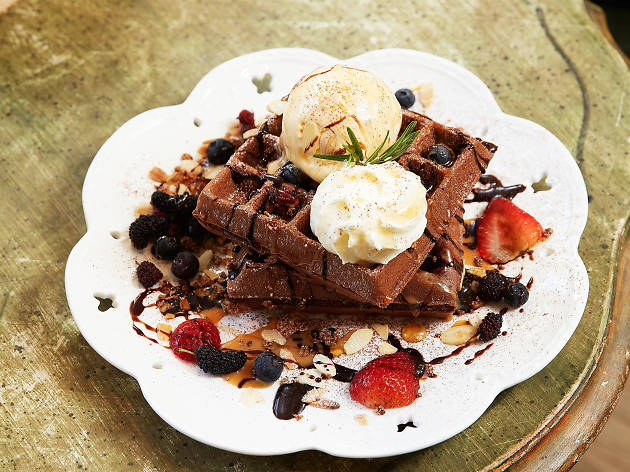 Born with the intention of creating a relaxing space for shoppers (and whoever is accompanying them), this romantic vintage café delivers you to a wonderland of adorable picture frames, butterflies and vintage gems scouted by Pheung-Wannakorn Sangweing, the owner of Chuanpisamai, a six-year-old vintage shop in JJ Market.
The highlight of this place is its whimsical interior, with each unique piece of furniture – both vintage and custom-made – inviting our photographic attention. The soft palette goes perfectly well with wood, rugs and a cornucopia of dolls, books, kettles and fashion accessories.
Chuanpisamai Café is not only easy on the eyes, but also very good to your stomach. The café itself serves comfort food such as Spinach and Waffle Sandwich with pork and pizza-inspired sauce. Desserts include the chocolate waffle with Vanilla and Strawberry while the signature drinks list contains milk rose strawberry with Italian cream soda and Oreo smoothie with Nutella for all the chocolate lovers out there.
If you like what you see downstairs, don't forget to go upstairs and check out the three sister brands, Chuanpisamai Swimwear, Chuanpisamai Theory and Chuanpisamai Wedding, where you can try on vintage clothing, jewelry, hand-sewn veils and tons of cute items that can be bought or rented out for special occasions.
Venue name:
Chuanpisamai Café
Contact:
Address:
Chuanpisamai Café
Aree Samphan 3
Bangkok
10400

Opening hours:
10.30 – 20.00