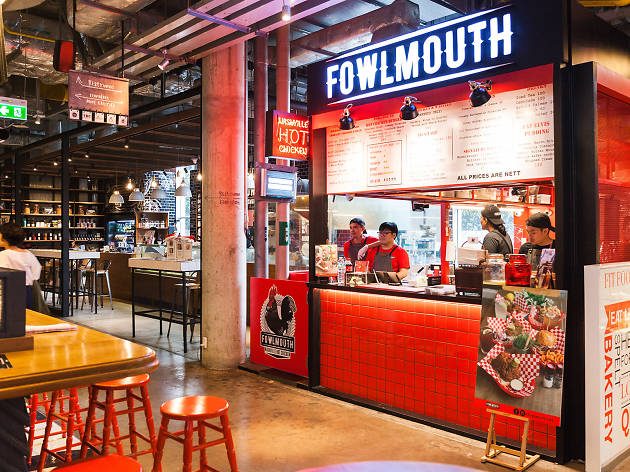 1/7
Sereechai Puttes/Time Out Bangkok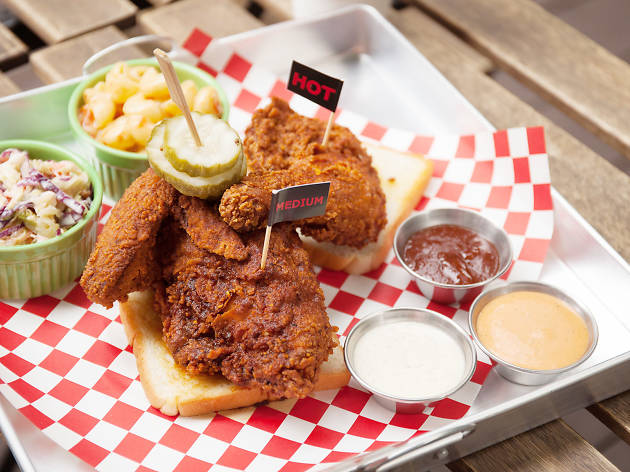 2/7
Sereechai Puttes/Time Out Bangkok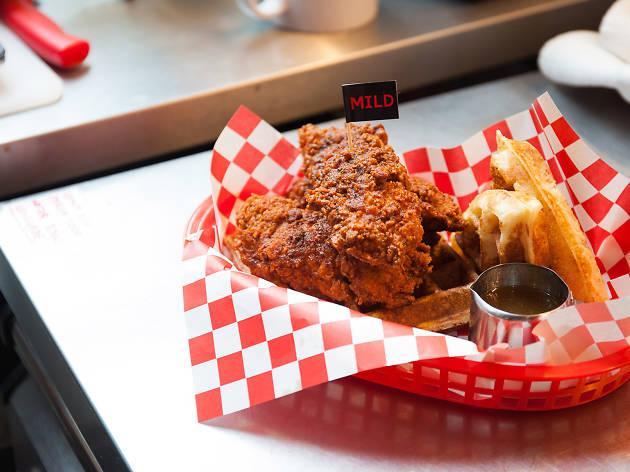 3/7
Sereechai Puttes/Time Out Bangkok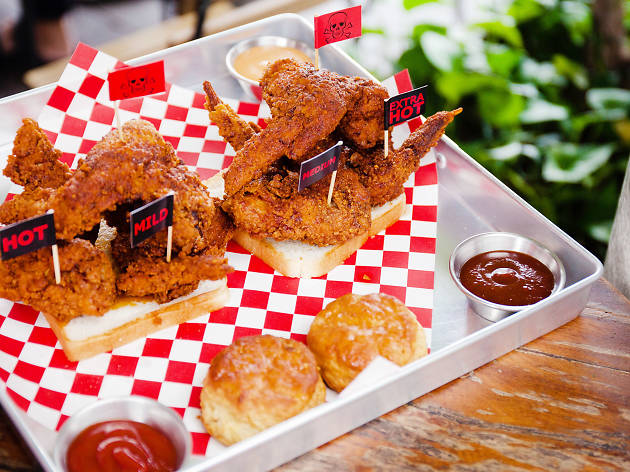 4/7
Sereechai Puttes/Time Out Bangkok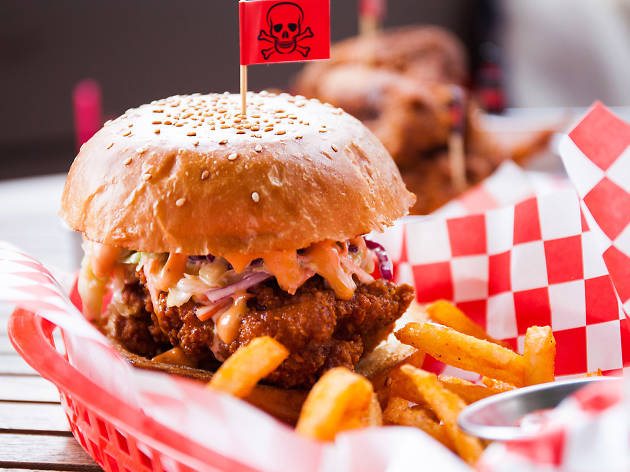 5/7
Sereechai Puttes/Time Out Bangkok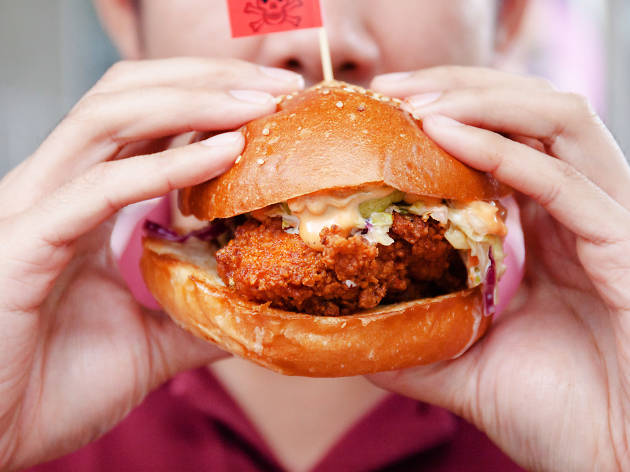 6/7
Sereechai Puttes/Time Out Bangkok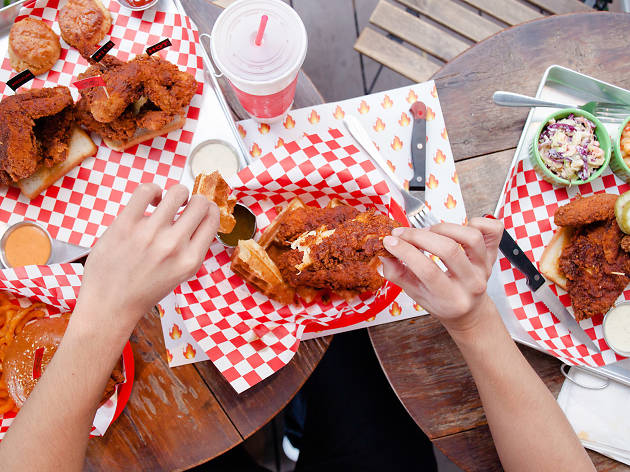 7/7
Sereechai Puttes/Time Out Bangkok
The first (and probably only) joint in Bangkok serving Nashville-style fried chicken
In a city where Colonel Sander's fast-food chain and Korean hot spot Bon Chon have long established dominion over the realm of fried chicken, Chirayu Na Ranong, the man behind brunch establishment Chu, looks to introduce spice-loving locals to the aggressively fiery flavors of America's deep south. Taking over the space where Xiao Chi used to roll out Chinese-inspired street grub at The Commons, Fowlmouth serves up Nashville-style sizzling chicken (i.e., delicious, chili-spiked slabs of poultry that scorch the lips and satisfy spicy-food cravings).
So what's the deal with this chicken? Iconic to Nashville, Tennessee—America's capital of country music—the specialty has recently become huge, with big cities like Los Angeles and New York now awashed in joints selling the crispy, tongue-burning treat. The story goes back 70 years in Nashville where a womanizer named Thornton Prince comes home after a night spent with one of his mistresses. Furious, his wife attempts to take revenge on ­the old man by bombarding his breakfast fried chicken with heaps of pepper. But here's the plot twist: Prince ended up loving the spice-heavy chicken and the iconic dish of Nashville was born. Prince's Hot Chicken has since become a site of pilgrimage for visiting gourmands.
At Fowlmouth, Chirayu gives the original recipe an even spicier kick, using more variety of chilies like Sichuan pepper, ghost chili and Carolina reaper (dubbed by Guinness World Records as the world's hottest chili) to make the glaze along with bacon fat and French butter. Chicken is marinated in buttermilk, double-fried for extra crispiness and then brushed with this special glaze.
You can choose from five tongue-searing levels depending on your tolerance for heat, from Mild (glazed with cayenne pepper) to Extra Hot (packed with cayenne, habanero, ghost chili and Carolina reaper) to Death, which has double the spice of Extra Hot. Portions start from Little Fowl (one quarter chicken, one side and one sauce, B250) to Family Fowl (whole chicken cut into quarters, four sides and sauces, B750). We also love their chicken waffles, which comes with heavenly maple butter (B250), and their chicken burger, a delicious treat that's served with slaw and curly fries (B250).
Wash away the heat with Arnold Palmer which is the blend of lemonade and iced tea or (the most effective way to cool a burning tongue) a glass of milk (B60).
Venue name:
Fowlmouth
Contact:
Address:
335
The Commons

Soi Thonglor 17, Sukhumvit 55
Bangkok


Opening hours:
Mon-Fri 12:00-22:00, Sat-Sun 11:00-22:00