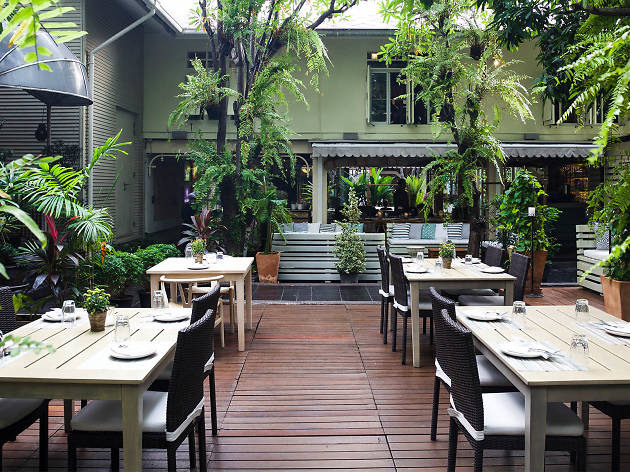 1/10
Sereechai Puttes
2/10
Sereechai Puttes
3/10
Sereechai Puttes
4/10
Sereechai Puttes/Time Out Bangkok
5/10
Sereechai Puttes
6/10
Sereechai Puttes
7/10
Sereechai Puttes
8/10
Sereechai Puttes
9/10
Sereechai Puttes
10/10
Sereechai Puttes
Charoenkrung gets a dose of healthy cuisine by way of Provence
The now-hip Charoenkrung neighborhood has been seeing a gastronomic revolution with a gamut of contemporary and casual dining dens opening in rapid-fire succession along the historic street. If you want Gallic fare, however, you'd still have to reserve a table at one of posh establishments in the five-star hotels lining the banks of the Chao Phraya river.
Cantonese restaurant chain Coca is changing all that. The company, to our surprise, has ventured into European cuisine, launching a restaurant that injects healthy tweaks into Southern French fare.
Situated inside upscale shopping arcade OP Place, French St. breaks away from the swanky fine-dining stereotypes attached to French dining establishments by presenting a casual alfresco space surrounded by lush greenery and a herb orchard. An air-conditioned dining room on the second floor provides more seating and a bar area.
Unlike other regions in France, whose cuisine involves the heavy use of butter and cream, Southern France, especially Provence, emphasizes the use of olive oil. At French St., head chef Frederic Guerin, whose portfolio includes working alongside Michelin-starred chefs like Pierre Gagnaire and Marc Veyrat, takes a page from the Provençal cookbook and completely eliminates butter and cream from his kitchen. The result? Lighter dishes that still deliver in terms of flavor.
Guerin's menu includes starters such as squid ink croquette stuffed with tender seafood, and served with saffron aioli (B350); and a spicy yet refreshing shrimp crudo salad with avocado and coconut cream (450). Mains see drool-worthy treatments to proteins—duck breast is perfectly seared and given a sweet kick with date paste and honey (B420), while snapper (B380) is cooked en papillotte. This healthy cooking method, where food is put into a folded pouch and then baked, locks in moisture, and lets the fish absorb the flavors of the fruits and vegetables it was cooked with.
The zero-butter-and-cream rule also applies to French St.'s selection of desserts, which include an amazing nougat ice cream with almonds and pistachio (B290), and a perfectly moist zucchini cake served with olive oil ice cream (B290).
Pair your food with a glass of rosé or a refreshing cocktail from the bar. We recommend the bar's version of the Tom Collins, which mixes herb-infused gin with a homemade syrup made with Thai basil, lemongrass and ginger (B320).
Venue name:
French St.
Address:
O.P.Garden
Soi Charoenkrung 36
Charoenkrung Road
Bangkok