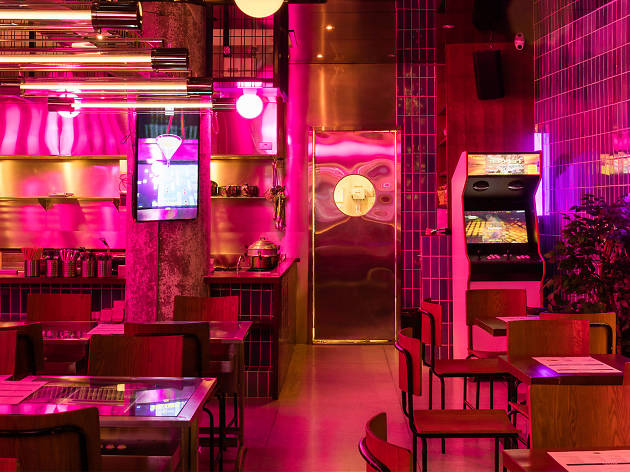 1/9
Sereechai Puttes/Time Out Bangkok
2/9
Sereechai Puttes/Time Out Bangkok
3/9
Sereechai Puttes/Time Out Bangkok
4/9
Sereechai Puttes/Time Out Bangkok
5/9
Sereechai Puttes/Time Out Bangkok
6/9
Sereechai Puttes/Time Out Bangkok
7/9
Sereechai Puttes/Time Out Bangkok
8/9
Sereechai Puttes/Time Out Bangkok
9/9
Sereechai Puttes/Time Out Bangkok
Time Out says
This cool Korean establishment at 72 Courtyard has video game consoles for tables
Scarfing down bibimbab or kimchijjijae normally involves being in a restaurant dressed in traditional, Korean decor or sitting in a cheesy den festooned with posters of a Korean oppa on every single wall. Detaching itself from all these stereotypes, modern Korean eatery Hopeland revolutionizes the Korean diner as you know it by serving Korean fare along with spirits-focused tiki drinks to dining tables that also act as video game consoles. (How cool is that?)
Bidding goodbye to popular Cantonese burger eatery Little Bao, 72 Courtyard establishes this new kid on the Thonglor block. Instead of framed hanboks and wooden masks, the walls at this modern eatery feature graffiti and villainous depictions of Street Fighter's star character Chun-Li. Dim pink and purple lighting add to the neon-lit nostalgic mood already provided by video game tables featuring '80s and 90's hits like Pacman and Donkey Kong. (There are only six of these special tables so call to reserve.) There are also two stand-alone video game booths with many more retro game selections.
Despite the retro-modern setting, the bites here lean more toward the traditional. The menu features Korean classics like mandu (pork dumplings, B200) and kimchijjijae (kimchi soup, B240). But Hopeland also puts its own spin to Korean fare as with the Ramyun noodle soup, a filling dish inspired by Korean instant noodles. While retaining the addictive spice-bombed flavor in the broth, the dish comes with fresh noodles and delicious tender pork belly. Another stand-out menu item is the beef brisket bao (perhaps a conciliatory gesture to Little Bao's departure). Hopeland's version, however, is a flavorful bao-style burger inspired by jjinppang or Korean steamed bun.
Instead of soju, the drinks list puts the spotlight on tiki-style cocktails — those mixed drinks that usually combine rum with a whole lot of fruit juices and spices. Dolphin Next Door (garnished with an Instagram-perfect dolphin-shaped banana) combines white rum with bourbon and the sweet mix of banana liqueur, macadamia syrup and coconut juice (B340), while the headier East Bay Funk Drunk blends white and dark rums with Falernum liqueur, passionfruit juice and cinnamon syrup (B360).
Details
Address:
G floor
72 Courtyard
Sukhumvit 55, Thonglor
Bangkok


Contact:
Opening hours:
Open daily 18:00-2:00
Users say