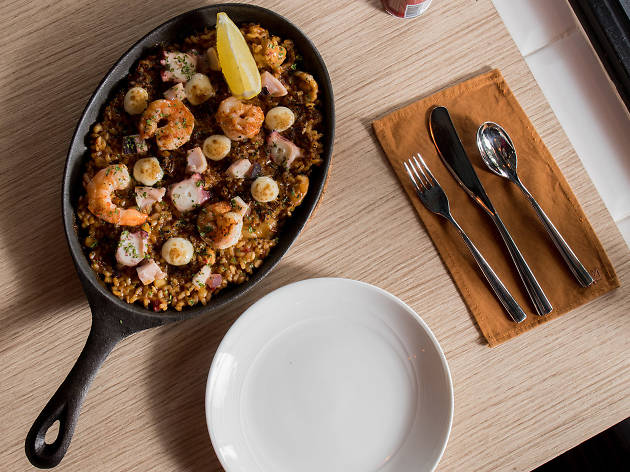 1/8
Sereechai Puttes/Time Out Bangkok
2/8
Sereechai Puttes/Time Out Bangkok
3/8
Sereechai Puttes/Time Out Bangkok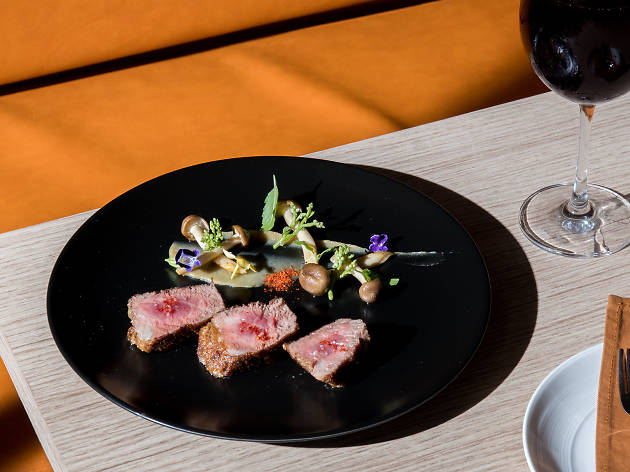 4/8
Sereechai Puttes/Time Out Bangkok
5/8
Sereechai Puttes/Time Out Bangkok
6/8
Sereechai Puttes/Time Out Bangkok
7/8
Sereechai Puttes/Time Out Bangkok
8/8
Sereechai Puttes/Time Out Bangkok
This new kid on the Sathorn block will satiate your Spanish food craving
Restaurants named after its owner usually raise the alarm for Western-style, created-for-Instagram comfort food. But, this time around, we'd like to take a big piece of humble pie for our prejudice. A collaboration between three friends—Vimvadee "Nan" Piyavanich (a graduate of renowned French cooking insitution Ritz Escoffier School), Warintorn "Dear" Phothisuwan and Barcelonian chef Carlos Yau—Nan Charcoal Grill undeniably takes its food seriously and is worth more than just a few photos on a social media feed.
Sitting a few steps from Arno's Burger, Nan Charcoal Grill, at first glance, is indistinguishable from the many gastropubs dotting the Narathiwas stretch. Clean lines, huge windows and hanging greenery, albeit artificial, are combined to give the compact space a modern, easygoing vibe. But as you take a seat, you're given a set of fine cutlery and a menu that's clipped onto a rose-gold coated metal plate—sophisticated details you'd usually encounter in more upscale venues.
Basque cuisine, which is dominant in Northern Spain and Southern France, is the star at Nan Charcoal Grill. The menu is loaded with protein-heavy, spice-injected selections cooked in the Josper grill, an oven and charcoal grill hybrid that's known for giving meat more aroma and retaining its juiciness. The lamb, which comes with quinoa and green pea purée (B550) has just the right amount of tenderness and manifests hints of heat from Espelette pepper, while the Ibérico pork shoulder is flavorful and has a melt-in-your-mouth texture that's elevated by an intensely flavored garlic paste (B520). Spanish go-to dishes like paella brings the whole ocean into a single pan, featuring Spanish bomba rice cooked with seafood stock and served with the sea's meaty treasures, plus bits of chicken.
The limited dessert menu includes a standout whiskey tart (B250) that's filled with vanilla mousse and custard cream laden with top-notch whiskey like Glenlivet. Due to the restaurant's proximity to a school, alcohol isn't sold here but you're welcome to bring your own bottle (B200 for corkage).
Venue name:
Nan Charcoal Grill
Contact:
Address:
1124-1124/1
Naradhiwas Rajanagarindra 17
Bangkok


Opening hours:
Mon-Sat 17:30-24:00