Q&A with May Chow
Asia's best female chef of 2017 tells all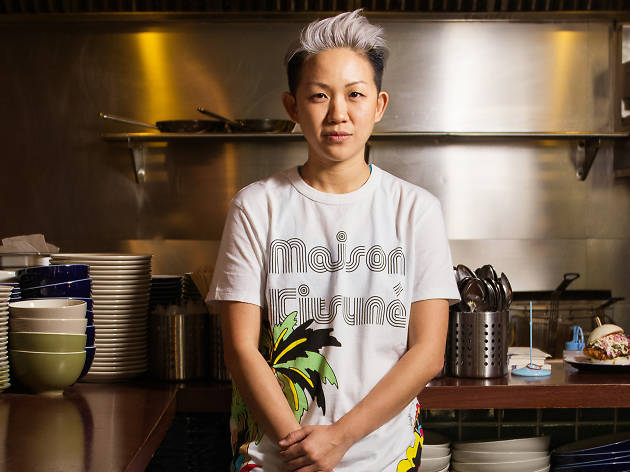 Time Out Bangkok speaks to one of the region's best female chefs about expanding her bao empire, the Asia's Best Female Chef award, and where she likes to eat in Bangkok.
What makes you the May Chow you are today?
I was very lucky to have the experience of living in different countries. I was born in Canada but spent most of my childhood in Hong Kong. Then I went to America for school. That's when the fun started: I became more rebellious and interested in experimental and alternative kinds of life. For example, I always had fun at music festivals and experienced diverse food and cultures. It helped me develop progressive and open-minded mentality. I always look toward new experiences and try to create something new every day.
The bao trend is so hyped up in foodie world with many restaurants worldwide serving up bao burgers. What makes Little Bao different?
I think the key factor that makes our bao different is that we try to create a new genre and go beyond the traditional concept of bao. Even Bao London still sticks to the traditional Taiwanese gua bao (a sandwich of steamed bun with condiments). For us, we tried to make a Chinese burger. We shape it as a burger and layer it with the condiments of what burgers should have. Also, what bao and burgers have in common is the sense of comfort. So we want Little Bao to be a Chinese restaurant with a touch of an American diner. Likewise, we create a strong identity of Little Bao through our logo, food and music. The logo of Little Bao represents the wholeness of what we stand for.
What do you think made you stand out from other female contenders for Best Female chef?
I am very lucky. Frankly, there is not that many female chefs in the industry in Asia in the first place. Secondly, I am very loud [laugh]. I don't know. Since I opened Little Bao in Hong Kong in 2013, I have been having a clear vision of what I am trying to do and I always share it with my colleagues and media. I don't flip flop between who I am.
Do you think there needs to be a gender distinction in terms of the Best Female Chef award?
To be honest, I don't feel like there is that much difference. There are also female chefs representing in the top 50 list, like chef Bo Songvisava of Bo.lan and Lanshu Shen of Le Moût in Taipei. As there are only a few female chefs in Asian food industry, having this award is like an affirmative action to push the role of women more efficiently. For me, I take this award it as a platform to inspire other girls and even Asians to step up their game and become more recognized.
Do you think there's a difference treatment toward female chefs in the culinary industry?
Not necessarily. I think how females and males interact are already different in the first place. In the male-dominated world— I'm talking about the society in general—women would not be able to express themselves comfortably. But to look the bright side, we have been progressing a lot. I wouldn't be sitting here having a conversation with you if it were 10 years ago. My male peers also have a lot of respect for me. As long as you work hard, your effort will be undeniably recognized.
You opened the second Little Bao in Bangkok and Second Draft in Hong Kong last year. Do you have any plans to open restaurant in the future?
I am going to open a new restaurant called Happy Paradise in Hong Kong. It will be technique-driven and will focus heavily on Chinese cuisine in a progressive way. It's something that no one has done before.
What makes a good chef?
I can only speak for myself. A great chef needs to have a vision, and it cannot change from time to time. Your team needs to know what this vision is. And you need to have a great temperament to nurture other people and inspire them to have a better life for themselves.
Where do you like to eat in Bangkok?
When I come to Bangkok, I come to Thonglor a lot. I go to Klua Kling Pak Sod (Thonglor, 02 185 3977) that sells spicy Southern Thai food. I also go to Suan Plu Soi 3. There's an Isan street stall that I really like serving pork neck salad with toasted rice. I also like Bo.lan (Soi Sukhumvit 53, 0 2260 2962). Jae Fai (Mahachai Road, 02 223 9384) is also one of my favorites because I like to watch her cook. She's very intense, old-school. And she only allows herself to touch the wok. I really like her a lot.