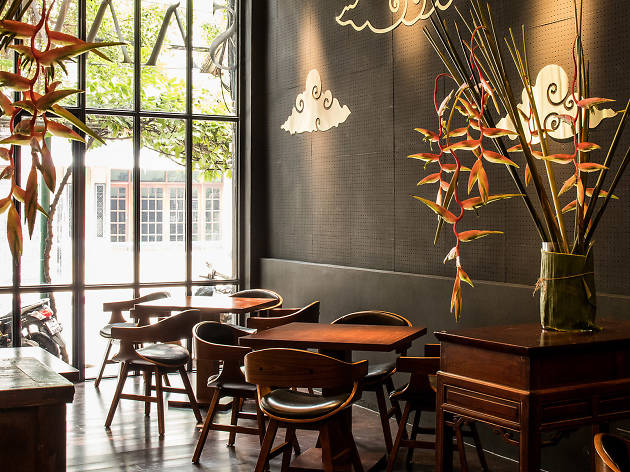 1/8
Sereechai Puttes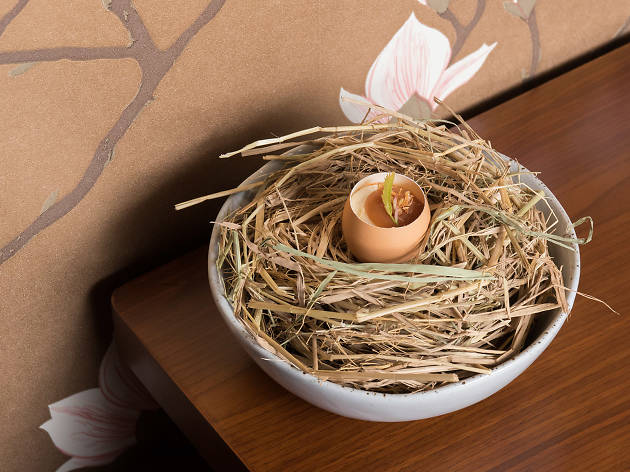 2/8
Sereechai Puttes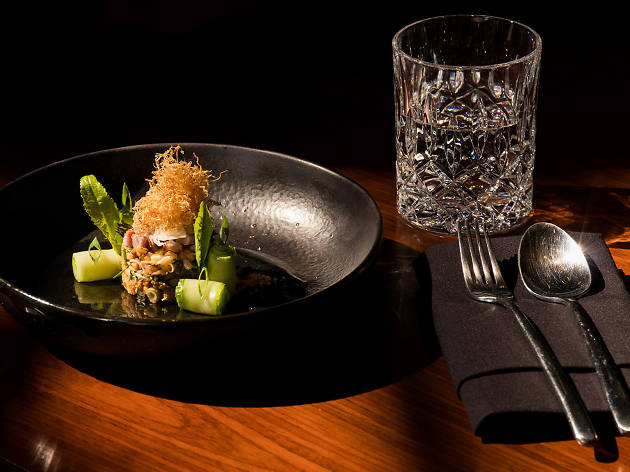 3/8
Sereechai Puttes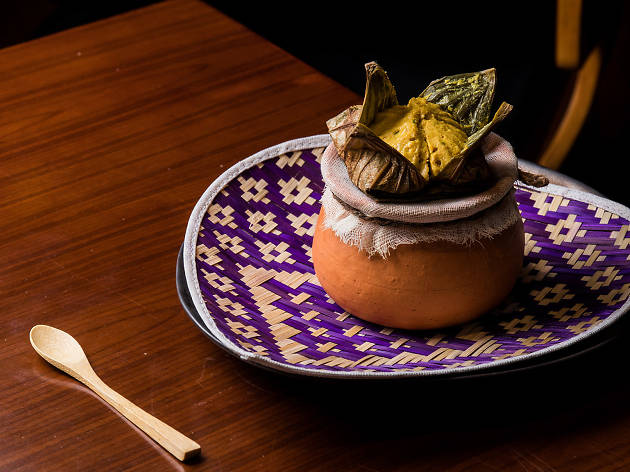 4/8
Sereechai Puttes
5/8
Sereechai Puttes
6/8
Sereechai Puttes
7/8
8/8
Sereechai Puttes
Time Out says
Fred Meyer's newest kid elevates humble Thai cuisine into fine-dining fare
The latest addition to Fred Meyer's (the mastermind behind Issaya Siamese Club and Baan Phadthai) restaurant empire is taking you on a ride to culinary heaven. Embracing the shophouse that Japanese den Kom-Ba-Wa vacated in Soi Suanplu, Saawaan (which means "heaven" in Thai) serves up a procession of Thai cuisine that elevates humble recipes with innovative, modern-day techniques.
Saawaan is all spruced up with somber black walls and elegant wooden tables, set off by the floral wallpaper applied by its former occupant. Kom-Ba-Wa's sushi bar has been transformed into a bar and a prep station where you can check out the chefs' efforts.
Bringing together her experiences in traditional French fare at Lord Jim's, and in modern gastronomy at Sra Bua and The Dining Room at the House on Sathorn, chef Sujira "Aom" Pongmorn reinterprets traditional Thai bites into contemporized masterpieces that still retain an attachment to their roots. The 13-course meal (B1,950) begins with a wow-worthy serving of khai lukkei (poached egg in tamarind-based syrup) that's inspired by world-renowned French chef Alain Passard's "chaud-froid d'oeuf". While Passard's exquisite dish sets gooey poached egg and sherry vinegar-infused cream in an egg shell, Sujira's version combines layers of cured palm sugar, fish sauce, tamarind paste, egg yolk and coriander purée.
The northern delicacy ong pu na transports you to the remote countryside with the comforting creaminess of curry-injected rice field crab fat served with grilled sticky rice, while the tom klong soup balances the smokiness of dried fish purée and the zest of plump Monsieur Jean-Paul oysters. The highlight is the pad kaprao, a squid ink pasta that uses squid instead of noodles. The dish is paired nicely with brunoised mushrooms and pesto-like sauce made from Thai basil.
On board with chef Sujira is renowned pastry chef, Arisara "Paper" Chongphanitkul, whose deconstructed, awe-inspiring desserts include a multi-textured pumpkin pudding made with pumpkin custard, coconut cream, tangerine foam and pandan chiffon. The meal ends on a high note with a smart take on petit fours, comprised of som sa(bitter orange) tart, jasmine meringue, mango leather, and durian and chocolate truffle.
Details
Users say