Kerdkaew
"Scary but at the same time, alluring"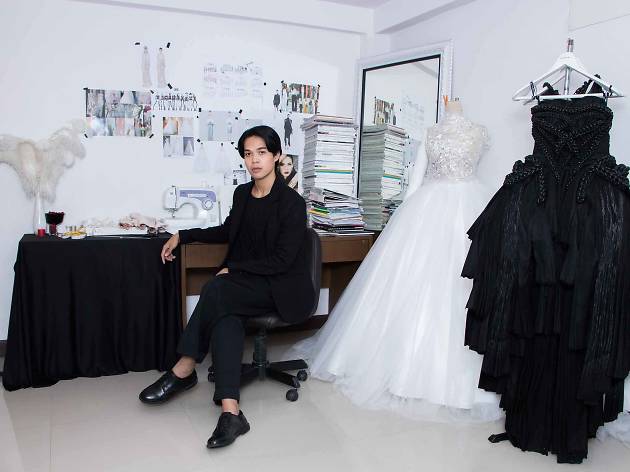 Thossapol Kerdkaew
"My gown will be worn by the most prestigious fashion icons in Thailand. I can't tell you yet who. You'd have to wait until next year to find out." In a small apartment in Ladprao, which also doubles as his workshop, Thossapol Kerdkaew gives us a brief insight into his eponymous brand and a sneak preview of what we to expect from him next year. "I'm beyond excited. It's going to be a big year for me," he enthuses.
The Khonkaen-born designer started his label, Kerdkaew, while he was studying at Thammasat University. But it was not until last year that he captured the attention of Thailand's fashion elite. Thossapol was included in the shortlist of The Ultimate Showcase Thai Touch, a project started by the Department of Industrial Promotions that seeks to promote young budding Thai designers. The young designer was given the opportunity to grace ELLE Fashion Week's fall/winter 2015 runway, an opportunity that disclosed his talent to a few of the city's most stylish celebrities — Metinee Kingpayom, Cris Horwang and Kanyawee Songmuang have been spotted wearing his designs on various occasions. Next year, as we're told, a heavyweight in the Thai fashion scene will grace the pages of one of the nation's top magazine wearing a Kerdkaew creation.
"Kerdkaew stands for black elegance," the designer says. "Ladies who wear my creations must possess unconventional beauty. She must be fearless, unique, confident and not afraid to take risks." Interestingly, Thossapol's designs celebrate both death and decadence. His 2015 collection for ELLE Fashion Week took inspiration from Aokigahara, a widely known suicide forest in Japan. "The place has a mystical power. It draws people to kill themselves there. I want my work to have similar properties: kind of scary but, at the same time, alluring." Each meticulously created piece also pays attention to crafted details, an expertise Thossapol learned from his dressmaker mother. Carefully spliced textile strands are supposed to dramatically symbolize suicide ropes, while multi-layered draped, represents multi-dimensions of the afterlife realm.
His most recent collection follows the same vein. "This year, you are invited to a tea party, Kerdkaew style," Thossapol reveals. "There will be a lot of snakes and dried leaves. A deadly but fun kind of party."
The designer admits that his rather unconventional handiwork and focus on custom-made gowns have prevented his label from gaining the widespread popularity enjoyed by more mass-oriented brands. "If I wanted to open up a store, I'd have to produce a lot of ready-to-wear which don't require as much attention to detail." To achieve his dream of opening shops worldwide, the designer may have to rethink his positioning. "I will have to tone it down a bit. But I won't let go of what Kerdkaew stands for. You'll have to wait and see."