Vanorn Bangkok
'We want to change Thai people's attitude towards Thai products'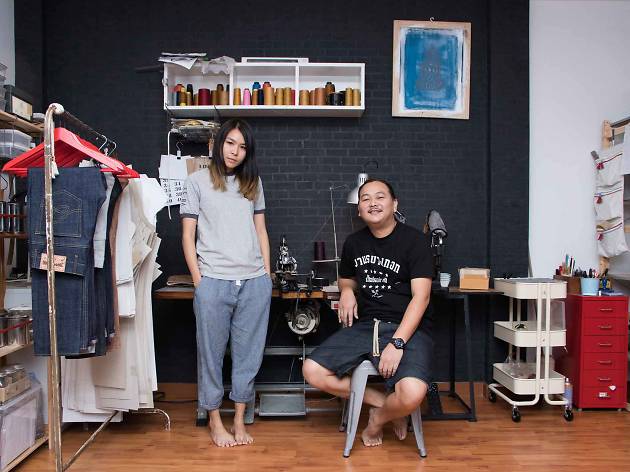 Phichit Hathaipantalux and Traipitra Srivongsechai
In a time when fabric prices were soaring and the garment industry was in turmoil, two brave souls, Phichit "Top" Hathaipantalux and Traipitra "Fah" Srivongsechai, jumped into the fashion world and started their brand, Vanorn Bangkok.
Since his university days, Top has always been passionate about contemporary Thai concepts but his ideas were often rejected by his classmates—Thai youngsters who shared the belief that anything Thai wasn't really fashionable. "I really like anything associated with Thai folk culture, but I kept it secret because I was scared that people would think my ideas on Thainess were lame. It was embarrassing," admits Top.
He started helping with the family business after university but quited soon after to start his own label with Fah, a recent arts graduate who has always been interested in fashion. They discovered they shared similar design attitudes and a passion for modern Thai ideas. "We started out with jeans. We did research on why jeans were, traditionally, high in both value and price. And we found out that, in the past, it took a long time and a lot of processes to make jeans, while today, technology has shortened the whole process, at the risk of quality."
Having no background in the fashion industry, there were no rose petals strewn on their paths. "At first, we knew nothing about clothes. We just sent our designs to pattern technicians to design the patterns, then sent these to the fabric dealer and the factory," Top recalls. "And when we received the final pieces from the factory, we would want to throw them away." Top and Fah chose to use Thai fabric but the garment industry was at a near collapse at the time, resulting in cheap, low-quality fabric.
After dealing with way too many unsatisfactory outcomes, the partners learned the hard way of the differences between real (i.e., expensive) and fake (i.e., cheap) jeans. "Real jeans are spun with strong, thick cotton thread, but many pairs now are spun with thin cotton threads which have been loosely twisted with more threads. This [process] doesn't make the jeans too sturdy." They've since paid more attention to every step of production.
In 2014, Top and Fah reimagined the concept of Vanorn Bangkok, working with inspirations from Thai folk culture such as molam, local markets, ten-wheeler truck stickers. "We started out with contemporary Thai concepts because we were too afraid to be more playful with Thai folk culture—we were afraid of criticism from Thais who are biased against their own culture," says Top. "But we are now confident enough to move on and try to revolutionize the concept of the Thai spirit, and this has made our products more powerful." Vanorn Bangkok's latest collection, Sib Pad Mong Kut, is inspired by ten-wheeler truck stickers that depict traditional Thai images such as Hanuman holding a moneybag.
Jeans have really mushroomed in the Thai market, but Top and Fah aren't too concerned about sales nor are they worried about rival denim brands. Instead, the two entrepreneurs are focusing all their energy towards how they want their clients to feel when wearing their jeans. They are considering producing other clothing items as well. "We now embroider jeans ourselves, spin the threads ourselves. They are dyed and woven in Thailand by Thai people. The style we like is very specific and delicate. So we need to do it ourselves because no one else in the Thai industry does it." And the next step? "We want to change Thai people's attitude towards Thai products," says Fah. "To make people believe that our country can produce great, quality clothes."