Vinn Patrararin
'Our brand is multi-disciplinary'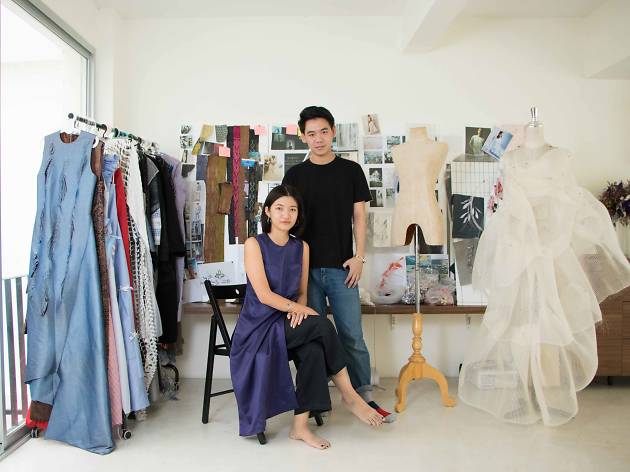 Vinn 'Champ' Chokkhatiwat and Patararin 'Fon' Pongprasit
An abstract conversation between the two strangers in Paris soon developed into a partnership in Thailand. This isn't your typical love story. Rather, it's the story of how designers Vinn "Champ" Chokkhatiwat and Patararin "Fon" Pongprasit came together to create their shared fashion label Vinn Patararin. It's also the story of how two talented designers are using the skills they picked up abroad to transform Bangkok's fashion scene.
Champ was taking up his masters in Design and Contemporary Technology École Nationale Supérieure de Création Industrielle (ENSCI–Les Ateliers) in Paris when he met Fon. "We were both in the same group of Thais in France. We went to see exhibitions together and would always exchange ideas," he recounts. "We both felt a connection so we decided to work together on a fashion project."
The duo had so much faith in the potential of their work that they submitted the collection to Copenhagen Fashion Week 2013. The bold move earned them accreditation as one of show's "rising stars." A showing at Paris Fashion Week followed two months later.
From there, Fon, who has an interest in remodelling traditional costumes, did her internship at haute couture house Azzedine Alaia while Champ went to do his internship at Iris van Herpen. Here he learned more about the global fashion industry and different experimental techniques, and found his feet firmly on the ground. "I learned that contemporary artists create their work nowadays by collaborating with others and giving everyone credit, meaning everyone is respected," the young designer reveals. "In the past, textile designers worked with fashion designers but were never mentioned. Now, textile designers have their time in the spotlight too."
After both their internships, Vinn and Patrararin decided to set up shop in Bangkok and officially work on their eponymous brand. They soon found, however, that things work differently in Thailand—nothing turned out as expected in terms of marketing. "We had to work on getting our story across to Thai customers so they could understand our brand," says Fon. Vinn Patrararin, it turns out, does not merely focus on fashion. "Our brand is multi-disciplinary. It will take time for people to understand how we move from fashion to product design to architecture," adds Champ. "You may think we're a fashion brand just because you've seen our clothes. But we also do art and design installations as well as homeware."
In fact, the duo has started work on an installation project for Mrigadayavan Palace (formerly King Rama VI's palace), at the same time ironing out the kinks in Vinn Patrararin's fall-winter 2016 collection.There's a lot riding on both undertakings; the success of the installation and collection can catapult Vinn Patrararin's reputation as more than just a fashion house in Thailand and beyond, furthering the story of two young strangers and the random conversation they shared once upon a time.