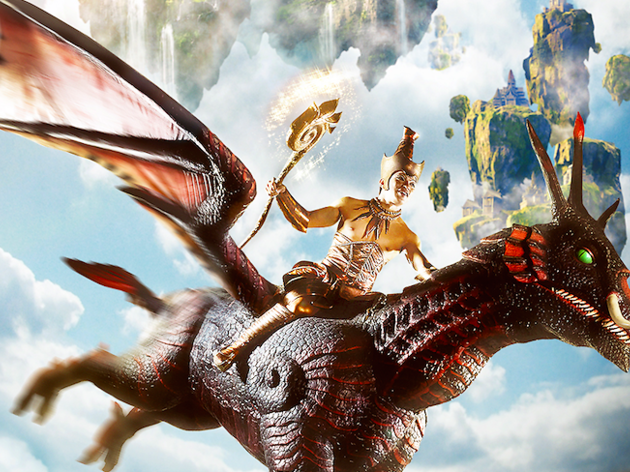 Thai folklore is given new life in Pattaya
Does a show based on Thai folklore sound boring? Well, that won't be the case with KAAN, a state-of-the-art audio-visual stunner that reimagines six famous Thai legends, but with surprise twists—we are talking projection mapping, eight-meter animatronics and tesla coils!
More than three years in production, KAAN gives new life to famous Thai folktales—Phra Aphai Mani (The Wrath of the Sea Giantess), Phra Suthorn-Manorah (The Colors of Himmavanta), Manimekhala-Ramasura (The Chase of Lightning), Sangthong (The Wager for the Ivory Kingdom), Kraithong (The Underwater Abyss) and Ramakien (The Cataclysm). The show incorporates touches of performing arts, acrobatics, dance, and Oriental (mainly Japanese) and Western cinematography, as well as technology.
Dubbed "A Spectacular Cinematic Live Experience," the show narrows the gap between the conventional stage experience and the cinematic world through awe-inspiring performances in front of a gigantic screen that employs high-definition projection mapping. The 90 -minute show takes you to cinematic-like worlds reminiscent of Pirates of the Caribbean, Avatar, Power Rangers and many more as the main protagonist Kaan is dragged inside a story book and has to help the heroes of popular Thai folklore in order to return home.
The show is packed with expected acts—dancing elephants (sadly), and contemporary dance, aerial acrobatics, street dance and martial arts performed by award-wining B-boy dancers and members of the national gymnastics team. The really exciting bits, however, highlight unanticipated injections of pop culture—a fight scene on a trampoline involving superhuman Kraithong's reminds us of science-fiction manga Kamen Rider, while the costumes of Phra Ram and Phra Laksh (Ramakien's protagonists) would fit into the dystopian world of Mad Max perfectly.
The show, as a whole, goes far beyond your usual literary adaptation. Kids would enjoy the action while the adults would delight in the nostalgia. The dude next to us, obviously a lover of Japanese manga, seemed thrilled throughout the entire show.