Pai mai?
Five reasons why Pai should be your next destination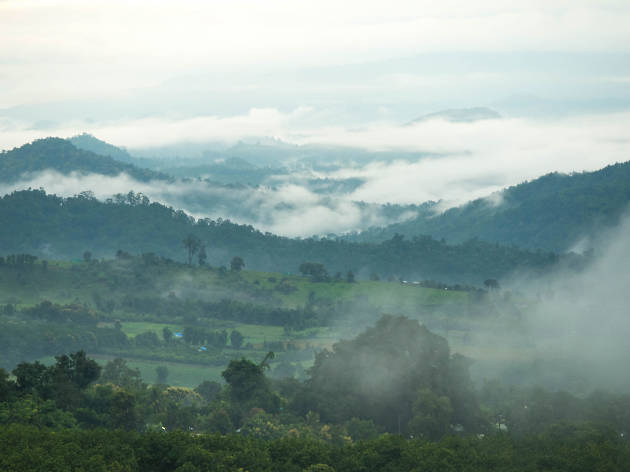 Pai in the '80s was a small village populated only by a cluster of locals and few backpackers in the know. But secrets can't be kept for long. In recent years, it's been transformed into one of the most visited mountain destinations in Thailand—with numerous tourist sites (and traps), guesthouses and restaurants sprouting along its dusty streets. However, Pai is far from losing its charm. Despite now catering to more tourists than ever, the village is still a beautiful and peaceful place everyone can fall in love with.
Come in November, when the rains let up and the temperature dips, Pai invites the intrepid to witness the different facets ofits humble beauty. Here are the reasons why Pai should become the next destination on your bucket list.
You can now say "no" to the life-threatening minivan ride
There used to be only one way to get from Chiang Mai to Pai — via a minivan ride through the notorious Route 1095 that takes you through 762 steep and winding curves. Now thanks to Kan Air, there is a daily connection from Chiang Mai (weather permitted) on a small 12-seater, single-engine turboprop that looks slightly like a run-down minivan from the inside (you need to buckle up and no cellphone is allowed on board). Though a claustrophobic nightmare, the 25-minute ride unveils a stunning bird's-eye view of Pai's lush geography. Roundtrip from B2,380.
There are plenty of lnstagram-worthy viewpoints
Surrounded by mighty mountains and dense jungles, it is worth making your way uphill to catch the sunrise on one of Pai's many perfect viewpoints. Yun Lai is one of the best spots to see the city from above, offering a million-dollar view of the villages buried beneath a thick morning mist. A small shop brews hot Chinese tea to accompany your sunrise appreciation. Also boasting a view to match is Kiew Lom Viewpoint, where Doi Luang Chaing Dao, the third highest peak in Thailand, can be seen from a distance. For a meal with the best views, trek up further to Baan Jabo, where you have Guaytiew Chom View, a gimmicky restaurant that serves incredibly cheap and delicious boat noodles while diners take in majestic views of the valley with their feet dangling in the air.
Pai offers fun water adventures
In November, there is still plenty of water in Pai River from the wet season, making it the perfect spot for adrenaline-driven white water rafting adventures. Tour operators like Pai Adventure and Pai Let's Go Tour offer one to two days of aquatic thrills. For less terrifying fun, visit one of many waterfalls such as Pembok, where you can swim in a lagoon surrounded by a limestone crevasse. For an off-­the-beaten-track plunge, visit Sai Ngam Hot Spring (hot is actually an overstatement) and chillax in a refreshing natural pool.
There is more than one piece of Pai
The majority of the population is Thai, but Pai is also a small melting pot of diverse cultures. In the morning, the Shan (or Tai Yai) in Pembok Village, clad in their traditional wear and gather at the newly built Kho Ku So Bridge (means "the bridge of merit" in the Shan language) to give offerings to the monks (you can join them too). The 815-meter wooden platform connects the village to the remote Huay Kai Kiri Temple and is surrounded by scenic rice paddies. For a taste of Chinese culture, head to Baan Santichon, which deceptively features traditional Yunanese-style houses/gift shops made of clay and a Great Wall of China knockoff.
Pai boasts an interesting eating and drinking scene
Though Baan Santichon looks a tad like a Chinese­-themed Disneyland, a trip there is worthwhile for the food alone. The rustic restaurant churns out delicious Yunanese fare like fried and steamed Chinese buns, pork knuckles in a thick herbal stew, goat jerky and fragrant black chicken soup. For local breakfast, head downtown for a nice bowl of congee at Uncle's Oad Herbal Congee. A few steps away is a shop house selling crispy pa thong ko (Chinese crullers), the perfect pairing to your delicious rice soup. In the evening, Pai's walking street comes alive, offering various street nibbles for cheap eat. Our favorite place to hangout for the night is Jikko Beer, which offers an eye-popping selection of imported craft beer.
Stay here
Puri Pai Villa is an ideal choice for a posh and tranquil hideaway. The resort offers a choice of deluxe rooms (starting from B5,000) and pool villas (starting from B10,000), with free Wifi and a scenie view to boot.