9 restaurants near Barcelona's Fira de Montjuïc
Where to have lunch or dinner during the GSMA Mobile World Congress, right near Plaça de Espanya and with online booking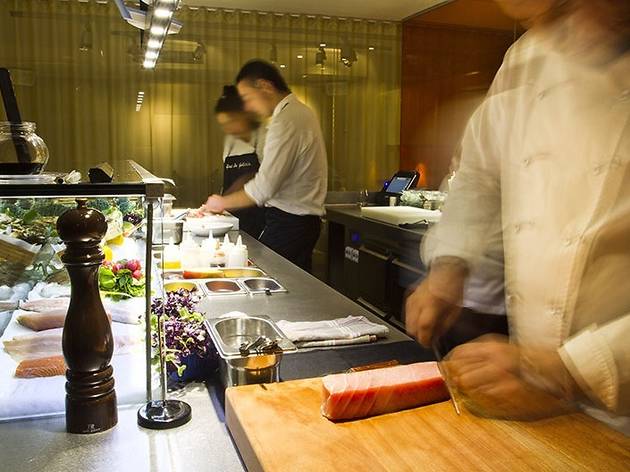 After your intense working days at the GSMA Mobile World Congress, you'll want to take a breather in a good restaurant to recharge your batteries with a fortifying meal. We've selected nine different spots where you can get quality seafood, an Argentinian grill right on Montjuïc, signature tapas, cuisine you can pair with craft beer, and more. All are under the guidance of top chefs and all are very near the Plaça de Espanya venue of the congress. And all take online bookings!
Now that all French restaurants in Barcelona are tending towards the bistro style, this classic venue has gone in the opposite direction: they focus on seasonal fare, with complex stews, creamy sauces and well-made pastry. Some examples: cream of Puy lentils with roasted almonds, or kidneys with three blends of mustard. 
In Mumbai, the word 'bembì' is used to talk about the navel, the nexus of union between mother and child. The restaurant Bembì is a nexus of union between Indian cooking and Barcelona, and they've managed to bring a slice of their country to the pavement in Consell de Cent. Relaxed and cosy, this restaurant is perfect for surprising your date with a tasting menu – a senses-stimulating parade of 100 percent Indian recipes with touches of creativity and maximum-quality products. Every bite is like a ride on a flying carpet: magic.
This superlative Galician seafood restaurant has a legendary place in the collective unconscious: crayfish, lobster, prawns - always the freshest products.
Ikibana Paral·lel is located in Barcelona a few meters from the metro station: Poble Sec. The cuisine is based on classic Japanese cuisine fused with a Brazilian style that manages to give the dishes an unique personality.
Restaurant-braseria and cocktail bar. A good place to enjoy charcoal-barbecued specialities from Mediterranean cuisine, as well as dishes influenced more by international cuisine. The kitchen is open noon to midnight, cocktails until 2am, all year round. The restaurant offers you a great snapshot of the port of Barcelona. A wonderful setting from which to enjoy a great view of the sea.
Show more
Il Giardinetto is frequented not only by those with great palates who know quality when they taste it, but also by romantics as well as those nostalgic for a Barcelona of days gone by. Recently the place has been slapped with a makeover to modern it up a bit to accompany the excellent work the kitchen staff has always done and continues to do. Chef Jesus leads the team with his Italian cuisine, and notable fresh pastas that are made by hand daily. There is also, of course, a range of pleasing dishes created by young chef Sergio "Chiqui" Millet. One offering that's not always on the menu (so do ask) is the paglia e fieno tagliolini al pomodoro, which many an Italian restaurant would love to be able to prepare and present with fanfare.
Under the cover of a modest tapas bar, Suculent is an eatery where you can order a superlative oxtail, tenderized and cooked slowly, that will make you fall to your knees and raise your arms to the heavens. It's a difficult dish to find, even in places that advertise traditional cuisine, so if you want to give it a try, this is the place to get stuck in. And just to be sure, we're not talking about meat from a bull or ox: it's from our friend the cow, and so it's always on the menu. If that doesn't strike your fancy, try the Maldonado Iberian pork rib, the mother of all pigs' trotters, or black pudding meatballs with cuttlefish – the star of the show and the restaurant's proudest offering, aside from the tapas. On Sundays they serve up rice with seafood or meat and live flamenco.
Gastón Acurio, the Ferran Adrià of South America and the driving force behind Peru's culinary revolution, has set up shop in Barcelona. Tanta is an excellent setting for introducing quality Peruvian cuisine to the city. An avant-garde interpretation of Peruvian cuisine, though not without the traditional formulas. You know the ones: ceviche, tiraditos, causa and pisco sour.
It's definitely worth spending some time in this place which is a breed somewhere between a vegetarian restaurant and a jazz club, if there is such a thing. On the restaurant side, there's a brief and inviting menu featuring wild mushroom fideuás (fine noodles), and croquettes stuffed with mushrooms or broad beans with mint; while the jazz part comes in the form of frequent live shows from top acts, with the occasional classical concert taking the stage. They also host book readings, poetry recitals and other cultural happenings; there's something going on every week. Have a look at their wine list while you're there as well – it boasts more than 70 bottles.
The eponymous seven doors open on to as many dining salons, all kitted out in elegant 19th-century décor. Long-aproned waiters bring regional dishes, served in vast portions, including a stewy fish zarzuela with half a lobster, a different paella daily (shellfish, for example, or rabbit and snails), a wide array of fresh seafood, and heavier dishes such as herbed black-bean stew with pork sausage, and orujo sorbet to finish. Reservations are available only for certain tables; otherwise, get there early.  
Alex Suñé, a young experienced veteran of the kitchen, has opened his own business. Mil921, he says, offers traditional Catalan cuisine which makes the occasional nod to Japan. And so tataki with lyophilised soy rubs shoulders with cod confit in coal oil. They also make a remarkable steak tartar.
A spectacular modernist restaurant that is home to a traditional style of cooking adapted by the creative genius of Martín Berasategui. In summer, it has a wonderful terrace with a great view of the Raval.
The atmosphere and the taste of an authentic Catalan country house. That's what you will find at the renovated Casa Jordi. While keeping the spirit and cuisine that made the place so visited by good palates, the restaurant has made a delicious and interesting twist thanks to its new owner, Lluís Cortines. Taking advantage of his valuable experiences at Reno and Botafumeiro, he managed to combine traditional cuisine, for which Casa Jordi is well known, with an adaptation to modern times. Better presented dishes tempting your eyes and, most of all, measured doses and a reduction of its most heavy aspects, with less fats and carbohydrates.
The young chef Jordi Esteve's style is based on quality and creativity, and underpinned with tradition. How about some scallops with truffle and fish foam? And save room for dessert, as Esteve's coconut-infused creations, which he came up with when looking for a dish that 'gives the feeling of sitting near a wood fire to stave off a winter's chill'. In more good news for everyone, there's also a menu for coeliacs.
Show more