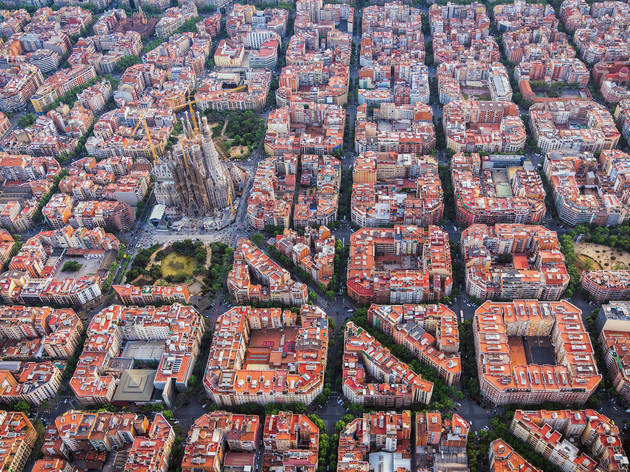 The Eixample neighbourhood guide
Get to know Barcelona's sprawling Eixample neighbourhood, and explore its best restaurants, bars, shops and attractions
The Eixample (which literally means 'Expansion') is a result of urban planning by Idelfons Cerdà. The whole sprawling area is laid out in a grid plan that Cerdà employed in the mid-1800s in order to make the most out of natural light and sanitation and bring efficiency and livability to the residents. Today the Eixample district is made up of the neighbourhoods Fort Pienc, Sagrada Família, the Dreta de l'Eixample, the Antiga Esquerra de l'Eixample, the Nova Esquerra de l'Eixample and Sant Antoni. The Eixample is a Modernista showcase – although you will find traces of the avant-garde from GATCPAC in the 1930s and new architecture from the 1950s. The Eixample is also the result of residents fighting to keep or restore emblematic spaces such as Casa Golferichs, and the outdoor courtyards in the middle of city blocks of flats that have always been the fabric used to weave community ties, made even stronger in recent times with the health crisis when neighbours could still socialise from their balconies.
The Eixample is its businesses and establishments as well: the landmark ones that stick around and adapt to changes in how and what we consume, and the specialised businesses that fill the neighbourhood with life and richness. The Eixample is also its venues and cultural gems, and the demands its residents and business owners make, for more green spaces and also for sexual diversity. Read on for just a sample of what you won't want to miss in this neighbourhood of neighbourhoods in Barcelona.
If you only do one thing
Get yourself over to the Illa de la Discòrdia (Block of Discord), which is a strip of Passeig de Gràcia between Consell de Cent and Aragó where big names in Modernista architecture left their mark. You can admire Casa Lleó Morera by Domènech i Muntaner, Puig i Cadafalch's Casa Amatller and Casa Batlló by Gaudí. All are well worth the visit, even if you just stand outside and admire their impressive facades.
Go off the beaten track
You won't find many guidebooks sending you to Fábrica Lehmann, but that's just what we're doing. If you go on a Saturday you might come across the farmer's market held on Consell de Cent, which itself is very near the Espai Germanetes, a green oasis in the area. If you're around Fábrica Lehmann in the evening when the patio lights are on, it makes for an even lovelier visit.
On a sunny day
There's nothing like a space where you can walk, run, skate, kick a ball around... And there's no space for all that quite like the Joan Miró park, where there's also a playground for kids and a grassy area to have a picnic or rest under a tree while you admire the enormous Miró sculpture 'Dona i Ocell' ('Woman and Bird').
On a rainy day
Exploring the 'French Eixample' is a good way to take refuge on a wet day. After a good meal, you can browse bookshops such as Jaimes or Documenta, which are nearby.
Get cultured
Among the museums in the Eixample are the Antoni Tàpies Foundation, the Espai VolART of the Vila Casas Foundation and the Egyptian Museum. Plus some of Barcelona's best galleries are in the Eixample. And the neighbourhood of neighbourhoods also boasts loads of bookshops for all tastes and budgets – some with a good selection in English.
Nearest metro stations
You can get from one side of the Eixample to the other and make stops in between using these metro stations: Passèig de Gràcia (L2, L3, L4), Universitat (L1), Arc de Triomf (L1), Tetuan (L2), Sant Antoni (L2), Sagrada Família (L5) and Hospital Clínic (L5).
Restaurants in the Eixample
What to see & do in the Eixample
Best selling Time Out Offers