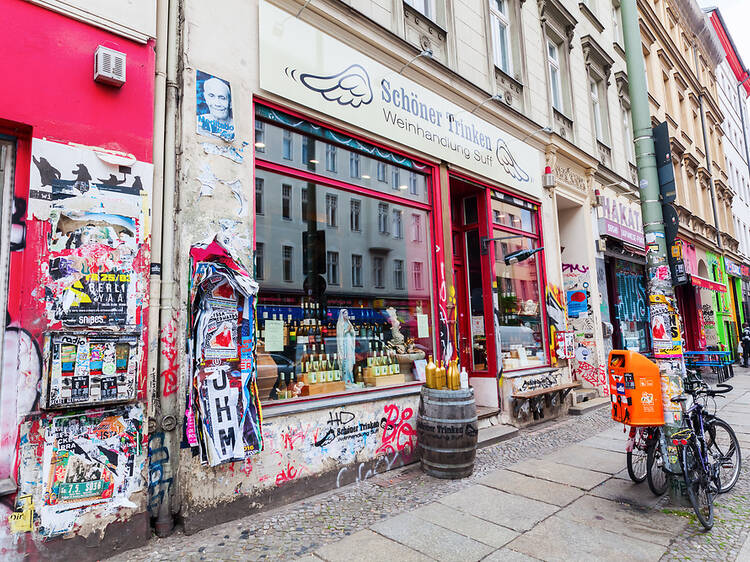 Photograph: Shutterstock
At the heart of the city, Kreuzberg is hard to put in a box. It's filled to the brim with bustling markets and bar streets, but also rich with slower residential sprawls.
Unlike Tiergarten or Charlottenburg (see below), Kreuzberg is a popular thoroughfare for tourists and expats from around the world, as well as the multi-generational families in diaspora who made it their home throughout the twentieth century. And with train connections to nearly every district in Berlin, Kreuzberg is never far away from what you want to see.
STAY
Lodging is in no short supply in Kreuzberg, and budget travellers are spoiled for choice when it comes to more affordable hotels and hostels. Try Three Little Pigs or Die Fabrik to stay close to the action. If you want a slightly more refined experience, GINN City & Lounge is a great option.
EAT
In an area as broad and busy as Kreuzberg, eating out is always a treat. Stop by La Maison or Brammibal Donuts for a breakfast pastry, Chung King Noodles or Mama Shabz by Paul-Linke-Ufer for lunch, and Il Casolare or Tenur for a particularly tasty dinner.
DRINK
Bergmannkiez, Reichenburgerstrasse, and the area around Schlesisches Tor are hotspots for barflies from Berlin and abroad. Swing by Ankerklause for a drink by the water, then head to Paloma Bar for a night on the town.
DO
Try out a few rounds of nine-pin bowling at Tante Lisbeth, but be sure to call ahead to make a reservation. And if you're looking to meet and mingle (with locals and tourists alike), Kreuzberg is home to a number of clubs with more relaxed dancefloors and door policies than elsewhere in the city: Lido, Bohnengold and Club der Visionäre are just a few.
If you only do one thing…
The canalside markets at Maybachufer are lively and vibrant, so be sure to drop by for fresh fruit and snacks on Tuesdays and Fridays.