8 awesome places to take afternoon tea in Birmingham
From Indian-inspired spreads to chocolate feasts in the Cadbury factory, these are the best afternoon teas in Birmingham
It may have developed a reputation as a curry-lovers' hotspot over the years, but it's not just spicy main courses that Birmingham has to offer. For foodie locals and tourists alike, Brum's racked up a host of top level eateries – from the laid back and casual, to the upmarket and extravagant – offering an altogether more delicate kind of treat: the afternoon tea. Whether you want to go trad, or mix things up a bit, there's something on offer across Birmingham's bustling culinary scene that'll hit the sweet spot. So without further ado, here are nine of the best of them – because it turns out you can have your miniature cake and eat it, after all.
Best afternoon tea in Birmingham
1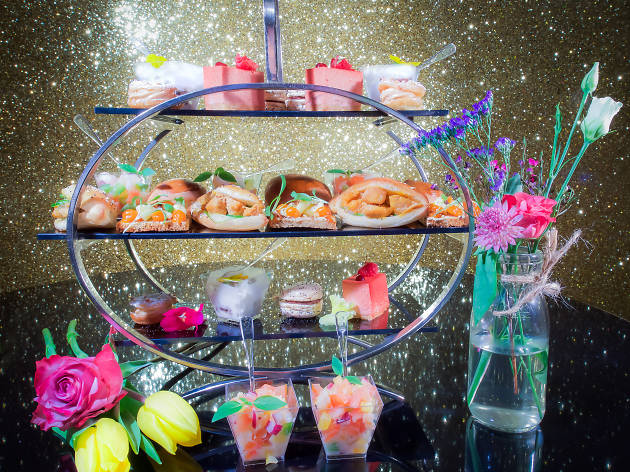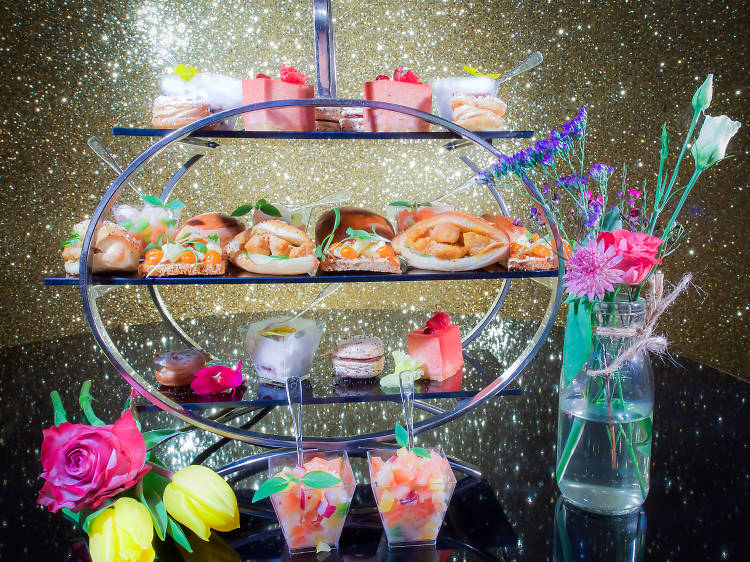 The Edgbaston afternoon tea
Why go? For stunning pastry delights from chef Olivier Briault.
Since his appointment in 2015, acclaimed pastry chef turned head chef Olivier Briault has made The Edgbaston into a must-visit destination for afternoon tea. From the opening amuse bouche - a tasty morsel presented in a sea of misty liquid nitrogen - it's clear he's offering an experience a cut above your usual fare. Passionfruit caviar-topped macarons and delicate Paris Brest continue the magic through 'til the last crumbs.
2
Zindiya
Why go? Afternoon tea? So passé. Now it's time to welcome High Chai.
At Indian 'streatery' Zindiya, the name of the game is creating an authentic, immersive experience. With their High Chai, that means taking the format of a British afternoon tea and reimagining it with Indian flavours and sweet, moreish masala chai. Samosas, paneer tikka pieces and Bombay sandwiches nuzzle up to spiced scones and a twist on a carrot cake, for a cross-continental fusion that's all kinds of delicious.
3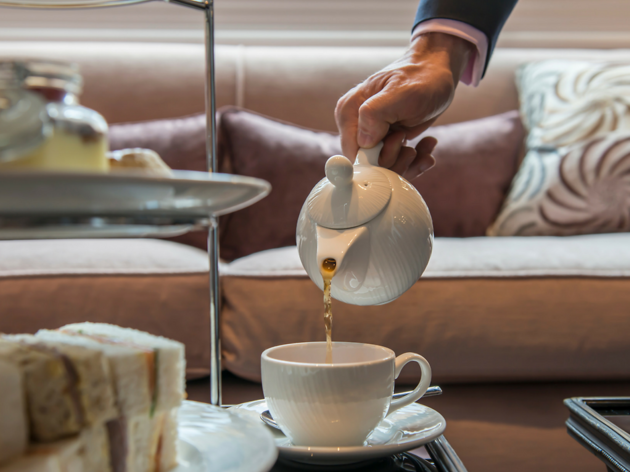 Three Church Road
Why go? Push the boat out in the opulent surrounds of a restored Georgian building.
A mere moment's walk away from Edgbaston's beautiful Botanical Gardens, Three Church Road is the ideal spot to continue a day of serene indulgence. In the oh-so-tasteful surrounds of their restored Georgian interiors (all dark woods and muted colours), you can dig into a tasty, traditional spread of finger sandwiches, scones and the like. And it'd be rude not to top it all off with a glass of bubbly, wouldn't it? Luckily, that'll only set you back an additional fiver.
4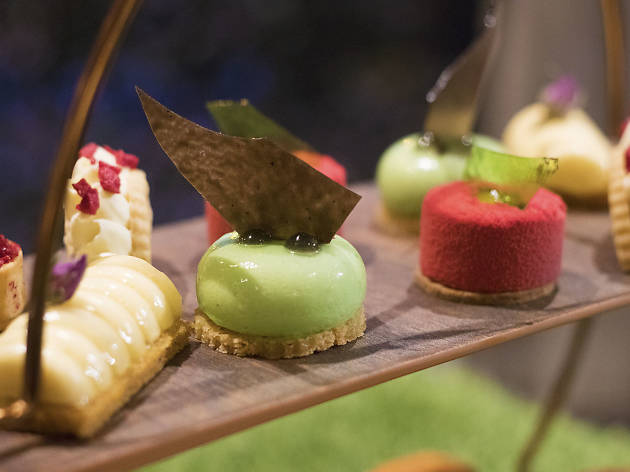 Park Regis
Why go? Too much testosterone for your average tea? Why not try a special Gent's version.
We're firm believers that men, women, and everyone in between should be free to sample the delightful wares of an afternoon spread, but we understand that dainty sarnies might not be to everyone's tastes. So at the 1565 restaurant, part of the Park Regis hotel, they've beefed things up a bit with a special Gent's Afternoon Tea. In place of cucumber sandwiches, you've got steak and chicken sliders, while the booze of choice is a dark rum cocktail.
5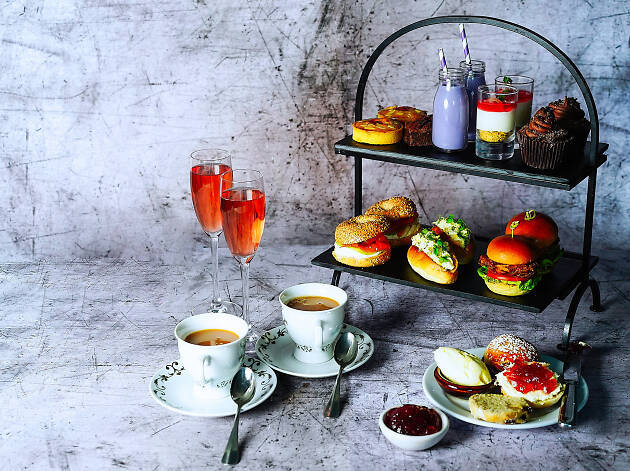 Malmaison Hotels
Why go? For an easygoing atmosphere, with a few tasty curveballs.
Hotel chain Malmaison has got the chic-on-a-budget thing nailed, so no surprises then that its afternoon tea follows suit. For under twenty quid, you'll get the full shebang (minus booze) – and they don't shirk on quantity or quality, either. The savoury options (bagels, sliders etc) get the thumbs up, but it's their cake selection that really brings things home. Featuring dinky brownies, Bakewell tarts and even a fruit shake, it's lip-smackingly good.
6
Laura Ashley Tearoom
Why go? Quaint and traditional is the order of the day from this British institution.
If there's a better match than quintessentially English design brand Laura Ashley and the quintessentially English pastime of taking afternoon tea, then we'll eat our delicate, floral-printed hat. The most ridiculous thing here is that it took until last year for our Laura to open a tea shop, but last year she (well, they) did in Solihull. Since then it's become a go-to spot for classy, treating (that's treat eating, obv); the only issue is whether to Instagram the food or the walls first.
7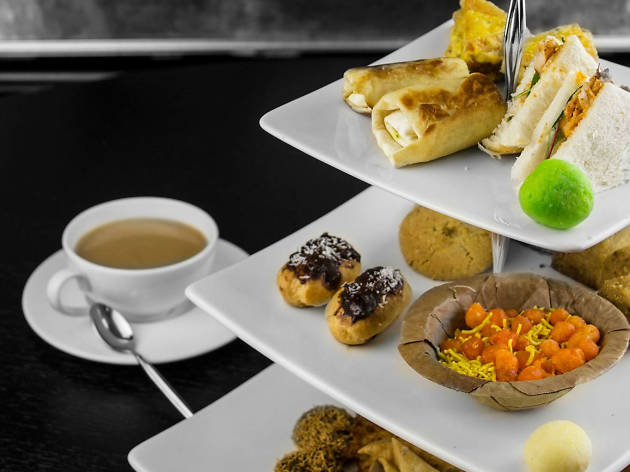 Pictomize
Why go? Afternoon tea with an Indian twist, at this award-winning eatery.
What happens when one of Birmingham's best Indian restaurants decides to get in on the afternoon tea action? One of the most delicious new slants on a classic in a while, that's what. Bringing the flavours of India and styling them with the delicate attention to detail you'd expect from a high tea, Praza's offering is refined but with an almighty flavour punch - aka the best of both worlds. Featuring a selection of authentic Indian street food favourites, alongside sweet treats like the ever-popular galub jamun, it's a whole new – and brilliant – dining experience.
8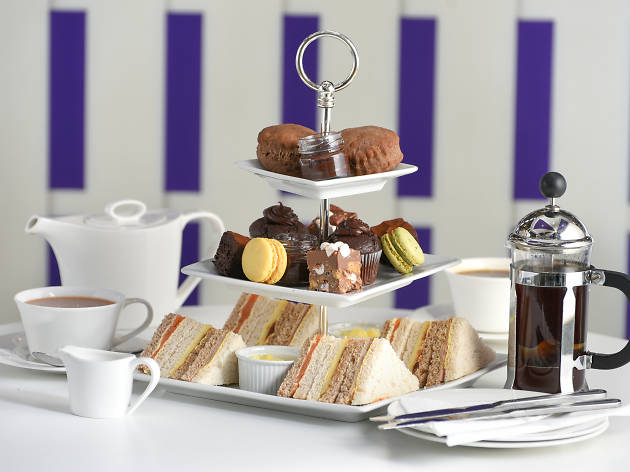 Cadbury's
Why go? Chocolate-lovers of the world, rejoice: we have found your mecca.
If you're a dark chocolate fan, then you'll know Bournville as the dark red bar that's always tempting you from the fridge. If you live in Birmingham, however, you'll know Bournville as a Southerly bit of the city. It's here that Cadbury makes the chocco, and it's here that you can head to Cadbury World and sample it all via the ever-delicious medium of afternoon tea. This one's all chocolate err'thang. And frankly, we couldn't be happier about that situation.