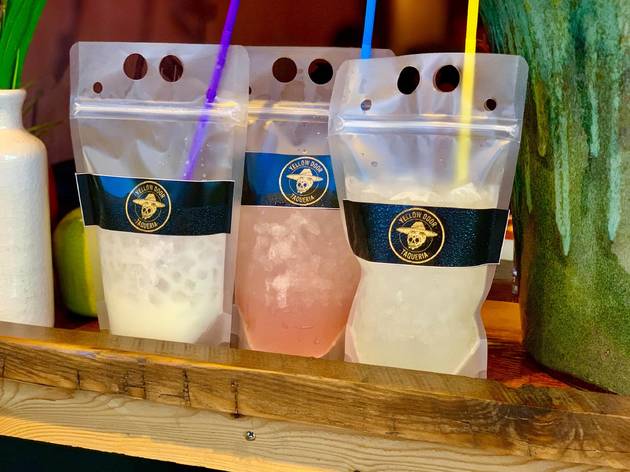 Here's where to order takeout cocktails to go in Boston this summer
Take your domestic drinking skills up a notch by enjoying mixologist-crafted concoctions at home.
Posted: Friday July 24 2020, 12:33pm
Now that Gov. Charlie Baker has signed a bill known as "Cocktails for the Commonwealth," anyone 21 or older can order fine cocktails to go. (Find out all about the rules and regulations here.) This new development is good news for myriad businesses that have been struggling during the most challenging of summers.
Not sure where to start? These are some of the best local bets for scoring a swoon-worthy cocktail to go:
Alcove: This West End hot spot is offering mixer kits alongside cocktails to go, including the Bayside (black pepper tequila, strawberries, basil, lime).
Banyan Bar: The South End's coolest Asian-accented destination is offering up a plethora of takeout cocktail options, including frosé and the Tiger King, which features Thai chile and lemongrass-infused vodka.
Citrus & Salt: Jason Santos's Baja-inspired eatery is offering frozen tequila cocktails served in plastic palm trees for at-home consumption. Go with a mango or watermelon margarita and you might just think you're on a tropical beach.
Committee: The Seaport District's go-to Greek restaurant is selling a selection of bottled cocktails to go, each serving two to four. Options include cooling frosé and the signature Greek Negroni.
GrandTen Distilling: Why not just head to one of the top local distilleries for your at-home needs? GrandTen is offering numerous bottled cocktails for takeout and delivery. Grab a finely crafted mai tai or daiquiri, and pick up a bottle of something special to work on your at-home mixing skills.
Rosebud American Kitchen: Head to Davis Square to choose from more than a dozen cocktails to go, including a bourbon-infused iced coffee and wickedly boozy milkshakes.
Woods Hill Pier 4: Impress someone special with a top-notch cocktail served in a takeout mason jar. (Made with gin, lemon and foraged lavender, the bee's knees features Woods Hill's own honey.)
Yellow Door Taqueria: At both Yellow Door locations (Dorchester and South End), customers can choose from the full cocktail list in to-go format, packaged in handy pouches. Go traditional with a letter-perfect margarita, or cool things down with one of the rotating frozen specials.
Stay tuned to Time Out Boston for all the latest news on food and drink in The Hub.
Share the story