This is Hidden Gems, where we'll uncover those small, lesser known establishments sprinkled throughout Greater Boston that are worthy of your attention. They might not have big name chefs manning their kitchens or be attached to some flashy restaurant group, but they're also a precious part of our city's culinary scene. This time around, we're focusing on Urban Hearth, a tiny Somerville spot focused on slow food and local sourcing.
RECOMMENDED: For more food fun, check out our guide to the best restaurants in Boston
Tucked away just outside Somerville's Davis Square, you'll find Urban Hearth, a tiny eatery that prioritizes slow food and warm ambiance over turning tables and pretentious cuisine.
"A little more approachable and a little less stressed out is what we're going for," says chef-owner Erin Miller.
This cozy space channels Miller's supper club past, and a meal here almost makes you feel like you're sitting down to a relaxing dinner party at your friend's casually chic studio apartment. The vibe is sophisticated but not stuffy, with a handful of tables closely placed against the walls and an open kitchen just inches away in the corner of the room.
A little more approachable and a little less stressed out is what we're going for
Dishes, which are served on a homey hodgepodge of pottery handmade by a former staff member and plates purchased at Target, come out looking effortlessly beautiful. As Miller puts it, "Everything looks like it fell on the plate—but perfectly." The food itself has depth of flavor and texture without being overly complicated or intimidating. And most importantly, ingredients are as local as they get.
"We're so blessed in this area to be surrounded by farms," says Miller. "This time of year, there's no reason to source anything from anywhere else besides here."
"Right now, probably 97 percent of what we're producing comes from within 100 miles of this restaurant—and that's not hard and that's not a marketing gimmick," she adds. "It just makes sense when you cook on such a small scale like we do."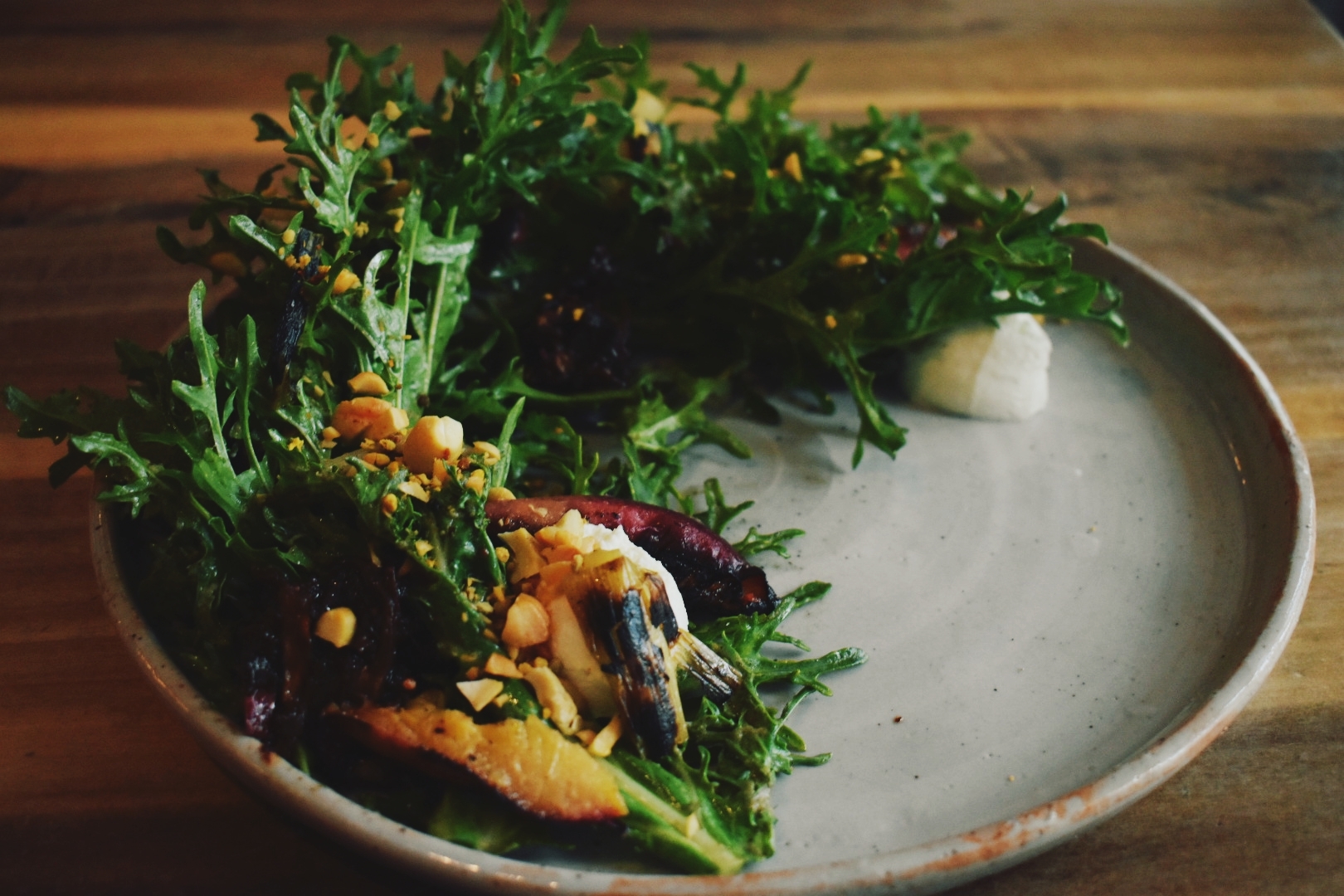 At its all-time high, Miller says that Urban Hearth has done a mere 40 covers in a single night. Serving such a lower volume of guests compared to other restaurants allows them to break away from an assembly line mentality, to be more flexible, to riff and to react. This means that they can look at what local farms have to offer each week and change their menus accordingly—which is exactly what they do.
Miller says that she, sous chef Paul Nadjarian and cook Ashley Stoyanov have a matter of days to develop new dishes depending on what's hyper-in season and accessible before they swap them into their repertoire. Among the internationally inspired, New American offerings that have recently made the cut: a butter-seared peach and spigarello kale salad with charred scallion vinaigrette, roughly chopped cashews, goat cheese mousse, fresh chili chutney, chamomile honey and bee pollen; and a seven spice duck breast with baby carrots and swiss chard (both delicately cooked in the duck's rendered fat), fresh currants, a saffron aioli and torn pieces of nasturtium picked from the garden.
"It's all about layers and it's all about balance," she says. "It's whimsy and unpretentious, which appeals to a lot of people.
"To some people, it doesn't—and that's OK."