The Banks Fish House just opened in Boston's Back Bay this week and it's ready to lure people in with its fresh take on oceanic New England fare.
This new seafood spot has taken over the Stuart Street space where Post 390 used to reside, with two floors filled with light, bright and tastefully modern nautical decor. Brought to us by Chris Himmel and Chef Robert Sisca, The Banks Fish House joins sister restaurants Bistro du Midi, Harvest and Grill 23, and appears to be somewhat of a passion project for these two business partners.
While this eatery is totally new to us Bostonians, Himmel and Chef Sisca tell us that The Banks has actually been five years in the making. Both lifelong fishermen, these guys have spent ample time combing the waters of the Atlantic together. From these joint fishing trips and their resulting catch, the pair was inspired to embark on a restaurant with a seafood-focused menu.
As far as food goes, the kitchen is committed to breathing new life into beloved local classics that can sometimes seem tired and overdone. If its swanky Back Bay location didn't already give it away, The Banks isn't your typical seafood shack. Its creations reflect that fact through elevated favorites like fish and chips (IPA-battered, locally caught haddock with slaw, french fries and remoulade) and ​​the lobster bake (a single-pot hodgepodge of chorizo, lobster, clams, mussels, potatoes and corn), as well as truly inventive hot takes like its clam chowder flatbread (a thin crust topped with crème fraîche, smoked bacon, clams, potatoes and oyster crackers).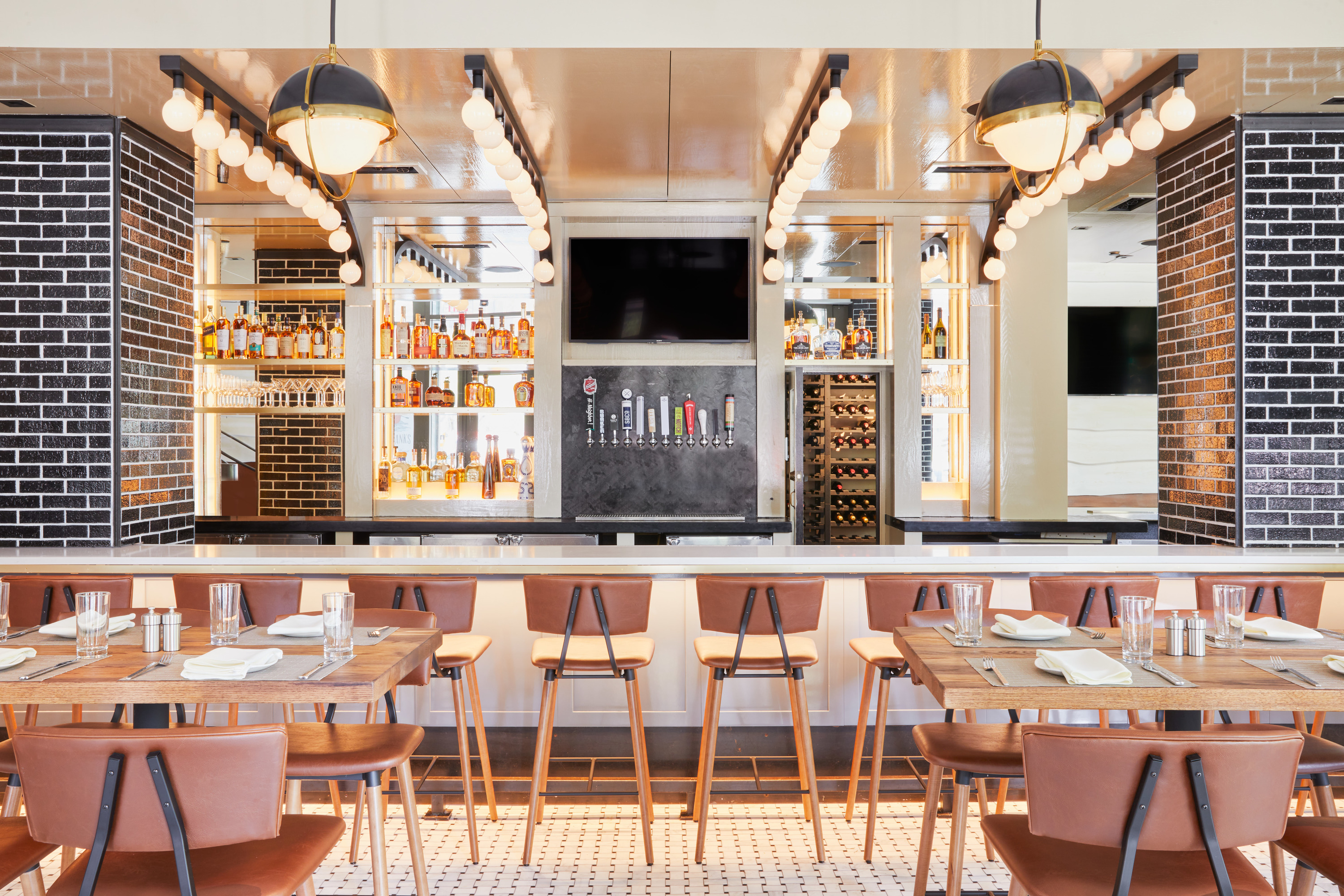 Leaning on local ingredients, The Banks also serves a number of dishes that obviously draw influence from Mediterranean cuisine. For instance, you'll find a cuttlefish spaghetti mixed with Maine uni, jumbo lump crab, cherry tomatoes and basil that's pretty reminiscent of Neapolitan preparations, or the grilled bluefin tuna steak with roasted eggplant, artichokes, Castelvetrano olives and lemon, which gives us serious Sicilian caponata vibes.
We got our first taste of The Banks earlier this week, when we opted for a dish that hit on both backgrounds: the seared jumbo scallops. These sweet, meaty shellfish are cooked to perfection—caramelized on the outside and tender on the inside. They're nestled atop a colorful plate strewn with a sweet corn and fava bean succotash (a coastal Native American staple), as well as haricots verts. Beside the bed of veg and legumes is a river of romesco, a sauce that Spanish fishermen created specifically to complement their daily catch. This brightly hued, silky sauce provides a necessary, nutty and creamy richness to the otherwise vegetal dish and, when eaten with the scallops, make an insanely decadent bite.
When ordering this mollusk masterpiece, we suggest preceding it with a couple of items from The Banks' extensive raw bar. A selection of briny oysters or even a bowl of the watermelon and tomato gazpacho (it's topped with jumbo lump crab, cherries, frisée and a basil-mint pesto) would provide freshness and would balance out this almost buttery main course. When your plate of scallops is served, be sure to have a glass of Chardonnay or a clean vodka martini on hand to wash it all down.