The best Boston Christmas lights
From twinkling trees to buildings decked in bulbs, follow our guide to the best Boston Christmas lights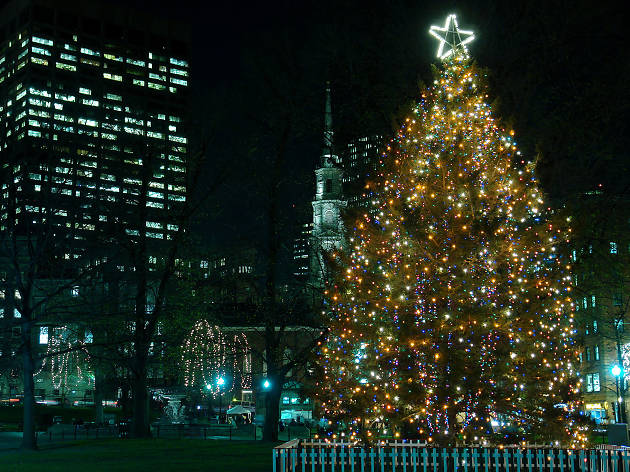 Oohing and aahing over twinkling Boston Christmas lights is one of the essential things to do in Boston during the holiday season. Nothing says Christmas in Boston quite like the LED-festooned trees in the Common or Faneuil Hall's glittering giant spruce, so head to our pick of eye-popping displays around town. Then swing by a few Christmas events in Boston and holiday markets in Boston before calling it a (silent) night.

RECOMMENDED: See the full Christmas in Boston guide
Where to see Christmas lights in Boston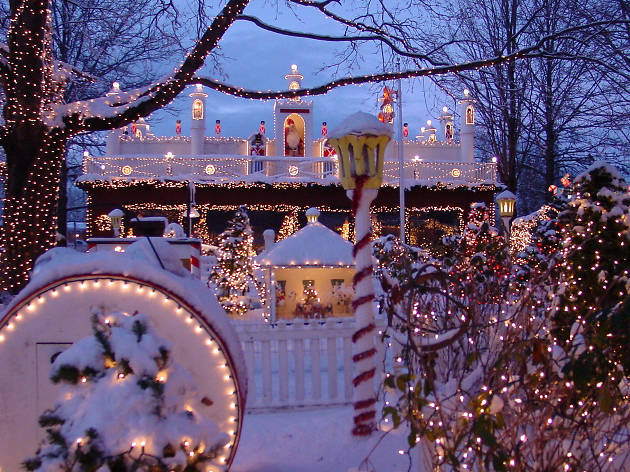 ZooLights at Stone Zoo
There's something enjoyably illicit about going to the zoo at night. (What if a lion eats me and no one sees it?) Grab a hot chocolate and wander Stone Zoo's decorated Yukon Creek pavilion populated by bald eagles, porcupines, lynx, reindeer and arctic foxes. There are nightly opportunities to pose with Dasher and Dancer, weather and reindeer temperament permitting, and the epically decorated Santa's castle is always worth a visit. 149 Pond St, Stoneham (617-541-5466). Through Jan 1. Daily 5–9pm; $8–$9.
The twinkly-light season officially kicks off with the return of the infectious light and sound installation that blankets Faneuil Hall through the holidays. More than 350,000 LED lights join forces with Holiday Pops tuneage for a seven-minute looped performance that miraculously manages to be addictive, not grating. Complementing the spectacle is the city's largest Christmas tree—an estimated 20 feet taller than the one in Rockefeller Center. Through Jan 1, daily from 4:30pm; free.
Always wondered why the top of the Prudential Tower turns a different color every day of December? Each year the building dedicates one day to a different local nonprofit, lighting up the tower in a specific color related to that group. (One more reason to look up from your smartphone.) Each night also gets its own music and special speakers. Through Dec 31.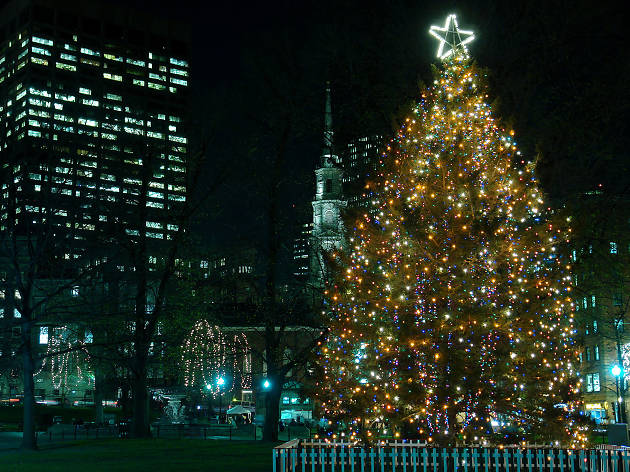 Boston Common
Now that Mayor Walsh has officially welcomed the holiday season by switching on the Boston Common Christmas tree and the string lights throughout the Common and the Public Garden, the parks have been transformed into an after-dark fairyland. Take a stroll up to the Commonwealth Avenue Mall to check out the illuminated lights strung among the shade trees.
The Greenway is a bastion of dramatic public art and the holiday season is no exception. From Chinatown to the North End, the parkway glows with a series of light-centric installations as well as more traditionally decorated trees. Once you end up in the Wharf District Parks, you can slow down and marvel at the always-entrancing Light Blades sculptures. Through Dec 31; free.
Photograph: Courtesy CC/Flickr/NorthEndWaterfront.com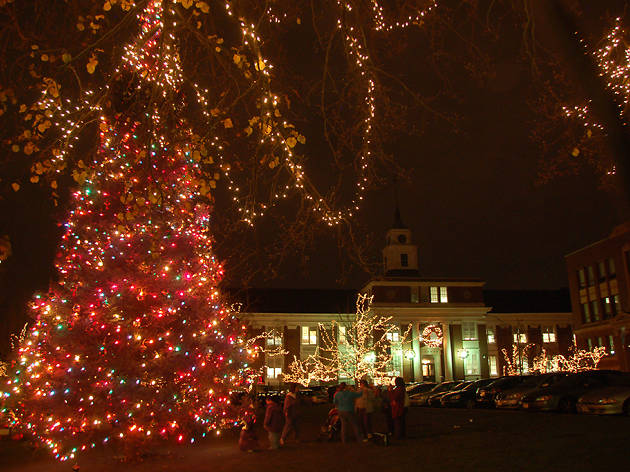 Illuminations Tour
Somerville may not be Paris but, come Christmas, residents treat their homes as their own private Eiffel Towers. The community goes all out in decking halls, roofs and windows with lights and figurines, causing many a car pileup as motorists slow down to stare. One night a year, the Somerville Arts Council makes it easier for visitors to take in all the decor with the Illuminations Tour, a 45-minute trolley ride tour that leaves from Somerville City Hall (don't forget to pick up your hot chocolate) and weaves through the adorned residential streets. Dec 17, 4:30-10pm; $10.
Photograph: Courtesy CC/Flickr/Chris Devers