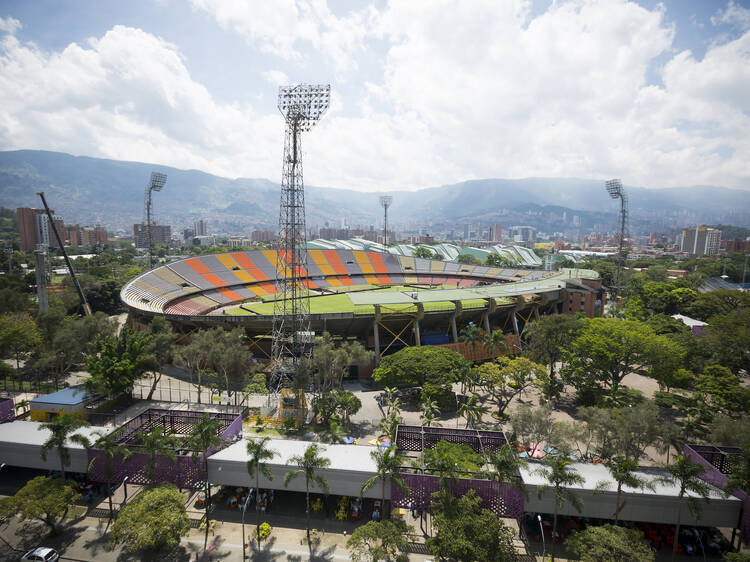 Photograph: Courtesy Bureau de Medellïn
Colombian singer Karol G hasn't released any hit songs about Laureles like she has about nearby El Poblado, but it feels like it's only a matter of time. The neighbourhood is home to the famed nightlife strip known as La 70 – where every bar and restaurant floor can turn into a dance floor with the right song – and Estadio Atanasio Girardot, Medellin's main fútbol stadium and concert venue. And while you might think all of this would make Laureles a bit noisy and hectic, the neighbourhood actually has a pretty laidback reputation. The area outside of La 70 offers tranquillity in the form of parks, tree-lined streets, yoga studios and countless coffee shops. And with the area's vastly improved restaurant scene and central location, it's easy to see why digital nomad-friendly highrises such as Indie Universe and Los Patios Cool Living are springing up there. But don't expect this area to be overrun by expats and tourists like Poblado. Laureles still has a traditional Colombian neighbourhood feel, despite its growing popularity. Fruit vendors push their carts through the circular streets like they have for decades – only now they might know a little more English than they used to.
The perfect day Rise and shine in the new Living by Armóniko, then grab your morning coffee from Rituales Café, which proudly serves coffee cultivated in La Sierra – a reborn Medellin neighbourhood that overcame a violent past. Enjoy a healthy lunch at Saludpan and an authentic Mexican dinner at Chilaquiles before ending your night dancing salsa in the basement of the no-frills Tíbiri Bar.

Plan your trip Colectivo SiCLas meets at Carlos E. Restrepo Park every Wednesday for a lively nighttime bike ride that draws 400 to 500 people on average. Don't have a bike? They'll lend you one.
🍽️ Tuck into the best restaurants in Colombia