Alan and Michael Fleming – Game On at threewalls | Review
SAIC alums capitalize on their twinship in performances and more.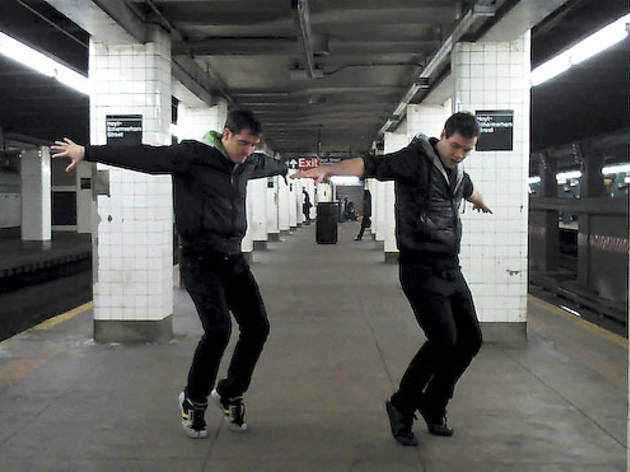 Do identical twins have a special psychic connection? Alan and Michael Fleming's recent drawings, performances (captured on video) and sculptures indicate the answer is: hell, no.
The Flemings, who graduated from SAIC's M.F.A. program in 2010, present two bodies of work in "Game On." The first was made when the brothers found themselves based in different cities for the first time. Correspondence (2011) recalls 1960s conceptual photography: The double-sided installation contains postcards the artists mailed to each other, exchanging instructions for actions ("Paint a banana blue and throw it into the sea"), as well as Polaroids that document their tasks.
Correspondence's cursory texts and trite views of New York and Chicago render it impersonal. The Flemings' pieces become more engaging when they address their unusual bond directly. Their second body of work was made after their reunion in Brooklyn, where both now live. In their video Psychic Color Pour (2012), clad in a white jumpsuit and safety goggles, one twin sits in a chair as the other stands behind him with a pot of paint. The seated twin guesses the color, earning a dousing for each mistake. By the end, vivid splashes cover the artists—who alternate pouring—and their studio wall.
The humor underlying Psychic Color Pour and Who's Bad (pictured), which records trained dancer Alan's attempts to teach Michael the choreography from Michael Jackson's "Bad" video, never degenerates into slapstick. In his exhibition essay, SAIC prof David Getsy notes that the Flemings' study of sameness and difference is serious. But their irreverent approach makes this show a lot of fun.