Best of the Modern Wing
Here's why we love the new addition to the Art Institute.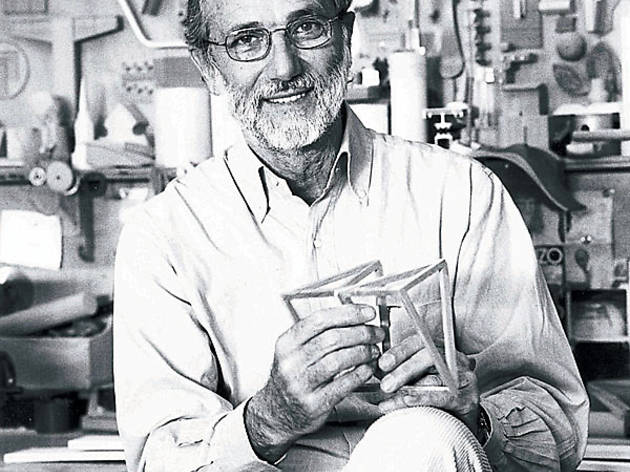 1/10
1 Renzo Piano designed it. When the Art Institute tapped the Pritzker Prize–winning Italian architect to design the Modern Wing in 1999, Piano had only a couple of finished museums on his résumé. (It helped that one of them was Paris's Centre Georges Pompidou.) During the past decade, however, he's completed elegant additions to Atlanta's High Museum and New York's Morgan Library & Museum. The New York Times' architecture critic calls Piano's 2008 California Academy of Sciences "a reaffirmation that human history is an upward spiral rather than a descent into darkness." The light-filled Modern Wing should keep Chicago's architectural cachet from disappearing into the Spire's black hole.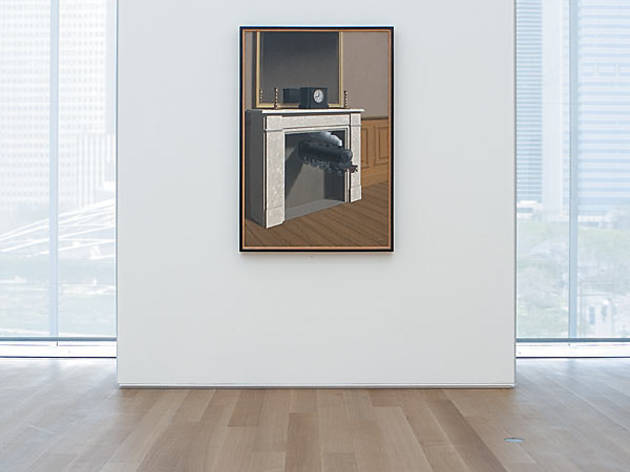 2/10
2 It won't compete with the art. The Art Institute hypes Piano's starchitect status, and the Modern Wing echoes his other buildings in its treatment of light and attention to sustainability. But the Modern Wing's subtle design doesn't overshadow its contents, as Frank Gehry's Guggenheim Bilbao does, and it isn't a self-conscious "signature" project that will seem dated before it's finished, like the Pritzker Pavilion. Yeah, we said it.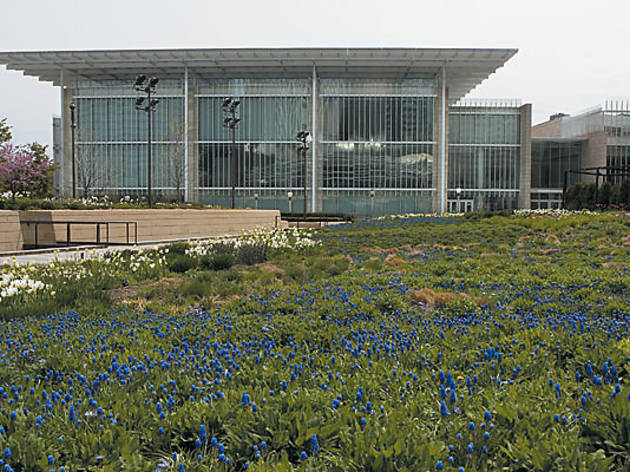 3/10
3 Its "flying carpet" roof The drowsiness you feel in most museums isn't necessarily caused by the art: Most institutions maintain a dungeonlike ambience because they need to limit their artworks' exposure to harmful light. But sunshine fills the Modern Wing's cheerful third-floor galleries—thanks to this sunshade made of aluminum "blades." The computer-modeled panels block harsh rays from the south, but softer northern light enters through the skylights and is diffused by protective filters.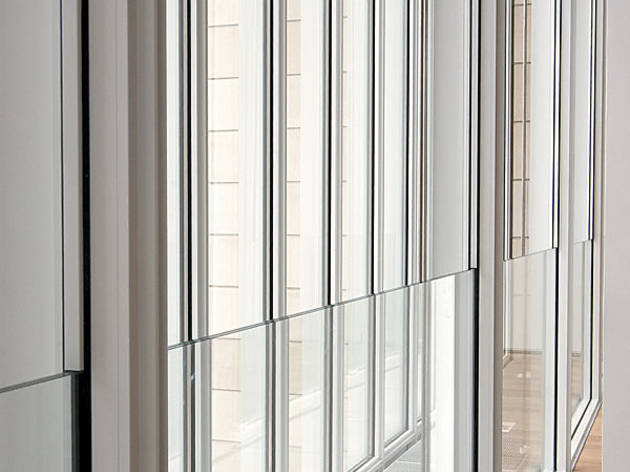 4/10
4 Its green credentials The Modern Wing's energy-saving features include an automated dimming system that senses how much natural light enters the galleries. The system adjusts the level of artificial light "minute by minute," says Art Institute spokeswoman Erin Hogan. The double layer of glass in the Modern Wing's façade (see photo) helps stabilize the temperature inside the galleries, reducing the need for artificial heating and cooling.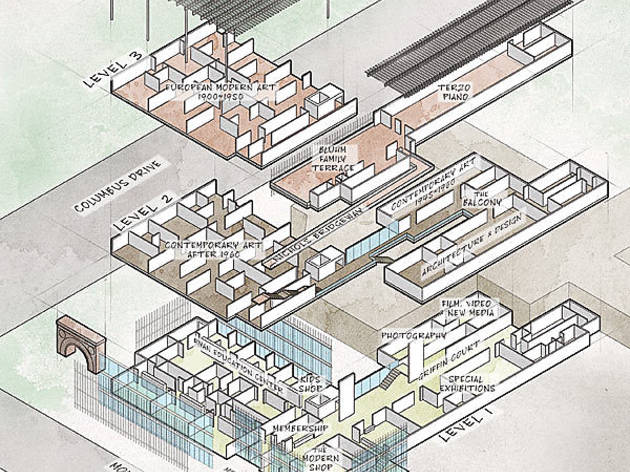 5/10
Illustration: Andy Mora
5 The Ryan Education Center Visitors no longer have to pay full admission to bring their families to the Art Institute's kids' programs. This free facility has 20,000 square feet of space for crafty activities galore—the museum says it's increasing educational activities and programs by 30 percent—computers and digital cameras for teen workshops, and ingenious cubbies with doors on two sides for school groups' coats and backpacks (inspired, Hogan says, by Piano's nine-year-old son). Located on the ground floor of the Modern Wing, the center also boasts glass walls that allow sunlight to enter, rendering it 20,000 times less depressing than the main building's lower-level kids' area.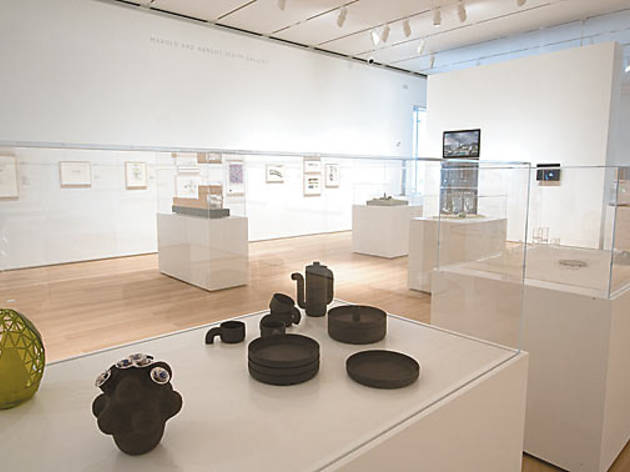 6/10
6 The new Architecture and Design galleries It's hard to convey the essence of a building in drawings and tiny models, which is why architecture exhibitions pose a challenge. They were nightmares in the Art Institute's old "horseshoe" gallery, a narrow, curved space that was poorly lit and awkward to navigate. In the Modern Wing, however, the Architecture and Design collection's new 8,000-square-foot home reflects the importance of these disciplines to Chicago. The new gallery highlights the museum's permanent design collection (one of only a few in the U.S.) and architectural drawings that have rarely been displayed.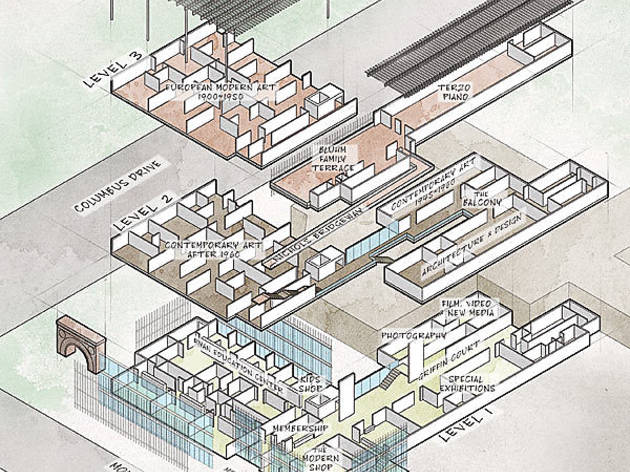 7/10
Illustration: Andy Mora
7 The Modern Wing Shop This new ground-floor boutique draws on the School of the Art Institute of Chicago's profs and alums for many of its design objects and accessories. It'll also carry the usual range of tourist-friendly, giftable items: books about modern and contemporary art, design and architecture; "art reproductions"; and items relating to special exhibitions—though we find it hard to picture Cy Twombly mugs.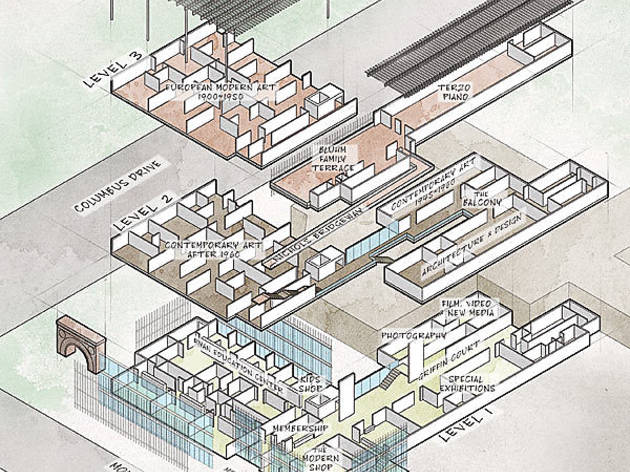 8/10
Illustration: Andy Mora
8 Nichols Bridgeway We've had our doubts about this pedestrian bridge, which was looking decrepit a few months ago. But when we saw the Bridgeway up close, it appeared sleek and graceful: the perfect way to lure unsuspecting visiting relatives into the museum from Millennium Park. The Bridgeway leads to the Modern Wing's third-floor Bluhm Family Terrace, a free outdoor venue for rotating sculpture exhibitions.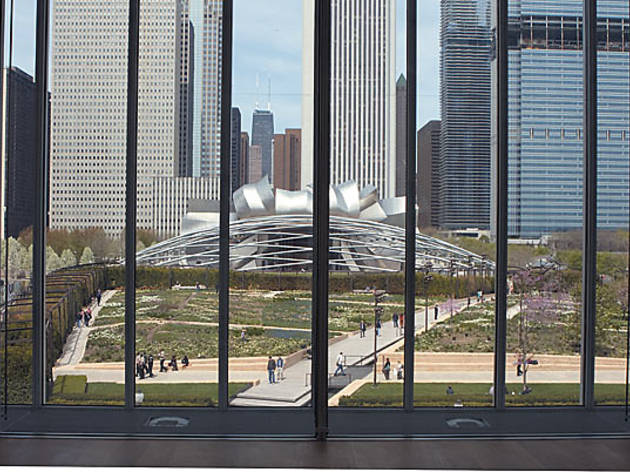 9/10
9 The views The Bridgeway and the Wing's north facing galleries offer spectacular views of Millennium Park from fresh perspectives.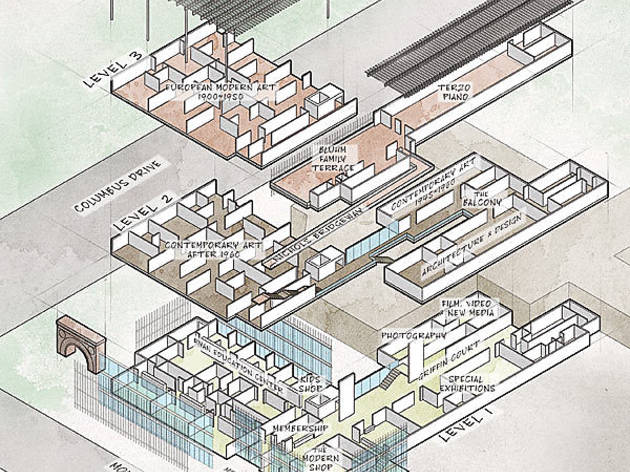 10/10
Illustration: Andy Mora
10 Terzo Piano Take it from Eat Out editor Heather Shouse: "Spiaggia toque Tony Mantuano will deliver elegant lunches to hungry art-oglers at this local-leaning third-floor restaurant, featuring an antipasto platter with prosciutto from Iowa and sesame-crusted whitefish caught in Lake Superior. With 170 seats in Piano's austere dining room and 50 more on what's sure to be downtown's most bustling terrace, Mantuano better kick his slow food into high gear."