Columbia College's prioritization could shake up its art programs
Anchor Graphics, Center for Book and Paper Arts could be affected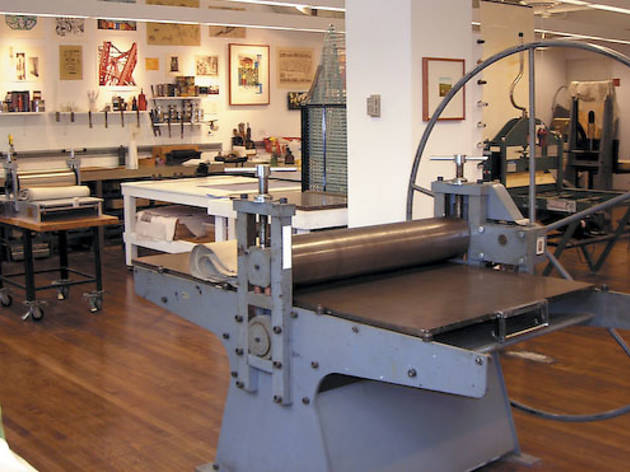 The walls of Anchor Graphics are covered with an impressive array of art. David Jones, the print shop's executive director, points out prints by beloved Chicago artists such as Gladys Nilsson and internationally acclaimed artists like Enrique Chagoya. All of these works were produced at Anchor Graphics, which Jones cofounded in 1988. In 2006, the nonprofit became part of Columbia College Chicago. But when I visited its South Loop facilities a few weeks ago, Jones told me, "We just don't know what's going to happen."
As Columbia undergoes a process called Blueprint | Prioritization, Anchor Graphics finds itself on a list of programs recommended for "phase out" or "elimination" in reports published this spring by Eliza Nichols, dean of Columbia's School of Fine and Performing Arts; interim provost Louise Love; and an Academic Team of 13 faculty and staff members. Columbia's superb galleries and the renowned Center for Book and Paper Arts received the designation "combine/restructure (with reduced costs over time)."
Columbia began compiling data last year that underpins the reports' suggestions about allocating resources and restructuring programs. At press time, the college's president, Warrick L. Carter, intended to issue his decisions about these recommendations May 22. Columbia's board of trustees will approve the final plan June 28.
Something at Columbia needs to change. According to the Academic Team's report, as of 2010 the college's six-year graduation rate was a dismal 40 percent. Academic Team member Suzanne Blum-Malley, director of Columbia's English as a Second Language program, tells me one overarching question guided her team: "What is our promise to students, and how do we deliver on that promise?"
Columbia perceives Anchor Graphics as "not tied into the curriculum," Jones says, adding that he and his colleagues have proposed courses that have "never been accepted" and employ a steady stream of student interns. Jones wants Columbia to align Anchor Graphics with the Center for Book and Paper Arts. Together, the institutions could launch a printmaking major or minor, which "would become a real draw for more students," he predicts.
Chagoya sees "a reemergence of printmaking," which means Anchor Graphics' crisis "couldn't have come at a worse time," the Stanford professor tells me by phone. Given the city's recent exhibition about Chicago's thriving printmaking scene, "Pulled, Pressed & Printed, Chicago," Jones's confidence in the medium seems well-founded. He outlined his ideas for saving the print shop at one of the listening forums Columbia has held to solicit feedback on prioritization, and sent a letter to Nichols and the chairs of relevant departments, but says he has received no response other than "We'll get back to you."
Earlier this month, the Columbia Chronicle published a May 7 letter to faculty from the college's Faculty Senate Executive Committee, which expresses concerns about Carter's handling of prioritization, citing "a lack of transparency and trust." (The college did not grant my requests to interview artist Betsy Odom, a member of the Academic Team; Neysa Page-Lieberman, director of the Department of Exhibition and Performance Spaces; or Center for Book and Paper Arts director Steve Woodall.) On May 8, Carter announced he will retire in August 2013—one year earlier than expected.
Blum-Malley hopes the concerns raised by prioritization lead to more dialogue. She regrets that "the way it's been talked about makes it sound like an ax falls with the president's and board's recommendations. I hope that's not the case." She doesn't want to see programs like Anchor Graphics hastily eliminated, saying, "There need to be conversations, research and thoughtful planning."
Columbia College hosts a listening forum for students, faculty and staff at Film Row Cinema Friday 25, 10am–noon.