Cultivating Art Collectors
Chicagoans bolster the local art market by making art more accessible.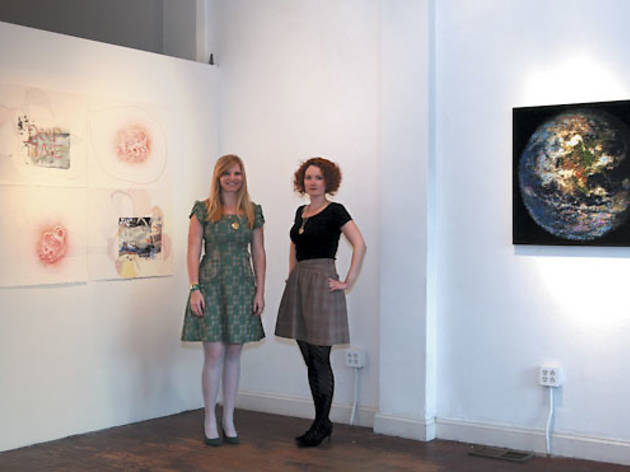 [node:15693401 noterms imagecache=field_image:timeout_250x220:image:0; cck=field_caption; cck=field_credits;]
"In the Midwest, cultural value tends to be placed on music and food, and less so on art," contends Helen Maurene Cooper, a Chicago-based artist known for her photographs that address issues of gender and class. Frustrated by the limited number of young art collectors in Chicago, she and marketing professional Mia Billetdeaux formed Azimuth Projects, an organization that helps expose new audiences to the city's art community. They are just two of a growing number of art professionals working to expand Chicago's art market by bringing more collectors to the fold.
After experimenting with different formats, the duo discovered that food seems to be a perfect entryway into discussions about art. They've partnered with chefs Christine Cikowski and Joshua Kulp of Sunday Dinner caterers to host combination barbecues/art exhibitions at private homes to bring artwork and artists to young professionals in an informal setting. While Cikowski and Kulp grill their famed Green City Market burgers, Cooper and Billetdeaux serve drinks and spark conversations between diners and the exhibited artists. The food-based approach seems to be working—the last two Sunday Dinner barbecues netted more than 100 participants and, literally, brought art to the table in a fun and social way. Cooper admits "at this point our work with Azimuth hasn't been reflected in sales, but rather the growing of relationships between artists and dinner guests." (The next Azimuth/Sunday Dinner barbecue is scheduled for October 14 and will feature Chicago artists Josh Reames and Takeshi Moro.)
While Cooper and Billetdeaux cultivate collectors at a grassroots level, Wicker Park gallery owner Monique Meloche pursues larger quarry. Meloche recognizes that many established Chicago galleries are part of a global art market with a global clientele. The question is how to further raise the profile of Chicago's gallery scene with collectors and curators in other cities.
To broaden the appeal of Chicago galleries to outside collectors, Meloche has partnered with fellow gallery owners Scott Speh of Western Exhibitions and Andrew Rafacz of Andrew Rafacz Gallery to organize Gallery Weekend Chicago (Thursday 20–Sunday 23). Inspired by the success of Gallery Weekend Berlin, the Chicago franchise is designed to showcase the city's unique art market to out-of-town collectors who might be more at home purchasing art in New York or Los Angeles. Capitalizing on Expo Chicago, the city's new international art fair, GWC is inviting 150 collectors and curators from across the country to see what Chicago galleries have to offer.
Aside from drawing attention to Chicago's gallery scene, another goal of GWC, says Meloche, is "to bring people back to the source, to see art in the gallery space and not in a [art fair] booth." To this end, GWC is inviting the general public to a series of free events hosted by various Chicago galleries. These include "gallery talks" with exhibited artists—like Geoffrey Todd Smith, Laura Letinsky and Cauleen Smith—who will give more intimate introductions to their work within the context of curated shows.
The goal for both Azimuth Projects and GWC is to promote the Chicago art market and give potential collectors greater accessibility to Chicago's artists. As Cooper puts it, "Mia and I really want to expand the conversation in the Chicago art world."