Gallery 400 at UIC tries to broaden its audience
Lorelei Stewart discusses Forum 400 and other new initiatives.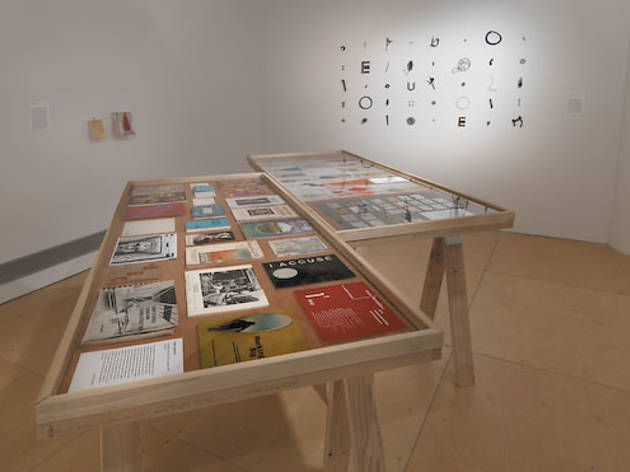 Philip von Zweck's Every Hotel Room, a stack of stolen Gideon Bibles, functions as a personal archive of hotel rooms the artist has occupied since 1991. As von Zweck uses an iconic book to author a different narrative, UIC's Gallery 400, which exhibits his installation in "Archival Impulse," begins a new chapter of its own.
Founded in 1983, Gallery 400 only exhibits contemporary art, architecture and design, and has no permanent collection. "There's a common misperception that all we show is student work," assistant director Whitney Moeller tells me.
Director Lorelei Stewart doesn't view the lack of a permanent collection as a limitation, but admits that it makes it harder for the public to understand Gallery 400's mission. "The history of our programs defines our identity," she says, so the gallery is making its past as accessible as possible.
"Archival Impulse," which highlights artists from previous exhibitions, such as Stephanie Syjuco and Jason Lazarus, coincides with the launch of Gallery 400's new website, created by Chicago-based Neoteric Design. The site enables visitors to access additional information about artists, new exhibition and event archives, a social-media platform called UIC Creative Community, a blog and "Stories from the Inside," which offers a glimpse of the university's art courses and studios.
To reach those outside UIC, the gallery also founded Forum 400. Moeller oversees the group, which offers members curator-led exhibition tours, studio visits and other benefits for a $400 annual fee. She describes Forum 400 as a pizza-and-beer scene. "I think [members] are drawn to the more informal aspect," Moeller says, "and the access we can provide to the artists and to the students and faculty here is really appealing for people."
Forum 400 seems valuable for the word of mouth it will generate even more than the money it will bring in. Many of its 20 inaugural members are active in the Chicago art world. Now, they'll have regular contact with UIC's art department, which is housed at 400 South Peoria Street along with Gallery 400. (The gallery hosts four UIC M.F.A. shows every spring, featuring four to five artists at a time, but might change that format in 2012.)
Though the Propeller Fund, which Gallery 400 administers with local gallery threewalls, recently completed its second annual round of artists' grants, Stewart says most of the institution's partnerships with other educational organizations or community groups "have been short-term and not very sustainable." To rectify this, Gallery 400 established a Community Engagement Advisory Council, and it plans to target the UIC campus, Chicago Public Schools and the West Loop. Stewart would like to see a formal program for class visits, "teacher resource materials on the website and active programs on the weekend for our neighbors"—ideally, before the gallery celebrates its 30th anniversary in 2013.
"Why not completely own who we are and make it quite clear?" she says. "We are in an educational context, and there are amazing benefits to that. Other organizations may have an educational mission, but they're not actually educating the artists of tomorrow."
"Archival Impulse" runs through December 17.