Irena Knezevic at Alderman Exhibitions | Art review
"Night of the World" obliquely confronts Croatia's Jasenovac concentration camp.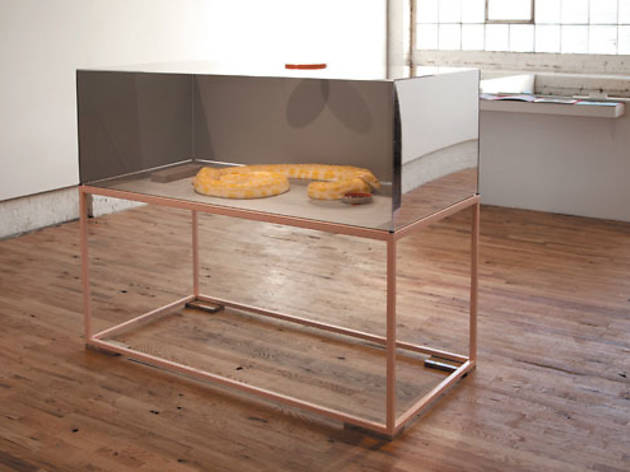 Irena Knezevic never wants the six Monochromes she made for "Night of the World" (2010–12) to be displayed together. She will permit you to buy only one of these ink-jet prints on aluminum panels, and if you choose to remove the layer of silver scratch-off paint covering it, you must keep the work in a private space or cover it with a custom-made fabric she provides.
Knezevic takes these precautions because, together, the prints complete the Serbian-born artist's translation of Jedenje Bogova, the diary of an officer at Croatia's Jasenovac concentration camp during World War II. The prints, installations and ceramics in this conceptual exhibition expertly convey the dangerous nature of her source material—and tease viewers for their perverse desire to read it.
First published in 1982, Jedenje Bogova describes the inhuman acts of violence, such as cannibalism, that were perpetrated at Jasenovac. Yet the diarist's writing is so lyrical it seduces the reader, Knezevic explains in the exhibition brochure. While the brief text's literary qualities have cast doubt on its authenticity, she adds, it inspired new atrocities during the 1990s civil wars that broke up Yugoslavia.
The St. Louis–based artist places another complete translation of the diary in her installation Table—under a live boa constrictor, which erodes the print's silver coating as it slithers around its enclosure. (A similar snake was one of the few animals in Belgrade's zoo that weren't killed or driven insane during the city's 1999 bombing.) Knezevic's project is self-defeating: Even as the artist tries to contain the diary's evil, destroying the tools she used to make her prints, she revives the writer's legacy. Weighted by history and ritual, her work is also impossible to forget.