Mary Jane Jacob and Jacquelynn Baas edit Chicago Makes Modern
Living Modern inspired the University of Chicago Press anthology.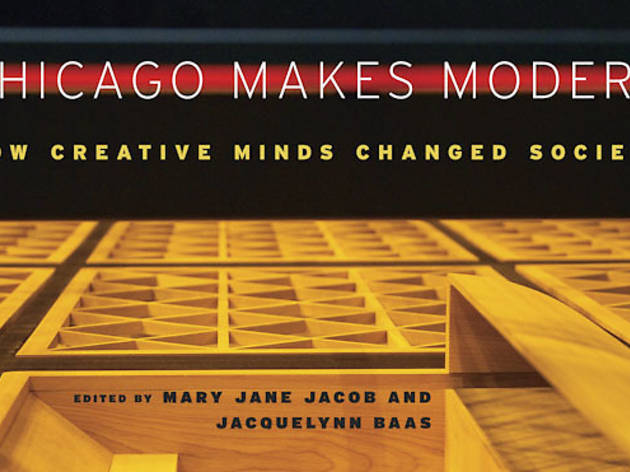 One winter afternoon several years ago, Ludwig Mies van der Rohe almost killed local architect Ben Nicholson.
Nicholson was standing in IIT's Mies-designed Crown Hall. Heated by the sun, the building's south facade expanded against its freezing eastern wall. "I heard a south-side pistol crack accompanied by the whiz of a spinning projectile flying over my head," the SAIC professor recalls in the anthology Chicago Makes Modern: How Creative Minds Changed Society (University of Chicago Press, $35). "A three-eighths-inch stud bolt had sheared off with the built-up pressure of the twisting walls and nearly blinded me."
Nicholson's pointed analysis of Crown Hall, which he loves despite what he calls Mies's "assassination attempt," is among the highlights of Chicago Makes Modern, edited by Mary Jane Jacob, executive director of exhibitions and exhibition studies at SAIC, and Jacquelynn Baas, director emeritus of the UC Berkeley Art Museum and Pacific Film Archive.
In their introduction, Jacob and Baas explain they wanted to understand why there is "a growing interest in 20th-century art, architecture and design." Some essays in Chicago Makes Modern offer new perspectives on local heroes such as Mies and László Moholy-Nagy.
The latter, historian Maggie Taft informs readers, curated "War Art," a 1942 show at the Renaissance Society meant to demonstrate how art and design could help the U.S. win World War II. That initiative challenges the popular image of the avant-garde artist-filmmaker who transformed the Bauhaus. According to Taft, Moholy-Nagy tried to sustain his Chicago-based School of Design (now part of IIT) by portraying it as critical to the war effort, even claiming his students' camouflage experiments could make the Merchandise Mart look like a forest from the air.
Chicago Makes Modern also introduces readers to lesser-known modernists including Morton and Millie Goldsholl. Amy Beste, director of public programming for SAIC's Department of Film, Video, New Media and Animation, traces the origins of the Goldsholls' influential corporate films to the couple's studies with Moholy-Nagy.
Unfortunately, the book as a whole feels disjointed. Much of it relates to Living Modern Chicago, a 2009–10 program of exhibitions, workshops and lectures organized by SAIC and the Mies van der Rohe Society at IIT. The centerpiece was "Learning Modern," a show presented in SAIC's Sullivan Galleries.
Several "Learning Modern" participants contribute texts to this anthology. Swedish artist Staffan Schmidt distills reminiscences from Modernity Retired, his series of video interviews with elderly architects, into a juicy read. (Gertrude Kerbis, a self-professed bad cook, was asked to design a food court at O'Hare simply because she was female.) But only a few translate their projects smoothly into print; the book thus fails to persuade readers they should care about a show from three years ago.
While Jacob and Baas include valuable interviews with Chicago modernists like Charles Harrison, the former head of Sears' design department, conversations with Ai Weiwei and other artists unconnected to the city seem out of place. Still, Chicago Makes Modern helps us understand modernity, which questions authority even when—as in Nicholson's experience—it's the most famous modernist of all.
Chicago Makes Modern is out now.