Museum of Contemporary Art embraces convergent programming
How the MCA's new vision will attract a more diverse audience.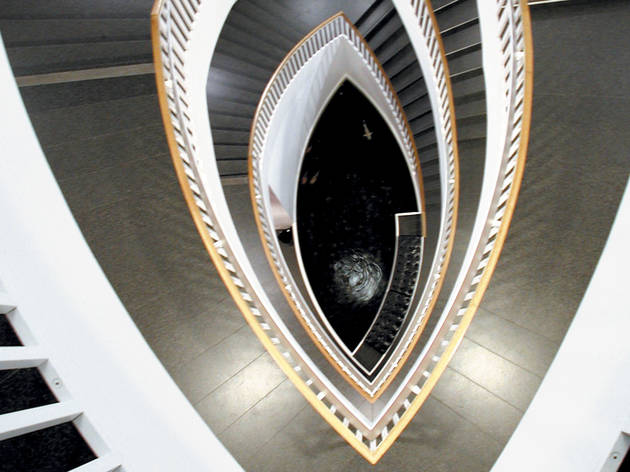 The sound of Andrew Bird's violin heralds a revolution at the Museum of Contemporary Art. If you have a ticket to his sold-out December 21 or 22 show, you'll find the Chicago musician in the MCA's atrium, collaborating with a local sculptor on the exhibition "Andrew Bird and Ian Schneller's Sonic Arboretum." Bird will manipulate his music electronically as visitors move among Schneller's flamboyant speakers, which are made out of compressed newsprint and dryer lint. If all goes according to the MCA's plans, Bird's young audience will venture into the museum's other galleries as well.
When the MCA founded the performance program MCA Stage in 1996, it was an unusual step for an American museum. Now it's doing something more radical: integrating the musicians, dancers and other performers normally relegated to the MCA Theater into its exhibition spaces.
Chicago's commissioner of cultural affairs and special events, Michelle T. Boone, finds that MCA Stage attracts "a real range of ages, ethnicities, cultures." Boone, formerly a senior program officer at the Joyce Foundation, which for several years helped fund the MCA's performance series, says the foundation hoped to help the museum "figure out ways to get that diverse group of people [who] were attracted to the performance programs upstairs into the galleries, because that wasn't happening."
Programs like Bird's upcoming performance are aimed at doing exactly that. And Bird is just the beginning: This fall, the museum named its longtime director of education, Erika Hanner, the first "director of convergent programming." Hanner's mandate is to break down the barriers among the museum's curators, performance program staff and the education department.
MCA director Madeleine Grynsztejn says the museum already sought a "broad and diverse" audience when she joined the institution in 2008. But the MCA's recent decision to hire curator Naomi Beckwith from the Studio Museum in Harlem, its support for the 2010–11 Mark Bradford Project, and its plan to give Puerto Rican artist Rafael Ferrer a solo show suggest the MCA is acknowledging what chief curator Michael Darling calls "the multicultural quilt of Chicago."
Hanner explains that convergent programming also responds to a shift in contemporary art. "Artists are blurring the lines between their disciplines," she says. "Is [Chicago artist] Theaster Gates a visual artist? A performance artist? A chef? A community activist? More and more, there are projects that don't seem to fit tidily within one department and that's fantastic, that's exciting." Right now, Hanner's preparing for a 2012 collaboration with British artist Martin Creed, whose practice encompasses music and performance.
She and Darling promise the museum will host more interdisciplinary exhibitions like "Eiko & Koma," which featured the Japanese artist-choreographers dancing on the MCA Plaza and in the MCA Theater in August and September, respectively. From Tuesday 8–November 13, they'll perform in a massive nest installed in a gallery. When a live performance happens in an exhibition space, Darling says, "it really galvanizes the audience."
Meanwhile, retooled exhibition spaces are becoming easier and more fun to navigate. One remote fourth-floor gallery is a forgettable venue for conventional shows, but its quiet atmosphere makes it perfect for a new film and video series. MCA Screen premieres November 26 with David Hartt'sStray Light, a video installation about Chicago's Johnson Publishing Company building, the former headquarters of Ebony and Jet.
Darling hopes Stray Light's attention to social and urban issues, as well as its soundtrack by longtime local musician Nicole Mitchell, coax a new audience up to the fourth floor. "We don't want to jam [contemporary art] down people's throats," he says. "But we're trying to remove as many barriers as possible."