Mystery man
Street artist SOLVE's death inspires as many questions as his art.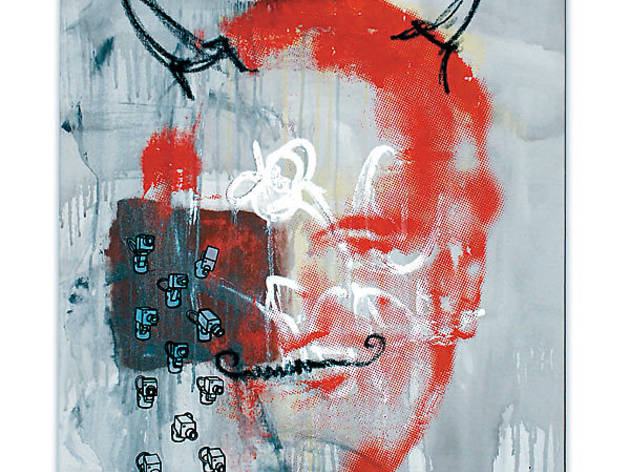 Many questions have followed the June 2008 murder of prolific 24-year-old Chicago street artist Brendan Scanlon, known by his ubiquitous stencil tag, "SOLVE," which still haunts newspaper boxes and walls all over town. The title of a Country Club Gallery(1100 N Damen Ave, 773-368-4045) show closing Thursday 22 asks "Who is SOLVE?" Scanlon's street-art crew, RGB, proffers some answers through Scanlon's art and pieces dedicated to him in memoriam.
But for the people who knew and loved Scanlon, or even those who simply enjoyed seeing his work—playful paste-ups on grocery-store facades or that infamous TV he planted on the Blue Line that read WE ARE NOW EXPERIENCING LEGAL DIFFICULTIES —spice up the city's landscape, the questions go much deeper: What really happened the night of Scanlon's death? Who would want to kill the amiable young artist? And when will the case go to trial?
Brendan's parents, Bill Scanlon and Eileen McGlynn, who reside in Madison, Wisconsin, say they've been asking themselves those same questions for the past six months, as they anxiously wait for the State's Attorney's office to finish its investigation. Bill says Chicago police have told him "bits and pieces" about how the "verbal altercation" (as police called it) outside a Logan Square party on June 14, 2008, led to Scanlon's death from stab wounds to the chest and, shortly after, to the arrest and indictment of 24-year-old Kirk Tobolski on first-degree murder charges. "But," he says, "I'm still in the dark about a lot of it."
"[The state's attorney] told us it could be two to four years before a trial is held," Eileen says. "We wish it would be quicker, but we're confident that justice will be served."
Using her street-art name, Dae—an RGB-collective member, one of Brendan's best friends and a co-organizer of "Who is SOLVE?"—says she's frustrated with the sluggish wheels of justice. "Street artists get prosecuted faster than it takes a murderer to get prosecuted," she says. "It's unfair. I can't help but ask, Why isn't someone constantly on top of this?"
Bill says he's had too much time to think about his son's accused killer, Tobolski, who admitted to police the day of his arrest that he had a knife and "slashed" Scanlon. Bill's curiosity was piqued after he received word in October that someone bailed out Tobolski with $50,000 in cash. "There's a status hearing on the case about every month, and I went to the one on December 4, just to see the guy," Bill says. "I showed up and [Tobolski] was there with his dad. The hearing lasted about 30 seconds. We didn't even look at each other."
Asked how his client intends to plead, Tobolski's lawyer, Richard Beuke, a former state's attorney, replied, "I can't speculate on that until I've gotten all the discovery from the prosecutors, which I don't have."
After Scanlon's killing, people speculated on Internet message boards that Tobolski was associated with a punk-rock gang known for causing trouble at art-related parties. "I know they were there that night," Dae says. "But I don't know their level of involvement.… The thing people should know about Brendan's murder is that it has nothing to do with him as a street artist. That's so important to emphasize, because people say, 'Oh, you're a street artist. That's dangerous.' It was a completely unrelated event. Completely."