"Our Origins" at the Museum of Contemporary Photography
Patricia Piccinini, Alison Ruttan, Rachel Sussman and other artists explore the beginnings of the universe and human history.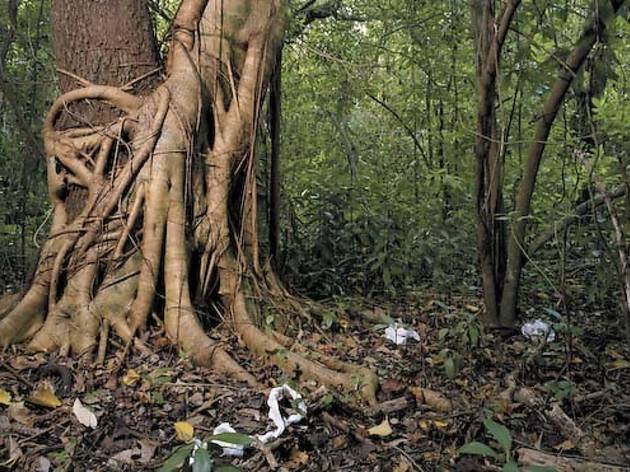 The hairless, toddler-size mole in Patricia Piccinini's series "Science Story" is the most poignant figure in this exhibition about a uniquely human frustration: our uncertainty as to how the universe got here, or what the meaning of life is for its inhabitants.
Piccinini's four photos depict the (imaginary) pink-skinned mole under observation in a laboratory. A male and a female scientist regard the helpless creature with tenderness, but it looks like a genetic experiment gone awry, precisely because it resembles a human baby. Alison Ruttan also examines what differentiates us from other animals in her series "The Four Year War at Gombe." The Chicago artist photographs human beings reenacting a chimpanzee conflict that scientist Jane Goodall observed in Tanzania.
Most of "Our Origins," which is curated by Allison Grant, falls short of Piccinini's and Ruttan's uncanny photos. The 16 artists in the show explore such disparate scientific fields—including astronomy, botany, paleontology and evolutionary biology—that, together, their works generate little dialogue. Too many pieces derive their primary interest—or lack thereof—from the crowdsourcing powers of Google or Flickr.
Still, there are plenty of thought-provoking works on view, such as Rachel Sussman's beautifully shot series "The Oldest Living Things in the World" (2003–11), which captures organisms that are at least 2,000 years old. Considering how fascinated we are by ancient buildings and artifacts, I was surprised to realize I'd never thought about the world's oldest living beings. Though nothing man-made appears in Sussman's photos, her work reminds us that we, too, could travel to see these bizarre-looking plants, corals and bacteria, which link our present to the distant past.