Plant Life at Western Exhibitions | Art review
Heidi Norton and other artists riff on the botanical world.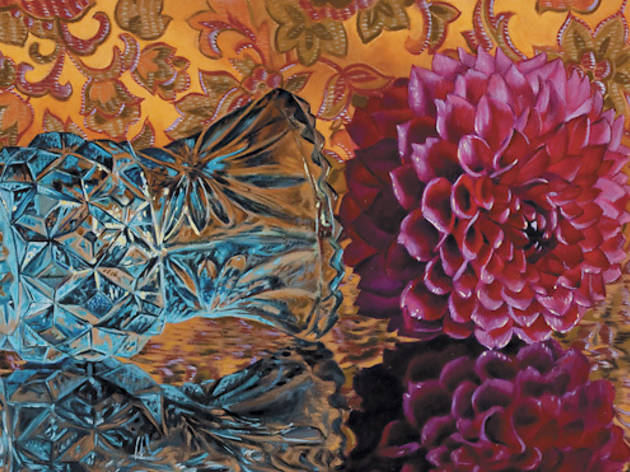 One look at Mindy Rose Schwartz's mixed-media sculpture, Plucked (2013)—a pastel flower with a human face spewing glittery green vomit on the floor—and you know this exhibition transcends the triteness of its botanical theme.
Curated by painter Geoffrey Todd Smith, "Plant Life" boasts an inspired blend of artists and approaches, straying from garden-variety interpretations of plants' beauty and decay. Even Eric Wert's rich, meticulous oil rendering of a dahlia subverts expectations. Hearkening back to Dutch still lifes as well as the former Chicagoan's stint as a technical illustrator for the Field Museum, Little Dahlia shows Wert's knack for precise detail. But unlike a scientific drawing, the stately flower isn't still: The vase containing the perfect bloom has tipped over, its water spilling everywhere. Our dahlia is at death's door.
Heidi Norton, who has gained deserved recognition for her inventive work incorporating plants, also deals with flux. Her sculpture Wedged Ellipse with Snake Plant Buds (2013) features plant detritus embedded in glass—suspended between life and death—and a small cluster of cacti that look as if they might tumble off the piece at any moment.
Scott Wolniak spreads weeds made out of junk mail and found debris across the gallery floor. (He created a meadow of them for his 2005 12x12 show at the Museum of Contemporary Art.) They recall Schwartz's vomiting flower in that they, too, colorfully invert reality: The trash that clings to city grasses becomes the grass, and what could be a bad take on ecofriendly art is kind of brilliant.