Preview | something seen/heard/felt at Synapse Arts: "New Works"
Suzy Grant delivers knockout performances on both sides of the curtain.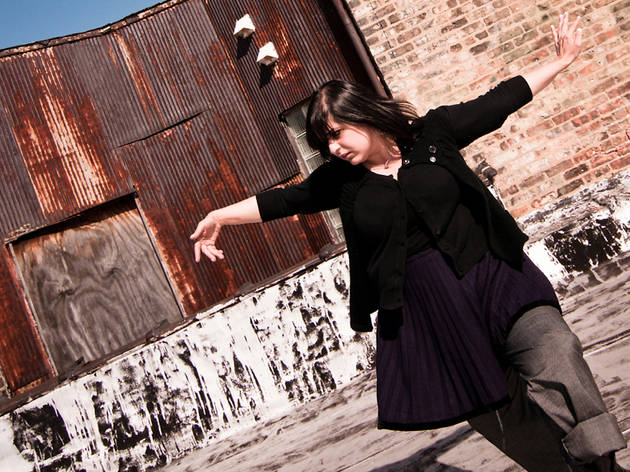 When TOC receives word of an indie performance or fest, that word, with increasing frequency, comes via e-mail from Suzy Grant. One of the workingest media liaisons for local dance artists, and a performer herself, Grant, 31, has become an indispensable asset to Chicago's bare-budget troupes. Submitting press releases on time and coordinating interviews, studio visits and travel "is stuff that people often do begrudgingly, or they'll be in a bad mood about it," says [node:7560295 link=choreographer Peter Carpenter;], who cast Grant in his landmark 2009 work My Fellow Americans.
"It's so rare to find somebody who's really good at it and is, like, happy to do it," Carpenter notes. "So many people have been so underorganized for so long. There's definitely a vacuum that she's filling."
As a student at Columbia College Chicago, Grant took one of Carpenter's classes, a writing course called Contemporary Trends in Dance. "I noticed that she was kind of a rock star," he recalls, "a really sophisticated writer who could handle crazy deadlines really easily. Her intelligence is why I was first interested in her as a performer, actually."
Needing a hand with production management leading up to Americans' debut, Carpenter offered Grant the gig in addition to the role. Another dance maker, [node:14923121 link=Jonathan Meyer;], was also looking for help and on Carpenter's recommendation hired her to assist in The Waking Room's premiere. Grant soon found herself swimming in freelance administrative work.
One of many who took notice was Roell Schmidt, director at Wrigleyville venue [node:136839 link=Links Hall;], where Grant performs with [node:14996871 link=Synapse Arts;] on Friday 2 and Saturday 3. Back in April, with [node:14795123 link=an eight-day improvised-dance festival;] looming, "one of the biggest things that Links Hall has ever taken on," she says, Schmidt recruited Grant to help with the final push. "There's no way we could've pulled it off without Suzy," she tells me by phone.
Schmidt is also a fan of Grant the solo performer, who often goes by the stage name Rocco Granite. A manic soul singer in patent-leather combat boots with multiple male and female personalities, layered like an Everlasting Genderstopper, Rocco first appeared in late 2009.
Cradling a coffee mug in her hands, her nails painted navy blue, and dressed in all black, as almost always, Grant unpacks Granite's genealogy.
Motown music was popular in the Grant household in Wheeling, later in Arlington Heights. She and her three older sisters would pretend they were a girl group. The contradictory personality of social-justice advocate and wife-beater James Brown comes up; Grant notes how his dancing overflowed with emotion, as Rocco's does.
The portrayal of race on television in the '80s is another reference point. "Diff'rent Strokes is really compelling to me right now," she says.
At age 19, Grant came out as a lesbian to a few close friends but now lives with her boyfriend of six years. "I question my sexuality a lot. I talk to him about it. That's just one more weird, in-between place that I live," says the holder of four part-time jobs, including server at the Bagel Restaurant & Deli in Skokie.
"I've been lucky to be able to champion her as an artist as well as take advantage of her amazing administrative skills," Schmidt says of Grant. I ask what position Grant held during her work with Links Hall. "That's a problem," Schmidt replies. "There isn't really a title to encompass all of the things that she does."
---
Grant shows a new solo in-progress, something seen/heard/felt, during "New Works" on Friday 2 and Saturday 3 at Links Hall.