Heads up! We're working hard to be accurate – but these are unusual times, so please always check before heading out.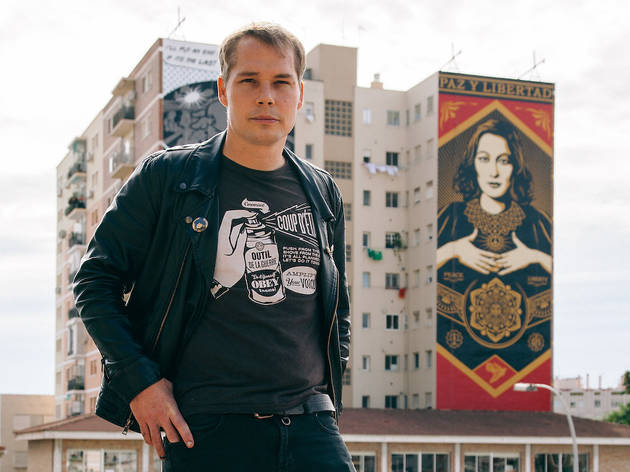 Q&A: Shepard Fairey
The infamous street artist and graphic designer discusses "Art Alliance: The Provocateurs", his upcoming Lollapalooza art show
There's an overabundance of things to do during this year's Lollapalooza, whether you're heading to Grant Park, checking out merch at the festival's pop-up store or seeing an after-show. One thing that you might want to add to your itinerary is a visit to "Art Alliance: The Provocateurs", an art show curated by Shepard Fairey that will be taking up residence in Block 37 from July 31 to August 4. We spoke with Fairey about the show's origins and his plans to bring some brand new street art to blank walls around Chicago.
What's your relationship to Lollapalooza? Did you ever make it out to the festival when you were younger?
I actually went to the first year of the festival in 1991, when Jane's Addiction, Rollins Band and the Butthole Surfers played. I haven't attended the festival since then, but I've done quite a bit of design work for Lollapalooza throughout the years—things like programs, t-shirts and posters. Perry Farrell is a friend of mine, so I was inspired to organize a show that could feed off of the same rebellious spirit as his festival. Even though it has grown, I appreciate the fact that Lollapalooza has maintained an interest in showcasing lesser-known bands. The goal of "Art Alliance: The Provocateurs" is to show people what underground artists are creating.
How did you go about assembling a group of artists that would resonate with Lollapalooza's audience?
Well, some of the artists included in the show are certainly connected to the music world, but we're not necessarily pandering to Lollapalooza attendees. The exhibition includes work from Stanley Donwood, who does all the design work for Thom Yorke and Radiohead, as well as pieces by Mark Mothersbaugh of Devo. What's interesting about these artists is that they've used the music industry as a vehicle for their work, without compromising the things that make it unique.
There are many street artists included in the show, including people like Space Invader and D*FACE. How are you taking their work off of the streets and incorporating it into the show?
All of the street artists that are included in the show are probably best known for their public art, but most of them also create work that can be displayed in a gallery—what I would call "fine art." It's not a matter of translating what they do on the streets into a gallery setting, I'm actually trying to showcase the other things that these artists do.
Could you tell us more about the art that will be created outside of the exhibition?
We've been in touch with city officials and we've lined up several locations in the city where we'll be creating public art leading up the opening of the show. We were going to get [French native] Space Invader to come out and do something in Chicago, but unfortunately he's unable to enter the U.S. right now because of a previous arrest. You'll start seeing work by myself, D*FACE, RETNA and some other street artists the week before the show opens.
What was the appeal of arranging an exhibition in Chicago?
The city of Chicago has always seemed very open to public art, so it was a natural fit for a show that incorporates some street art. I have a history of doing work in Chicago—the city gave me a wall on an underpass in 2011 [during Art Chicago Fair]. There's a very strong art community in the area, anchored by places like the Art Institute of Chicago and the Museum of Contemporary Art. We're hoping to get Lollapalooza attendees to come check out the exhibit but we're also trying to attract anyone who appreciates great art.
Are you creating any new work for this show?
With a few exceptions, most of the pieces that are included in the exhibition are new works by each artist. I'll be premiering a few pieces that I've created specifically for this show. We're also throwing a party on Saturday night with Deltron 3030 and DJ sets by myself and DJ Z-Trip. Lollapalooza is a festival of music with a little bit of art and we're going to have a bunch of art with a little bit for music.