Quarterly Site #12—Epic Something at the Hyde Park Art Center
Zach Dodson, Dan Gleason and Caroline Picard curate a show with a story.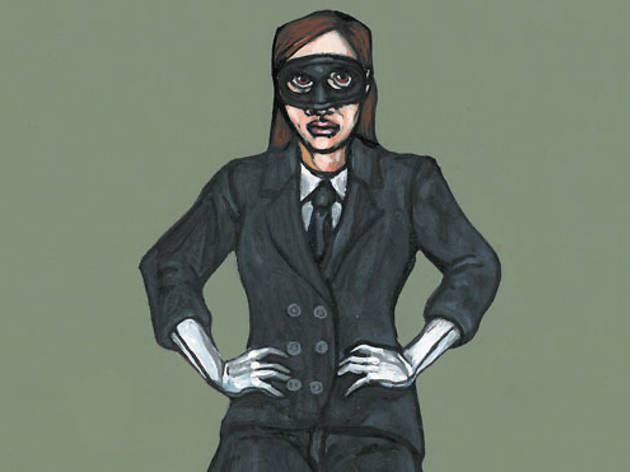 There's a good reason Dan Gleason had never curated an exhibition before "Quarterly Site #12: Epic Something," which is on view at the Hyde Park Art Center through February 24: He's a writer.
"Most of my friends are artists," Gleason told me as we walked through the show last month, "but this was a really new experience."
Gleason organized "Epic Something" with Caroline Picard, whose gallery, the Green Lantern, was a haven for cerebral artists and offbeat authors until it closed in 2011 (Picard still runs the Green Lantern Press), and Zach Dodson, cofounder of featherproof Books and the Show 'n Tell Show. Picard and Dodson are writers as well. The trio's literary chops inspired independent curator Jamilee Polson Lacy to entrust them with the narrative-themed finale of her roving Quarterly Site series, which began in 2010.
Lacy outsourced each of the 12 Quarterly Site shows to three other curators. "In some ways, it felt like that was Jamilee's art project: to see what would happen," Picard says by phone. For Picard, the only one of the three who had assembled an exhibition before, collaborating with noncurators "creates new opportunities within a role that most people take for granted, or I had always taken for granted," she says.
During my tour, Dodson pointed out the number of artists who, having "one foot in the comics realm," already cross disciplines, citing Lilli Carré, Gaylord Phoenix author Edie Fake and Ezra Claytan Daniels, who introduces his graphic novel Upgrade Soul—designed for the iPad—in the show. Deb Sokolow presents one of her signature text-based works, De Kooning's Bell System (Version 3) (2012), a typically goofy fictional account of an anti-theft device Willem de Kooning rigged up at his studio.
But poet-novelist Jesse Ball, whose Onward (2012), an installation of illustrations on napkins, is lovingly displayed in a vitrine, doesn't even consider himself an artist. "When we first asked Jesse if we could use the napkins, he was like, 'I throw them away,' " Picard recalls. "So he had to start collecting them." Artist Viktor Van Bramer made his first foray into writing, composing a story about a troubled family for the elaborate exhibition catalog that Dodson designed. "I was shocked by what a fantastic writer he is," Dodson says. "He was like, 'I've never done this before,' and it's better than most of the stuff I read."
"Epic Something" encompasses an impressive variety of media, ranging from Irina Botea's videos to a sculpture by Heather Mekkelson. In the amusing Roommates (2012), Bill Talsma draws the hairstyles of his 28 former housemates in ballpoint pen. It's up to viewers to imagine the facial features that accompany these varied, beautifully rendered 'dos.
Gleason believes the series demonstrates why art and literature go together so well. "People draw their own conclusions and write their own stories every time they look at something like this," he says. "A lot of times, an image implies a narrative," Dodson concurs. "I love Deb Sokolow's work because it feels like the tip of an iceberg, a really long, crazy story."
Lacy explains via e-mail that she chose narrative as a theme in part because her next project will commission collaborative publications from 12 pairs of artists and writers. And despite the "huge presence" of "alternative and experimental practitioners" in both Chicago's art world and its literary scene, Lacy says, "I think this project highlights a kind of intermediality that rarely gets much attention."
See "Quarterly Site #12: Epic Something" during the HPAC's ARTBAR Friday 7.