Rashid Johnson at the Museum of Contemporary Art | Art review
MCA surveys ten years of Johnson's career in "Message to Our Folks."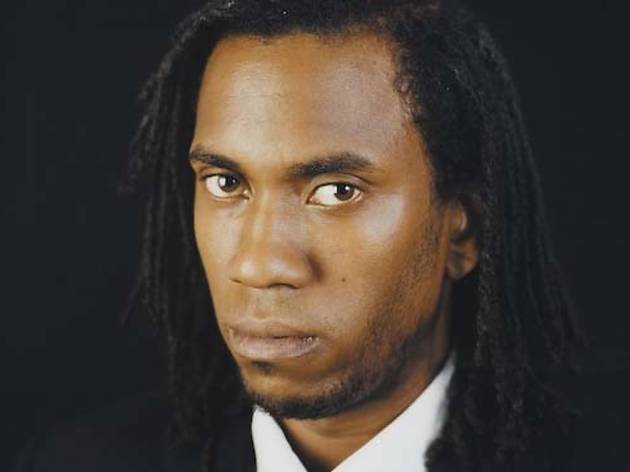 Rashid Johnson's first major solo museum exhibition surveys ten years of his career—and finds the Chicago-born, New York–based artist moving into more nuanced explorations of identity.
"Message to Our Folks," which takes its name from a 1969 album by the Art Ensemble of Chicago, includes early photographs such as the portraits of homeless men that Johnson made in the late '90s, when he was a student at Columbia College. Experimenting with materials and processes has always been important to his work: The 19th-century Van Dyke process he used to develop these images gives them a painterly, timeworn feel. Their deep, rich brown tones highlight the men's weathered expressions and render them beautiful.
Johnson's range of media evolved during the past decade to encompass sculpture and installation. Cosmic Dojo (2009) includes a massive wall—richly textured with African black soap and wax—on which two hanging plants frame a shelf holding Debra J. Dickerson's book The End of Blackness, which argues against clinging to the abstract notion of blackness. The artist surrounds the controversial tome with a brass urn and cups of shea butter.
Johnson's reverent treatment of the book signals his affinity for the "post-black" movement, whose members don't want to be labeled "black artists." But his focus on black identity and Afro-Futurist cultural figures like Sun Ra demonstrates how confusing the concept of post-blackness really is.
Not every work makes evocative use of materials. Black Steel in the Hour of Chaos, a giant gunmetal bull's-eye named after a Public Enemy song, feels simplistic next to Johnson's thought-provoking shelf sculptures. Ultimately, Johnson's "Message" is intriguing but uneven.